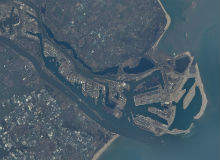 "This research took us some two months," explains Menno Menist, managing director at Panteia, the firm commissioned by the Port of Rotterdam Authority to look at the sustainability of transporting goods from Asia to the European continent.
"We interviewed 15 large European shippers, asking about their sustainability strategies and what the seaports could do to increase sustainability," he adds. The findings show that it is better – environmentally – to use northern ports such as Rotterdam, Antwerp and Hamburg, even though the vessel voyage is longer.
It's a mix of geography and population, economics and vessel size. The emissions of a 20,000 twenty-foot equivalent unit (TEU) vessel, as measured by container, are lower than a 10,000 TEU vessel, the study states. As larger vessels stop more regularly at northern ports, "emissions at sea for these vessels are nearly half of those sailing to the southern European ports", says Menist. "This also covers the fact that the amount of sailing days on sea to the southern European ports is generally less; 24 days as compared to 30 for northern ports."
Speaking after the release of the study, Allard Castelein, CEO at Port of Rotterdam Authority, gave further weight to this, saying: "The northern European ports perform well because many large container vessels call here, and much of the hinterland transport is done by inland shipping and rail. This provides for a relatively small ecological footprint."
Access to the Hinterland: the North's big advantage
Castelein's point on intermodal transport, particularly via rail, to the Hinterland is one that is brought up vigorously, by northern ports themselves as well as independent analysts.
Jurgen Sorgenfrei, a director of consulting at IHS Maritime & Trade, says there are many factors to consider, but the "connection from Rotterdam, Antwerp, Hamburg, and so on, to take goods to the Hinterland, even as far as Prague", is undoubtedly the "number one".
"When I talk with shippers and industry partners, they tell me it's more suitable to go via northern ports," Sorgenfrei adds. "If you go via a North Adriatic port, such as Trieste or Koper, the density [of connections] is not as high.
"When I talk with shippers and industry partners, they tell me it's more suitable to go via northern ports."
"In my opinion, [there's also] the reliability of services that you find in ports like Rotterdam or Antwerp, where you know that the process of getting containers from the vessel to a train is easy."
From Rotterdam, goods can reach the German border, via train, within three hours. According to the port, more than 250 weekly intermodal rail cargo services start and end at the port, while a number of terminals have a dedicated rail transfer facility. Meanwhile, at the Port of Antwerp, rail services run through three main corridors: Rhine – Alpine Corridor, North Sea – Mediterranean Corridor, and the North Sea – Baltic Corridor, transporting 24 million tonnes of cargo every year.
Antwerp's location also allows it to run approximately 200 container shuttles a week, to and from 67 destinations across Europe. From a Southern perspective, the Port of Koper has a long list of rail links, but some of these run only once or twice a week. The Italian port of Trieste provides rail services to Austria, Germany, Hungary, Czech Republic, Slovakia and Switzerland, but the consensus is the North does it better.
A spokesperson for Koper acknowledges the North has well-developed corridors, but says many southern ports are investing in infrastructure. He adds, however, that "hinterland connections are usually one step back and unprepared for the port's potential".
Therefore: "In order to compete effectively with the North on the same markets, especially Germany, a long-distance rail service which follows the example of ports like Hamburg and Rotterdam should be established," the spokesperson says.
Eddy Bruyninckx, managing director of Antwerp Port Authority, believes it's a chicken and egg situation. "We have high volumes concentrated in North West Europe, and because of these high volumes you develop and build the commercial links to the Hinterland, by rail and so on," he says. "This provides a strong competitive advantage, even when [final] destinations are closer to some southern ports than northern ports."
Improving Southern ports: NAPA and market forces
What Panteia also revealed is that Mediterranean ports do not gain any noteworthy advantage from the lack of an Emission Control Area (ECA). Menist and his colleagues conclude that even though ports in the North Sea and the Baltic Sea have to comply with an ECA zone, it does not negatively affect their market share.
Introducing a sulphur ECA for the Mediterranean would be a "quick win", says Menist, who instead argues for more focus on alternative fuels. "The hinterland of these [southern] ports is mostly bounded to the Alps and therefore road transport is the most effective [way] to ship containers from the port to the nearby hinterland. Greening the road transport can be done by using LNG [liquefied natural gas] and biofuels."
Greater collaboration is also needed. "These ports should work together to gather enough volumes to fill the largest ships available, in order to reach the load rates needed," Menist continues. "They should work out intermodal rail concepts to get the containers to the hinterland in a more sustainable way."
Moves are afoot to rebalance the current disparity. The North Adriatic Ports Association (NAPA) – consisting of the ports of Venice, Trieste, Koper, and Rijeka – is supporting the development of maritime and hinterland connections through the NAPA4CORE project. Supported by European Union (EU) member states Italy and Slovenia, this envisages the construction of new railway tracks, with a completion date of December 2018. There's also the TEN-T NAPA study; again all about building connections.
Bruyninckx agrees with the premise of developing infrastructure, but highlights the importance of market forces and developing the economies of southern European nations. "I absolutely believe in the workings of the market," he says. "If economies develop, if cargo is created, shipping lines will follow…and develop better links to the hinterland."
Sorgenfrei agrees: "It's not just about the hard factors; distance in kilometres. But rather the soft factors too, such as marketing." In response, Koper's spokesperson says the port is on the right track, with growth of 9% for total throughput in 2015.
Could the North's dominance weaken?
Interestingly, just weeks before Panteia's study a whitepaper from Drewry Supply Chain Advisors found that "more shippers will look to route via southern gateway ports as the maritime price differential equalises and intermodal connectivity improves".
"The internal research question was: is the southern gate gaining competitiveness over the northern gate?" explains Stijn Rubens, a senior consultant at Drewry. The findings suggest that indeed it is, but, and it's quite a big but, "the dominance of the northern gate is not under threat, but the southern gate is developing; they [have] managed to improve certain inland locations," adds Rubens.
"The hinterland of the southern European ports is much smaller."
Drewry also analysed the impact of the Gotthard Base Tunnel, a rail link under the Swiss Alps between northern and southern Europe that opened in June. "Once this translates into cheaper rail rates, the area where the southern gate can compete will expand further North," the paper concluded.
Nonetheless, the predictions are that northern ports will continue to represent the most sustainable route for the foreseeable future. "It's not a case of just saying these ports are better," says Sorgenfrei. "Operationally southern ports are just as good, but sometimes that's not enough."
So, in essence there's one thing southern ports cannot change: the geography of Europe. "We think these [northern] ports will be the better option," says Menist. "The hinterland of the southern European ports is much smaller. This makes it very difficult for them to achieve high load factors on the largest vessels available."
But, building a greener industry is not a north vs south clash, it's 'all in this together'. "It's important to act as a global industry. I don't think we have to compete, as ports, on the environmental factors," explains Bruyninckx.