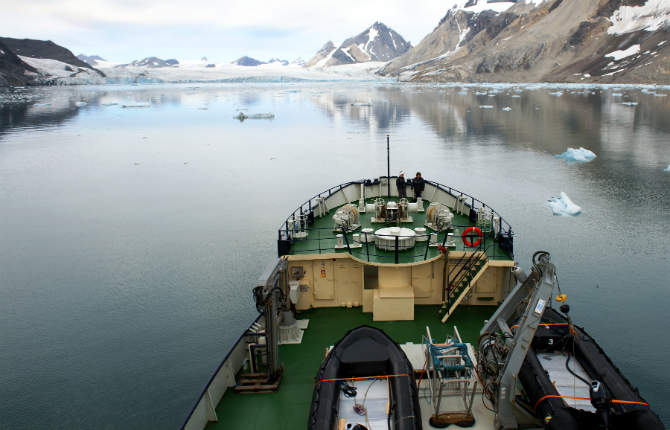 With global warming chipping away at ice in Arctic waters, more and more routes are opening up to shipping companies looking to find a shortcut. Last year, researchers at the University of Reading predicted that there will be double the opportunities for non-ice strengthened vessels to cross the Arctic by 2050.
Nevertheless, the increasing number of vessels travelling through freezing waters has already resulted in more marine casualties, highlighting that many of them aren't yet built for the task. Enter Sedna , a new research initiative aiming to make Arctic waters safer for seafarers.
Backed by the European Commission's Horizon 2020 fund and a consortium of 13 organisations, SEDNA's support denotes a strong demand for the project. This is primarily from shipping companies that desire more efficient trade routes, but are wary of putting sailors in harm's way.
"If you take a shortcut through the Arctic rather than go all the way around it that is a massive saving in fuel and time, so that's the motivation," says Philipp Lohrmann, SEDNA's project coordinator. "The idea is to have a bit of an international cooperation because obviously a lot of countries are interested in Arctic shipping."
Dealing with ice
The isolated nature of Arctic voyages means that ships need to be capable of handling tough weather and freezing conditions. But researchers at SEDNA don't believe most vessels are sufficiently equipped.
"It's a fairly new undertaking so ships are often not optimised for this," says Lohrmann. "A lot of ships use normal bridges that are not in any way specific to the Arctic. A lot of crews lack training and experience, so this is a whole host of new challenges."
"SEDNA aims to develop anti-icing solutions that can be applied to ships."
A key aspect of SEDNA will be developing new ways to protect ships from Arctic conditions. Ice is one of the biggest threats, as it accumulates on ships' decks and hulls, causing stability problems and wreaking havoc on radar and antenna equipment.
"You have a lot of weight on the deck that isn't supposed to be there, so that can affect stability and put the vessel at risk overall," says Lohrmann. "On top of that, a lot of ice can render crucial equipment unusable, such as lifeboat davits."
Current methods of getting rid of ice amount to sending crew members out with pickaxes to hack away at ice on deck. However, such procedures are difficult and ineffective.
Instead, SEDNA aims to develop anti-icing solutions that can be applied to ships to prevent ice from building up in the first place. To do this, scientists at University College London (UCL) are currently looking for guidance from an unexpected source: penguins.
"Their feathers have a mixture of nanostructure and hydrophobic oil covers that repel water and prevent it from freezing on the surface," says Lohrmann. "[UCL] are looking into a specific nano-surface structure that prevents ice build-up, as well as oil coatings that you can paint on ships."
"We're hoping to take this further with SEDNA and then test it on an actual ship on the Arctic to see how this works in practice," he adds.
Besides aquatic birds, SEDNA claims its partners will use numerical simulation tools to study various ice types and icebreaking procedures, as well as analyse how much ice is likely to build up on ships travelling through studied areas.
Researchers will also attempt to produce a new risk-based design framework for shipbuilders. This could enable new ships to be designed specifically for Arctic operations with the biggest dangers in mind.
Pointing the way
Enhancing guidance for ship crews is crucial for SEDNA, which claims that approximately 60% of accidents in Arctic waters are related to navigation.
This is partly because existing systems for forecasting sea ice have not been verified or are not suitable for use on vessels. Ships in the Arctic are often fitted with similar navigation bridges as those operating elsewhere, meaning they have not been optimised for Arctic operations.
What's more, crew members are often inexperienced and lack proper training for navigating Arctic waters. They can be overwhelmed by waves of weather data from contradicting sources, leading to poor situational awareness and decision-making.
SEDNA aims to rectify these issues by developing what it calls a 'Safe Arctic Bridge', which will sift through data to provide crews with accurate and relevant information about Arctic conditions.
"Existing systems for forecasting sea ice have not been verified or are not suitable."
The bridge could even use cutting-edge technologies to perform this task. As part of the development, the Oslo School of Architecture and Design (AHO) is exploring augmented reality as a means of streamlining navigation for vessel operators.
"Essentially you have some form of headset through which you can still see everything around you, but on top of that you have projected images," says Lohrmann. "For example, through a headset you can look out of the window and see ice covers drawn up with some extra information that will help you navigate."
Most importantly, SEDNA wants to improve the provision of weather data to ships, allowing them to react faster to changing conditions. THE MET OFFICE will be a vital partner for SEDNA during this aspect of the project, providing technology that uses satellite data to give ship operators a more localised picture of their surroundings.
"If we combine this with other hydrographical information and information about the ship itself (i.e. the ship's performance), then you have a lot of data to play with all of a sudden," says Lohrmann. "You can start thinking, well, how am I going to optimise my route? For example, if you go slightly further west you may encounter [adverse] weather, but then on the other hand the route is going to be slightly longer."
Project challenges
With Arctic safety being such a broad topic to cover, what does Lohrmann think the main hurdles will be for the SEDNA project?
"Availability of data is a big challenge obviously," he says. "In terms of detailed accident data for risk analysis and also in terms of weather and hydrographical data, [the question is] how much will be available? How much will be able to be used with sufficient accuracy to make predictions and build tools that are actually useful?"
There is also the question of whether the new anti-ice coatings and intelligent bridge technology will take off with shipping companies, who will have to consider whether the safety and navigation systems are worth the extra investment.
Lohrmann expresses the need for collaboration between various partners and the project's aim to keep what shipowners want in mind. "We're working closely with the stakeholders and we're in contact with actual mariners to make sure what we do is useful and close to reality," he says. "Otherwise it's easy to lose track and just go down the scientific rabbit hole and build something that no-one wants."
With Arctic waters in a state of constant flux, there's the concern that solutions developed now could be outdated by the time they are tested. The project, therefore, must be a forward-looking one.
"We're hoping that the tools we'll develop will still be useable in five years' time when there's even more routes available, so we're trying to not look so much at individual routes or shortcuts," concludes Lohrmann.