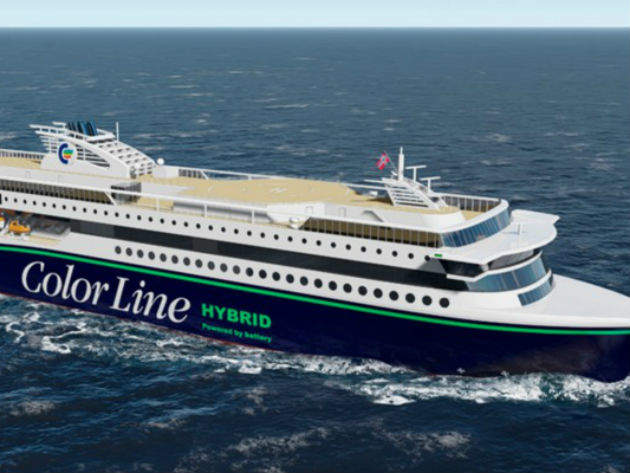 In a little over two years, the Color Hybrid will traverse the Sandefjord-Strömstad route between Norway and Sweden. Carrying up to 2,000 passengers and approximately 450 vehicles, it represents almost a doubling of capacity of the ship it will replace, the Bohus.
That's an impressive upgrade, but Color Hybrid is about more than just size. It joins a growing fleet of new ships – particularly ferries – that are designed to operate on battery power or some other form of hybrid setup. It will plug in to a shore-side electricity network to recharge its batteries, much like an electric car does on land, and go about its business. Preparatory work is well underway, with Color Line installing the necessary infrastructure at its facilities in Oslo, Larvik and Kristiansand.
Speaking after the announcement, founder and president of environmental group Bellona, Frederic Hauge said: "Battery-powered propulsion in ships this size shows that batteries are onboard to stay. This represents a huge reduction in emissions from shipping, and it is only the beginning."
Strong words. But, is he right?
Hybrids emerging worldwide
While the Color Hybrid is being marketed as the world's biggest of its kind, it is by no means the first. Hybrid ferries are in operation in New York, San Francisco and Norway's Nærøyfjord basin, and in February Taiwan's Kaohsiung City Government launched the electric ferry, Ferry Happiness, said to be the first in Asia. The vessel will serve the Cijin Island in Kaohsiung, and has been retrofitted with an electric propulsion system from Finnish company Visedo. According to reports, the Happiness will save more than 25,000 litres of fuel during every year of operation, while reducing local emissions.
Visedo CEO Kimmo Rauma said: "Given the geography, ferries are a vital mode of public transport across East and Southeast Asia but they are also the most energy intensive per kilometre travelled. Until now, diesel ferries have been a dirty but necessary part of life around harbours like Kaohsiung."
"Hybrid projects are becoming more and more popular."
In the UK, shipbuilder Ferguson Marine has built a £12.3m diesel-electric hybrid ferry for CalMac to use on its Clyde and Hebridean routes. The Catriona's hybrid system works by combining diesel power with electric battery power. Also in the UK, Wightlink's new flagship ferry for the Fishbourne-Portsmouth route will use diesel-electric hybrid batteries, and many other projects are emerging across the globe.
A report, published by Siemens and Bellona in June last year, gave further weight to the hybrid argument, claiming that around 70% of the 180-strong Norwegian ferry fleet could be converted to battery or hybrid propulsion – 84 to all-electric and 43 to some form of hybrid technology.
"The most suitable vessels for hybrids are ferries, really," explains DNV GL's director of battery services and products, Narve Mjøs. "You also have offshore vessels but we see more and more ships becoming relevant. Over the last year or so we have seen an increase in interest from the cruise sector – particularly in cruise ferries."
Saving on fuel and maintenance costs
Mjøs' statement can be seen in Hurtigruten's new explorer-class ships, the first of which – Roald Amundsen – is now under construction. Designed for cruises to the Arctic and Antarctic, the ships will have fully electric propulsion for around 15 to 30 minutes, potentially reducing fuel consumption by 20% and cutting CO2 emissions by 6,400 metric tons per year, according to the Norwegian firm. Investment in the hybrid technology is said to be around $15m.
"The hybrid engine will reduce fuel consumption substantially and allow for periods of completely emission-free sailing," said Hurtigruten CEO Daniel Skjeldam. "Roald Amundsen will be the most advanced and environmentally friendly expedition ship ever built."
Skjeldam's point about being eco-friendly is backed by a number of experts, including Mjøs, who says: "If you're looking at CO2, it's [the reduction] in the area of 10-30%, depending on the type of ship and the operational profile of the engine setup." John Roger Nesje, vice president of power electric systems at Rolls-Royce's marine division, also supports the technology.
"A hybrid is a combination of two things. For years there have been hybrids that combine electric propulsion and a mechanical shaft line," he says. "But, lately, a lot of the market has started to talk about hybrid as a battery system. Having a complete battery system will clearly save you on fuel costs and remove emissions from that vessel."
Rolls-Royce is in fact designing the hybrid technology for Hurtigruten's new ships, adds Nesje, who has worked with the whole gamut of hybrids – full electric, battery-powered vessels, and hybrid electric and mechanical variants.
"If you have a cruise vessel, sailing for a large distance, you are not able to sail only on batteries," continues Nesje. In that case, "the battery allows you to manage the load fluctuations placed on the engine and run the engine more smoothly".
He adds: "In addition, you might have a smaller cruise ship that frequently enters harbours, and in some cases with these types of vessels, they are looking to sail the last part of their journey into the city centre on just a battery, as well as the first 15-20 minutes out of the city centre. The benefits there are a cut in local emissions."
Hybrids to become the norm?
There's an undeniable sense of enthusiasm around hybrids. But, will that translate into firm orders? Can they become the norm, rather than the exception? "Absolutely," says a confident Mjøs. "Look at the benefits. They outnumber the disadvantages," which are, he claims, mainly based on the need to train crew to operate a new system.
Nesje agrees on both points, although adds the caveat: "Maybe in some segments you won't see batteries and hybrid systems becoming the norm. I think for big tankers crossing the ocean, maybe batteries are not there yet, but they can be a part of the system."
But, will there be a time when batteries will be good for those big container ships, too? Nesje notes: "It is all about energy density. Fossil fuels are really dense, very energy dense, so you can store energy for a large ocean-going carrier. That's still not possible with the battery technology we have today."
"Much depends on the development of shore-side infrastructure."
The growth in hybrids will also depend on the development of the necessary infrastructure. A plug-in ship, for example, needs somewhere to recharge, much like an electric car. Just how much work is needed? "It's a very good question, and is extremely difficult to answer," says Mjøs. Nevertheless, Nesje is optimistic and believes it is just a "matter of time" before real progress comes.
The shipping sector is also likely to feed off improvements in the automotive industry; "I don't think we would have seen this development in maritime, if we didn't have it in the automotive sector, in particular," says Mjøs.
"Today we are starting to approach 100 ships worldwide that have batteries installed," he continues. "That's hybrid ships, all electric ships, and plug-in hybrids. Increasingly it's the plug-in hybrid that is becoming popular, in the short term. The long term? More all-electric, I think, as the energy density increases and costs come down."
No doubt, it's an area that is generating more and more intrigue. If the business case is good, and it's cost-effective, go ahead and do it, says Mjøs. A look across the globe – particularly to Norway – shows that many are heeding this advice.