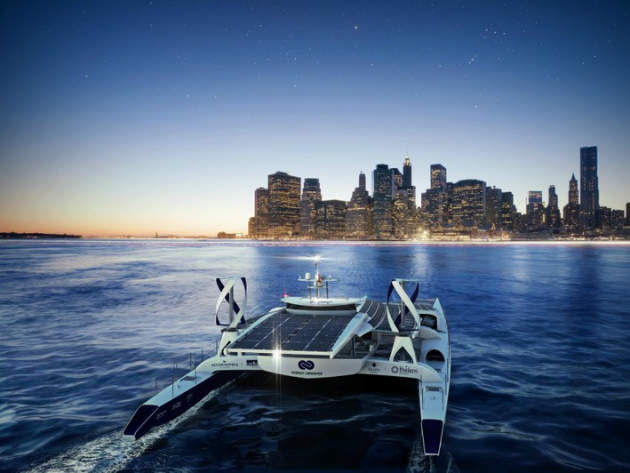 The hydrogen powered Energy Observer is preparing to start its six-year odyssey, in a mission to prove the validity of self-sufficient zero-emission technologies by becoming the first such vessel to sail around the world.
In May this year, the hydrogen powered yacht will set sail from its home port of Saint-Malo, in France for "an epic human adventure, a technological challenge, and an incredible journey," according to The Energy Observer's website.
This will be the first self-sufficient energy vessel to sail globally, with zero greenhouse gas emissions or fine particles, powered by hydrogen and renewable energies.
The technology is being developed by Victorien Erussard, offshore racer and multitask officer in the merchant navy, and Jerôme Delafosse, explorer and documentary filmmaker, in partnership with French research institute devoted to new energy technologies CEA-LITEN.
The project, backed by UNESCO, received five million euros in funding for research and development (R&D) and construction of the vessel.
Over the next six years, Erussard and Delafosse, along with a diverse team of seafarers and professionals, will sail to 50 countries and stop at 101 different locations to observe, promote and raise awareness of the most innovative green energy solutions currently available.
The ports of call have been carefully chosen.
Departing from the port of Saint-Malo in May, the first stop will be at Pont Alexandre III in Paris, followed by visits to capital cities committed to energy transition, fully self-sufficient islands, endangered ecosystems, political decision-making centres, and major international events, as well as places in need of protection, such as UNESCO heritage sites, nature reserves and places threatened by climate change.
"The technologies on-board need to be tested and experienced in different environments and conditions in order to collect data, which will enable CEA-LITEN's engineers to optimise them with a view of future terrestrial and maritime applications," the company explains.
The propulsion relies on three types of photovoltaic panels, two vertical axis wind turbines, one traction kite, and two reversible electric motors for hydrogenation. Hydrogen tanks for long-term energy storage have also been fitted on board, with on-site production by electrolysis, as well as li-ion batteries for short-term energy storage.
"Ultimate clean energy and energy of the future, hydrogen, is at the heart of Energy Observer's project," a company press release states. "However, learning how to produce it inexpensively and without carbon remains one of the major challenges of the 21st century.
"That is why our project fits into a research and development initiative, with the objective of becoming its ambassador throughout the world."
The Observer's journey will be captured via a monthly documentary web series, a weekly logbook exploring the daily life of the crew, and documentaries for French and international TV channels. Apart from standard filming equipment, virtual reality headsets, 3D sound recorders and land and underwater drones will also be used in the storytelling.
Hydrogen is currently being pursued by other players in the maritime sector.
In May last year, a catamaran build by Cheetah Marine became the first ever boat to sail 100km powered by a Hydrogen Internal Combustion Engine (HICE).
Cruise operator Royal Caribbean also announced plans to use hydrogen fuel cell technology as a supplementary power source to their new fleet of LNG vessels, while Norwegian firm Fiskerstrand is currently working on the development of a ferry based on hydrogen and fuel cells.