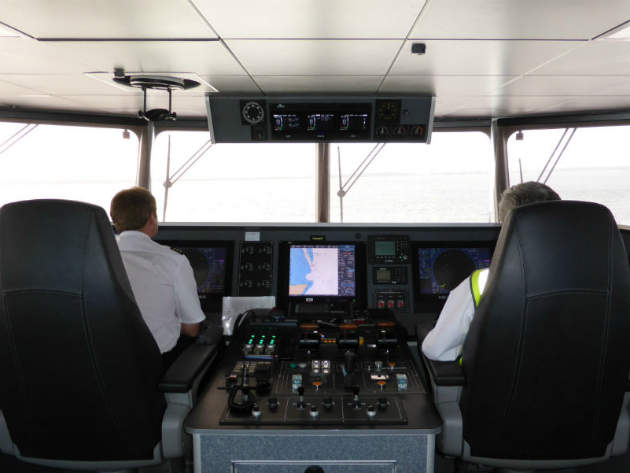 The European Union-funded CyClaDes project (Crew-Centred Design and Operation of Ships and Ship Systems) has been trying to inspire a new emphasis in ship design, one that focuses on what is known as human-centred design (HCD). This is defined as a "framework that develops solutions to problems by involving the human perspective in all steps of the problem-solving process".
The initiative – which included a myriad of partners, including DNV GL, the Nautical Institute and World Maritime University, and Fraunhofer Institute, among others – completed its work in September last year. Just over a year later, the Nautical Institute released the second edition of the 'Improving Ship Operational Design' booklet.
The idea was to bring together people from all elements of ship design, from the yard, supplier, operator, through to the seafarer community. But why now?
When outlining the CyClaDes brief, the EU Commission succinctly stated that HCD is not widely used by or known "to ship/equipment designers and operators".
In addition, Katy Ware, director of maritime safety standard at the UK Maritime & Coastguard Agency, told Seatrade Maritime News at the Safety@Sea Conference earlier this year: "It is the whole human machine interface and that is becoming ever more important. We're developing all these marvellous systems but the key is making sure people know how to use them, they are confident with them."
Bringing the crew 'onboard'
The reference to "marvellous systems" can be taken as a nod to the ever-increasing role of e-navigation, where the issue of human interaction is a significant challenge. But HCD should not be viewed as a technology-specific tonic.
"It really is about getting to know your crew, how they are doing their work and the problems they are having," explains Eric Holder, who formerly worked in the Human-Machine System Department at the Fraunhofer Institute, and was involved in CyClaDes from start to finish.
He adds: "Coming from a human factors background, that's the bread and butter; interacting with various groups to ask, how are you using the information?"
"The human machine interface is becoming ever more important."
Holder – who has spent many years working on HCD studies in aviation and maritime, as well as the design and testing of e-navigation technology – is keen to demonstrate that, in its purest form, HCD can be rather simple.
He has previously warned, however, that steps to improve the interaction between man and machine have "scarcely" been implemented in the maritime industry, because of lacklustre communication between crews and engineers and unease at tampering with current methods.
Nonetheless, changing some of the "low-hanging fruit" is not particularly challenging, he believes, and starts with bringing crew input into the process and placing more attention on "forgotten places", as "everybody focuses on the bridge".
"Something as simple as colouring the bottom steps so people can see them – that won't cost you much but could save you a lot of trouble," says Holder, "[or] evaluating the user-friendliness of known design problems, [such as] the stairs and ladders."
A ship design Wikipedia
In essence, it comes down to making ships more suited to the crews that serve them and adapting the ship to fit their needs, not the other way round. As the Nautical Institute's booklet makes clear, a bad design can make life uncomfortable and difficult. " [HCD] is essential," says Nautical Institute technical committee vice chairman Capt. François Laffoucrière. "Without it you can make life onboard a misery, and bad design kills."
An estimated 80% of ship accidents are caused by human error, so there is a degree of urgency for change. And, alongside CyClaDes, there are other interesting concepts.
CASCADe, another EU-funded project, has created what it calls new adaptive bridge displays to treat humans and electronics as parts of the same system. "Our original goal was to create a forward thinking design which would aid the way seafarers work," says Paul Allen, from the College of Biomedical and Life Sciences, Cardiff University, who worked on the three-year project.
"Simply asking crews for feedback is one of the most powerful ways of learning about how to design a vessel that is best suited to their needs," he adds.
Allen recommends avoiding assumptions. "For example, when we asked our focus groups about checklists, we naively assumed that seafarers would have very negative attitudes, but this wasn't the case…[they were] seen as a valuable tool in terms of assuring procedures had been followed."
Next there's HELM, a training standard for human factors, leadership and management, which is laid down in the International Maritime Organization's (IMO) Convention on Standards of Training, Certification and Watchkeeping for Seafarers. In November, the International Association of Maritime Institutions and IMarEST will hold a one-day conference to debate if human factor training is indeed making a difference.
There's also the Alert! programme, which was founded by the Nautical Institute to improve the awareness of the human element. Since starting in 2003, 40 issues of a HCD bulletin have been released, while the programme's website serves as a one-stop shop, hosting all previous issues and video tutorials.
CyClaDes has done something similar, setting up an e-learning platform with advice for designers, yards and ship owners, as well as a framework of guidelines and best practice. Laffoucrière calls this a good start, but argues the need for a type of "ship design Wikipedia".
Suspicious of new technology?
When is it necessary to change, though? "A key challenge is discerning when to challenge conventional design or not," explains Allen. "Seafarers may be resistant to a new piece of technology simply because change is always challenging, but they may also be resistant because the piece of technology is indeed useless. Discerning one reaction from the other can be difficult."
Holder believes it comes down to one brave soul taking the plunge, after which others will follow. There needs to be an "incentive to do it and a proof of concept that is already doing it", he says. "People like to copy, not take the risk and wait for somebody else does it. So, when they see that it works and it saves them money, then they'll do it."
"There needs to be an incentive to change design methods."
If this proves true, there could be more standardisation on the way. Allen and Laffoucrière highlight the aviation sector as a comparable example, which, says Allen, has led to a scenario where two aircraft cockpits "will always be more similar than two ships' bridges ever will be".
When might we see some practical, real-world changes in ship design? "Well, good question," Laffoucrière says. Allen is more forthcoming in his answer: "In 13 years of doing maritime research, the technological developments I've seen have been relatively modest when compared with some of the predictions being talked about, such as unmanned ships.
"That said, ship-to-shore communication does hold considerable promise in terms of reducing the increased burden of administration that is faced by seafarers."
HCD's importance is growing, but for Holder, "the big question is, will the momentum continue?"