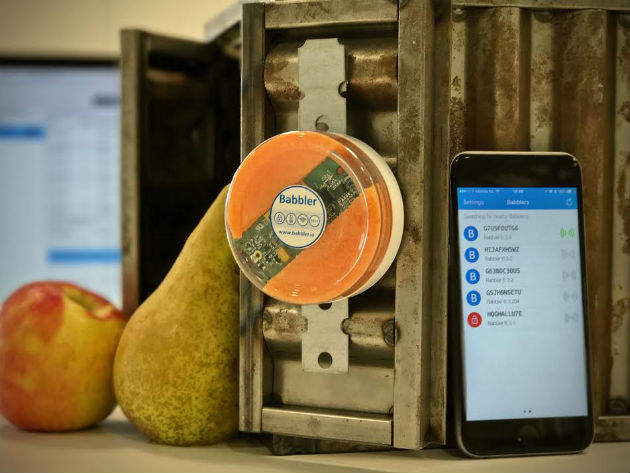 Early last year, a large refrigerated container of flowers belonging to Royal FloraHolland, a Dutch floral conglomerate, was making its way to the city of Mombasa on the Kenyan coast.
Having been sealed in the capital Nairobi several hours earlier, the container – known as a reefer – was breached along the way by the driver, who disconnected the generator for approximately 30 minutes in order to syphon off fuel.
What he hadn't counted on was the reefer containing a digital seal on the inside, which recorded a rise in temperature – flowers tend to be kept at 0.5ºC to maintain quality – and, thus, the time of the theft.
This information alone was enough to help the authorities bring the perpetrator to justice soon after.
Named BABBLER , after the songbird, the digital seal was being trialled by FloraHolland, as part of the EU Core (Consistently Optimised REsilient Secure Global Supply-Chains) research project, which examines new and innovative ways of safeguarding supply chains across the continent.
Ineffectual and expensive: The shortcomings of traditional data-logging technology
The timing of such a technology couldn't be more apposite. According to the European Parliament, losses resulting from insecure supply chains currently stand at €8.2 billion.
Cargo containers are widely considered to be a weak link in this as they can be potentially exploited to defraud customs, introduce illicit cargo and breach security protocols.
While data-logging technology has been on the market for a while, it has, time and time again, proven to be wanting – not to mention expensive. It was this that prompted Robin Puthli, Babbler's creator, to devise a new solution.
"A customer told us about their problems importing perishable goods," he explains. "Their reefer kept being opened by the police, customs and smugglers, and they had no insight into when and where this was happening.
"The solutions on the market were ineffective, or too expensive relative to the value of the cargo. We did some research, added state-of-the-art technology and came up with Babbler."
A battery device and a smartphone: Babbler's ingenuity is in its simplicity
Requiring no installation as such, Babbler is a small-battery device, which is placed on the inside of the container. When the door is closed, the seal is then activated by either a smartphone or tablet and monitored by an app.
The device is then able to log door opening, changes in temperature and shocks. Data can either be inspected wirelessly via Bluetooth or downloaded using long-range (LoRA) radio. Available across much of Europe, the LoRA network for Internet of Things applications allows customs authorities to access logs hours ahead of vessel berths.
Babbler is also time-stamped and has a container number and shipment reference.
"Babbler allows you to know that nobody messed with your cargo."
"Babbler allows you to know that nobody messed with your cargo," says Puthli.
"Because it works through closed container doors you can have integrity and quality information without disrupting the supply chain and without expensive installations.
"And by providing the data to customs, carriers experience fewer customs delays and liability disputes. Cargo owners experience lower inventory and less waste, because they have more information about the supply chain."
Smelling of roses: A successful trial
It took Puthli only three months to develop Babbler as "a minimal viable product", with another year on top of that to test the concept in practice. It was during this time that he approached FloraHolland.
"We knew some of Robin's colleagues from another project, and we knew he was working on something – although it wasn't called Babbler at the time," says Roel Huiden, a supply chain consultant at FloraHolland.
"So he approached us at the end of 2015. At that time we had just started working with CORE. Babbler was a perfect fit for the visions we had for that project."
The trial, which took place in early 2016, consisted of four shipments in total. While the first two were mainly taken up with working out how to attach the seal inside the container, it was the second pair, which focussed on sealing and temperature monitoring – and caught out the duplicitous driver – that impressed FloraHolland.
"The crucial thing for we saw was that it was cost efficient," says Huiden. "We were also able to go through Dutch customs without the containers being opened, and our goods and flowers remaining at a normal temperature. These are two key benefits of the seal."
In the past FloraHolland has used temperature loggers, which need to be linked to a USB for data to be seen ("so it's only monitoring in hindsight", says Huiden).
In some instances, for its shipments in Colombia, the group has utilised externally attached sealing devices. While able to provide information about the location of the shipment – and whether or not it has been opened – they were unable to dispatch any activities from inside the container.
Babbler, says Huiden, is able to combine both these technologies, but at a fraction of the price.
"Basically, it's a combination of the low-cost temperature logger and high-cost security advice – but a lot a cheaper!"
With the technology now commercialised, will FloraHolland be deploying Babbler on its shipments? While the group has ceased its ocean freight activities for the time being, "Babbler will definitely be one of the logger devices we will be using when we start up again," answers Huiden.
For other CORE Project stakeholders, Babbler could play a vital role in making the transit of goods across Europe much smoother and safer.