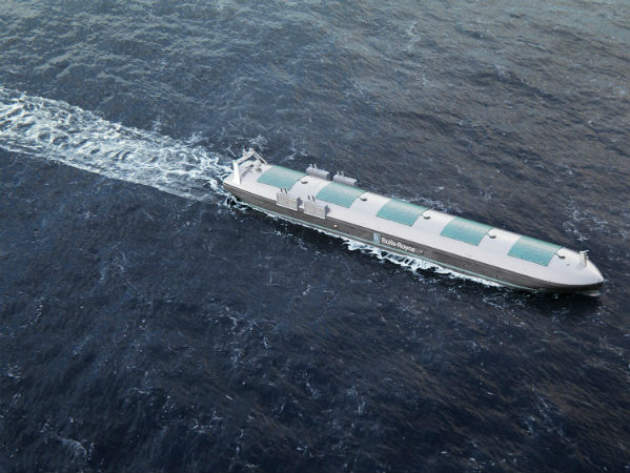 Worldwide, the number and scope of projects dedicated to unmanned vessels is increasing, including the world's first designated test area for autonomous ships and European Union-funded research.
Esa Jokioinen, head of Rolls-Royce's Blue Ocean Team, expects to see more progress in 2017 than in the previous two years combined. "Research has been ongoing for a number of years now and what we have seen in 2016 is that this has become strategically important," he says.
"My thinking is that there will be more people working on autonomy in 2017 than there has been in the past. We are getting closer to demonstration and implementation, and we are likely to see more tangible results."
Jokioinen's own involvement includes assignments in Finland, the UK and Singapore, which he says have developed faster than he anticipated, leading up to what he rather light-heartedly calls "an interesting and busy year".
While that's an understatement, it does neatly sum up what the next 12 months will hold for Jokioinen and like-minded colleagues across multiple organisations.
Creating the environment for autonomy
In October, the Norwegian Maritime Authority and Norway's coastal administration opened the world's first designated test area for autonomous ships, in an area of the Trondheimsfjord in northern Norway.
A few weeks before this, mapping services company NAVTOR revealed it had been chosen to represent the maritime industry in the EU-funded ENABLE project, which is focused on proving, verifying and validating the safety of autonomous vehicles and was originally conceived for cars before branching out.
ENABLE will run through to 2019, with a remote bridge concept a key consideration. In October, NAVTOR's e-Navigation project manager Bjørn Åge Hjøllo attempted to put a rough timescale on proceedings, saying that unmanned vessels "will be a reality within the next ten to 15 years".
"We have seen in 2016 that this has become strategically important."
The Danish Maritime Authority is also working with the Technical University of Denmark on research, while UK-based Automated Ships and Norway's Kongsberg signed a memorandum of understanding in early November to build "the world's first unmanned and fully-automated vessel for offshore operations".
This vessel, named Hrönn, will use the Trondheimsfjord test area and will be designed for offshore energy, scientific and fish-farming industries, according to Kongsberg.
But for Jokioinen, it is Rolls-Royce's Advanced Autonomous Waterborne Applications Initiative (AAWA) that will dominate 2017. This €6.6m undertaking brings together universities, ship designers, manufacturers and classification societies to create the design of the next generation of ships.
"We are working on the second phase," says Jokioinen, "which is to create the technological and regulatory readiness for the first demonstrator in commercial operations.
"This will finish at the end of 2017 and then we should have all of our plans and simulations done, and we can start testing."
One fascinating aspect to watch as these tasks progress will be the level of autonomy: will it be minimal, or will there be no human interaction at all? Or a compromise somewhere in the middle?
"There needs to be clarity in what is being discussed," argues Captain George Quick, vice president of the International Organization of Masters, Mates & Pilots. "The term 'autonomous' ship by definition implies a ship capable of making its own decisions through artificial intelligence independent of human involvement."
Lloyd's Register (LR) has published guidance on this matter, defining six levels of autonomy, starting from 'AL 1' through to 'AL 6', which is a fully autonomous ship with no crew onboard whatsoever. "Maybe a few years ago this was seen as unlikely. Today, the market wants autonomous ships that can be operated with varying levels of control," LR's strategic marketing manager Luis Benito said in July.
The tech is there, but what could obstruct autonomy?
Obstacles to overcome
This guidance could be viewed as one of the preparatory steps toward specific regulation, which is one of the biggest hurdles to clear.
"I have been involved deeply in the technology development over the past few years, and I don't see anything that could stop it [from the technology side]," says Jokioinen, but he adds, "people will really start to take this seriously and the gates will open when the International Maritime Organization (IMO) puts together a guideline or something like that for unmanned operations in international waters."
On its part, the IMO says it has "not yet regulated unmanned vessels", but there's some interesting work coming out of the UK on this. The Maritime Autonomous Systems Regulatory Working Group (MASRWG) has released a code of conduct for surface maritime autonomous systems, and is now working on a code of practice.
"Once a few high-profile ship owners buy into the idea the technology, legal and regulatory systems will rapidly evolve to make wide spread adoption possible," says ASV Global technical director Richard Daltry.
But what about cyber security? For any 'breakthrough', there needs to be confidence that the technology cannot be compromised by hackers, which is a huge challenge.
Jokioinen explains: "We have to see what cyber security means in context of an autonomous vessel. If that is an ocean-going cargo vessel, or an inland-waterway river boat, or a ferry; it depends on the context, it depends on the risk."
Military-grade technology would be the choice "if we want to be as secure as possible," he continues, but that brings with it a large cheque.
"You have to balance [it] with the risk scenario – so hijacking of the vessel by a company employee or a third party, or is it unintentional threats?"
It's unlikely that all-encompassing answers will be found over the next 12 months, but likewise it would be naïve to assume that there will be no progress whatsoever.
Concerns from seafarers
Additionally, increased autonomy raises complex questions regarding the labour force and staffing levels of the future. How might an autonomy breakthrough in 2017 affect seafarers?
"Advanced navigation and engineering technology is no stranger to seafarers," says Quick.
But he warns that the advocates of unmanned ships are "attempting to create the perception that disruptive change is imminent". There's a risk, he believes, of prematurely changing the international legal and regulatory framework based on "speculating on what an uncertain future may require".
Jokioinen says he understands the concerns, but adds "I wouldn't be too worried, however, because there will also be manned vessels in the future, autonomy is not for all ships…it will not drastically reduce the number of seafarer jobs in the future."
"Autonomy is not for all ships."
Quick agrees. He is doubtful that the technology is transferable to "operate and control the navigation and engineering systems in large unmanned cargo ships". But, what if it does become technically feasible? "The more important question is," he adds, "is it economically feasible and can it provide the same or greater level of safety?"
So, is 2017 the 'breakthrough' year?
"No," is the straight answer from Quick. "A real potential disruption of conventional shipping would require a number of unmanned ships operating successfully in conventional international trade. A truly autonomous unmanned ship as a disruptive force in conventional international trade is many decades away, if ever."
Daltry believes there needs to be a merging of the "big, highly publicised fully autonomous development programmes" – the tech race, as he describes it – and the smaller-scale "proliferation of smart technologies" added to today's ships. "Ultimately," he adds, "the two approaches will complement one another and fully integrated autonomous ship systems will emerge."
Jokioinen declines to commit either way, saying that such a question is dependent on how we define a breakthrough. "In my mind," he continues, "the breakthrough happens when the IMO allows operation of unmanned vessels in international waters. That will definitely not be in 2017."
An interesting, busy year ahead, but not quite the tipping point just yet.