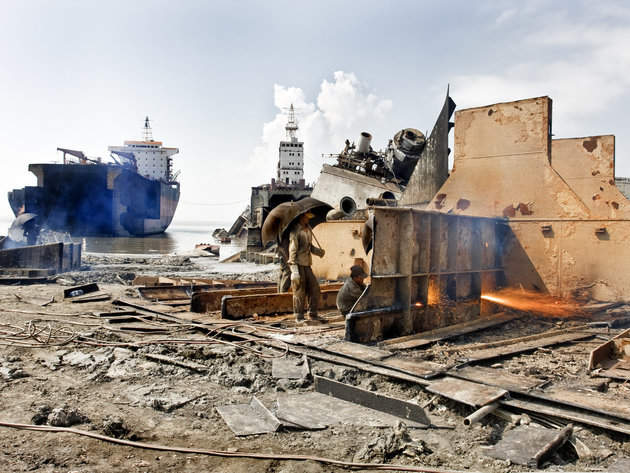 Since its resurgence as a ship recycling destination a decade ago, the Chinese industry has received mixed reports on its commercial viability.
After surviving the financial crash in 2008, the industry has taken repeated hits in recent years, and in March this year, government figures showed a drop of 15% in ship-recycling revenue, with only $519m made in 2015. It marked the fourth consecutive year of financial losses, worsened by a steep drop in global steel prices.
Wu Jun, vice-president of the China National Ship Recycling Association (CNSA), told China Daily that many firms were now under threat, warning that "it will be very difficult this year for Chinese shipbreaking yards to sell scrap, even at bargain-basement prices".
"This industry has seen a lot of extremes," says Patrizia Heidegger, executive director at the Shipbreaking Platform NGO. "Generally speaking, the ship recycling facilities in China have never had an easy time."
"China revived its ship-recycling industry shortly before the 2008 financial crash."
Today, the market competes with the shipbreaking activity in Southeast Asia, where countries such as India, Bangladesh and Pakistan handle 70% of shipbreaking activities.
During the industry's revival in the mid-2000s, China invested in expensive green recycling facilities, hoping to attract demand from all over the world once international environmental regulations were enforced. That, however, has never materialised, and their green facilities turned from a vision of a lucrative niche market into a deterrent for many ship-owners who choose to dismantle their ships elsewhere in Asia.
This has created a present "double-whammy", as Jun explained, brought about by high operational costs and low steel prices.
However, upcoming advancements in global ship recycling standards could mean that, rather than spelling its demise, China's green approach to shipbreaking could yet end up saving the industry.
Government subsidies see industry through tough times
Historically speaking, ship recycling facilities in China have never had an easy time. Throughout the 1990s and early 2000s, the industry was almost entirely wiped out by a mixture of growing competition from Southeast Asian countries and tightened environmental regulations, which prohibited the beaching of ships.
China revived its ship-recycling industry shortly before the 2008 financial crash. The global economic crisis that followed pushed many ship-owners to prolong the operational life of their ships for as long as possible, drying out the demand for the demolition of vessels and causing the collapse of many small local companies.
The second half of 2008 was a lucrative time for Chinese recyclers, with yards exceeding the recycled tonnage from the past three years combined. While the rest of the world was reeling from the crash, in 2010 China Daily called the ship scrapping business a "sure money maker", and quoted the director of one of its largest scrapping bases, who compared the business to "striking gold".
The booming success was, however, short-lived and cheap scrap prices led to overcapacity.
"There is a very strong incentive for the ship-owner to go to yards in South Asia."
In 2013, the government introduced a rebate programme that would pay an additional $200 per ton to Chinese ship-owners who chose to recycle their vessels in Chinese yards.
"The Chinese government introduced these subsidies to support the industry," Heidegger says, "otherwise they would've probably been forced to close down".
The policy was extended last year until December 2017, with central government continuing to pay cash subsidies to shipping companies that scrap their vessels at home, before their operational expiry dates.
"It will definitely have an effect, as more Chinese ship-owners will have a strong incentive to have their ships scrapped within China, rather than selling them to India," Heidegger says.
"There are still quite a good number of Chinese-owned ships going to beaches in Southeast Asia, it's not like the subsidies are able to keep 100% of the Chinese-owned ships within China, but I'm sure maintaining the subsidies will help them to buy an equally high amount of Chinese-owned ships."
Hoping for stronger environmental regulation
In 2009, the International Maritime Organization (IMO) adopted the Hong Kong Convention, an international standard addressing the issues around ship recycling, including the release of environmentally hazardous substances, as well as working conditions on yards.
In preparation, Chinese ship recyclers upped capacity and invested in green facilities, but soon after its adoption, it became clear that the convention was too weak to hold any yards responsible over their unsafe practices – including the beaching of ships.
"It was clear the convention would not put an obligation on ship-owners to really demand better standards," Heidegger says. "That was a blow to the Chinese ship recycling industry that it hoped that the IMO Convention would direct more ships towards their industry."
At present, ship-owners can simply circumvent the regulations put in place, and there is a very strong incentive for the ship-owner to go to yards in South Asia, where they can get the highest price for their end-of-life ships.
"Steel price fluctuations are part and parcel of the ship recycling business."
This is now changing due to the European Ship Recycling Regulation, which entered into force in 2013. Under the regulation the European Commission intends to publish a list of ship recycling facilities that comply with its standards.
The list, to be published either this year or early 2017, will name the most environmentally sound ship recycling facilities in the world, and will hold any ships flying the flag of a European Union (EU) member state under legal obligation to use them.
"Several of the Chinese facilities have applied and most will probably feature on that list, which means that these Chinese yards will be able to profit from the fact that European-flagged end-of-life ships have an obligation to go to the listed yards," Heidegger says.
"That's a development that will take time, but eventually Chinese yards will be able to benefit from it.
"Also, beyond the legal obligation, we expect that this list will be used as some kind of a reference in the shipping industry and that it will guide more ship-owners towards green ship recycling.
"That's the kind of growing peer pressure from other business sectors, from banks with big shipping portfolios, but also from consumer goods producers, to put more obligations and requirements on the shipping companies so the shipping owners can feel there is this pressure to clean up the end-of-life management of ships," she added.
An ever-changing playing field
Considering that steel price fluctuations are part and parcel of the ship recycling business, it is not unrealistic to suggest that the prices will come back up again, levelling the field. In the meantime, Chinese yards should be more vocal about their green facilities, and showcase what they can actually offer to responsible ship-owners if they are to weather the storm.
Furthermore, there are many end-of-life ships currently on the market, some of which are bound to end up in Chinese yards as other countries such as India approach maximum capacity, Heidegger says.
"In the future, I foresee that regulation will play a much more decisive role. So far, the international laws that exist have been very easy to circumvent. So the legal regime hasn't had a strong effect on where the ships end up, but this is changing and will definitely have an impact on the global ship recycling industry."