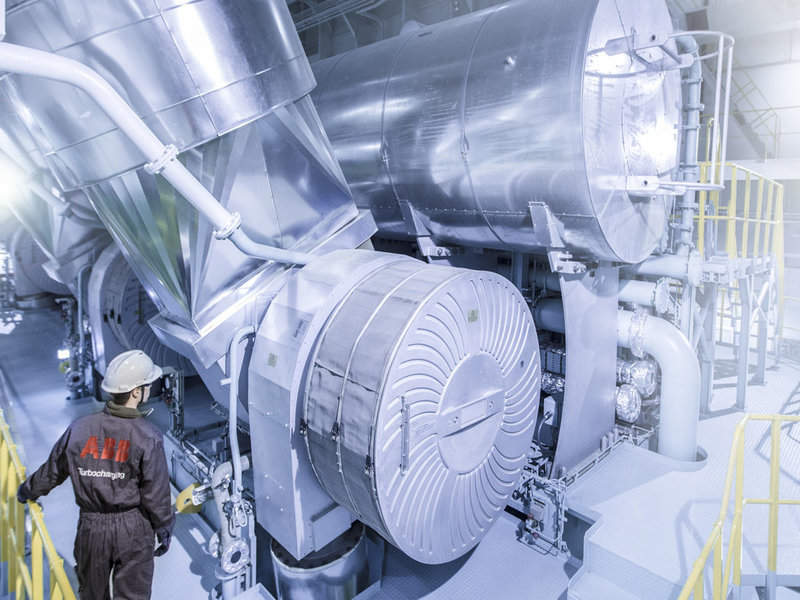 Chinese firm COSCO Shipping Lines' new 20,000 twenty-foot equivalent unit (TEU) containership known as COSCO Shipping Taurus has been equipped with ABB turbochargers.
The new vessel was built by Shanghai Waigaoqiao Shipbuilding (SWS) and was launched in June.
The ship will use ABB turbochargers to power both the main and auxiliary engines, and is claimed to be one of the largest containerships ever to be built in China.
---
Trafigura Group disclosed its involvement in an order to purchase up to 32 new crude oil and product tankers, at a combined value of more than $1.35bn.
The order was placed by one of the company's financial partners in Asia and the newbuilds are to be leased to Trafigura, with options to purchase at a later date if required.
Trafigura supported a firm order for 22 crude oil and product tankers with options for ten additional vessels, including Medium Range (MR) tankers, LR2s and Suezmax tankers.
---
Rolls-Royce collaborated with Denmark-based towage operator Svitzer to demonstrate the world's first remotely operated commercial vessel in Copenhagen harbour.
The presentation saw a 28m-long tug from Svitzer safely conduct a number of remotely controlled manoeuvres.
The tug's captain was stationed at the vessel's remote base at Svitzer headquarters and successfully berthed the vessel alongside the quay, before undocking, turning the unit 360°, and piloting it to the Svitzer headquarters, before finally docking again.
---
Havyard Group secured a Nkr1bn ($117m) deal from Fjord1 to design and build five new electric ferries.
The vessels will be designed by Havyard Design & Solutions and are to be built at Havyard Ship Technology's shipyard in Leirviki Sogn, Norway.
Deliveries of the five 111m-long ferries are scheduled to be carried out in 2018 and 2019, and each of the vessels will be capable of accommodating 120 cars.
---
Abu Dhabi Ports signed a 35-year concession agreement that provides exclusive rights to develop the Port of Fujairah's infrastructure and manage its operations.
Both entities have agreed to establish a new operational arm named Fujairah Terminals as part of the arrangement, which will be completely owned by Abu Dhabi Ports.
The Fujairah port is expected to reach one million twenty-foot equivalent unit (TEU) capacity and handle 700,000t of general cargo by 2030.
---
CMA CGM signed a binding agreement with Denmark's Maersk Line to acquire the Brazilian company Mercosul Line for an undisclosed sum.
Mercosul Line is currently operating in Brazil's domestic container shipping market with a fleet of four ships, employing 92 land-based staff and 160 seafarers.
The proposed deal is subject to Brazilian regulatory approval and the closing of Maersk's Hamburg Süd acquisition.
---
Sweden's University Of Gothenburg selected Kongsberg Maritime's HUGIN autonomous underwater vehicle (AUV) with the aim of assisting the expansion of the country's capabilities in the field of unmanned platform-based marine research.
The HUGIN will be funded via grants from the Swedish Knut and Alice Wallenberg Foundation and is to be managed by a project team from the University of Gothenburg and two other Swedish universities, Chalmers University of Technology and Stockholm University.
It will be considered a national asset for marine research projects around Sweden and abroad once completed.
---
The Government of India began several new projects under its Sagarmala programme at the Kamarajar Port situated in Tamil Nadu.
A sum of Rs2,500bn ($38bn) has reportedly been earmarked to spend in Tamil Nadu under the Sagarmala initiative, including Rs390bn ($6bn) for port modernisation, Rs550bn ($8bn) for port connectivity, and Rs1,500bn ($23bn) for port-led industrialisation.
The new developments also include the construction of an Rs12.7bn ($197m) container terminal, which will be designed to provide more container-handling facilities for traders.
---
DNV GL signed a strategic cooperation agreement with Hong Kong-based China Merchants Industry Holding (CMIH) in order to advance the development of the shipbuilding industry.
The deal will mainly focus on the gas carrier, offshore and special vessel sectors, and will help companies work together to optimise construction processes and quality control, thereby supporting the development of vessels that meet industry requirements.
It will also facilitate collaboration on classification and regulatory issues, as well as research, development and training.