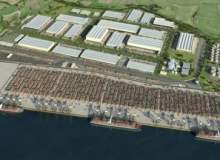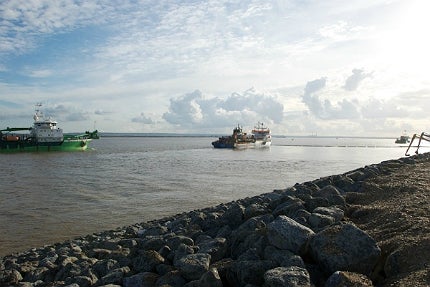 Operating as the UK's sole hub airport, Heathrow is creaking towards its operational capacity. Plans to ease the strain through expansion or construction of an entirely new airport altogether are, perhaps predictably, caught up in political red tape. Despite having so much to offer strategically, the UK risks losing valuable freight income.
This is where, it is hoped, DP World's brand new London Gateway terminal can step into the fold. Boasting six of the world's largest cranes and situated on London's doorstep in Tilbury, the brand new port will be able to receive 3.5m containers per year and direct them across the country, using an array of transport links.
Opening in Q4 2013, DP World London Gateway promises to be a state-of-the-art deepsea port, designed to cater for the world's largest ships. The port will use the latest technology and automated systems in order to load or unload six vessels at once, with a fully-integrated one-million-square-metre logistics park on site to facilitate such demand.
Automation and security
"Despite having so much to offer strategically, the UK risks losing valuable freight income."
Quick turnaround of haulage vehicles will be facilitated by an advanced Vehicle Booking System (VBS), which will conduct the careful scheduling of lorry movements in order to reduce wait times. The port's Road Gate System will be automated and use Optical Character Recognition (OCR) algorithms to identify and read not just lorry number plates, but container numbers. These will be cross-checked against the VBS, with video cameras set up to record the state of containers loaded onto lorries for future reference.
Automatic Stacking Cranes will use OCR and light barriers to off-load and back-load vehicles efficiently, with time vehicles spend in-port hoping to be drastically reduced as a result. Ship-to-Shore (STS) cranes will also be largely automated, but a crane operator will remain present to take over at any time as a fail safe.
Technology will also be used to boost port security, with vehicle drivers vetted using biometric scanners and other road haulier identification systems, to ensure that only licensed and approved drivers gain entry to the port area.
Radiation scanners are to be installed at the gate complex, automatically scanning each and every container that leaves London Gateway. Containers that trigger the sensors are automatically diverted to an examination area.
Technology and design-lead savings
One of the port's key strengths purported by DP World is its ability to provide drastic savings to companies, both importing and exporting to or from the UK. Given its close proximity to London and rail links – the port will boast the largest rail freight terminal in the UK – companies can expect to save around $300 per container when shipping to areas in and around London, in comparison to the country's other ports.
Savings can also be felt when shipping to the Midlands, with savings of around $94 per container courtesy of reliable rail links, which are only set to improve further with the advent of High Speed 2.
The location of the port puts it closer to two-thirds of the UK market than the current largest port in the UK – Dover – with the design of the port and technology utilised set to reduce the amount of time drivers are kept in-port, allowing more time for hauliers to reach their ultimate destination.
While London Gateway represents a more technologically advanced and strategically designed port than the UK may have seen before, it is also the forerunner for a host of port expansions currently in various stages.
UK port renaissance under way
The Port of Liverpool is among the list of shipping facilities looking to grow, with a £300m expansion having received the green light in 2012.
"DP World London Gateway promises to be a state-of-the-art deepsea port, designed to cater for the world's largest ships."
Two new deepwater berths will be dredged at Seaforth, allowing the world's largest shipping vessels to dock and unload. "This facility represents a transformational project for the Peels Ports business," said Peel Ports Mersey managing director Gary Hodgson, adding: "It will bring thousands of jobs and economic prosperity to the Merseyside region along with the rest of the north-west."
The Port of Liverpool expansion project is expected to complete in 2015, with Port of Tyne in Newcastle also looking towards expanding. Having achieved record cargo volumes and financial results in 2011, the port has acquired ten acres of land adjoining its current facilities to increase its operations. Port of Tyne is a vital deepsea port for the UK, offering strategic links to the North Sea and wind, oil and gas installations.
Port of Tyne chief executive officer Andrew Moffat said: "This is a strategically significant site with deepwater and like our existing operations it is only three miles from the mouth of the river and the North Sea."
Ports happy to pick up airport slack
"One of the port's key strengths purported by DP World is its ability to provide drastic savings to companies."
One of the key expansions will, however, take place at the opposite end of the country, with the Port of Southampton envisioning a period of huge growth between now and 2030. The Port of Southampton Master Plan 2009-2030 identified the port as key to the country and of major global importance, with volumes expected to rise exponentially in the coming decades.
By 2020 the port is expected to service some 2.7m container units per year, with that figure set to rise to 4.2m per year by 2030, requiring considerable expansion to facilitate. "Within the lifetime of the plan it will be necessary for the port to expand and enhance its role," the document states. Plans are already afoot, with the re-commissioning of berths 201 and 202 into container terminals envisioned to be completed by 2020, followed by further expansion of the port's container terminal by 2030 and the possibility of entirely new facilities located on the Dibden reclaim, located to the south of the port's current operations.
The UK's relative lack of hub airports, despite the nation's strategic position linking Europe with the Americas, continues to baffle freight operators, and the political wrangling surrounding plans involving expansion at Heathrow and the so-called 'Boris Island Airport' offers little faith that the situation will be resolved in the near future.
The UK's ports seem more than willing to fill this void, with expansion plans specifically designed to capitalise on a perceived political reluctance to support what must be considered a vital revenue stream for a country suffering under a parlous financial climate.
---
Related content
---
Europe's shipyards are facing rough seas due to the global recession and low-cost competition from Asia.
The in-development London Gateway container port recently took delivery of three colossal new cranes from China.
---