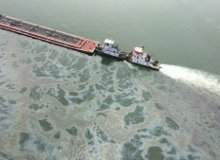 Singapore-based subsidiary of Keppel Offshore & Marine, Keppel FELS, signed a deal with TS Offshore for the construction of an ultra-high specification jack-up rig for $500m.
The 678ft rig will feature Keppel's new proprietary KFELS N Plus design, and will have a maximum combined drilling load of 3,860 kips.
The new jack-up rig will be capable of operating at a maximum water depth of 500ft, drill to depths of 35,000ft and be equipped with a 100ft cantilever outreach. The jack-up will meet the stringent operating requirements for the most challenging of wells.
The New South Wales (NSW) Government is set to upgrade the overseas passenger terminal in Sydney, to meet the growing demand from cruise ships visiting the terminal.
The $49.4m terminal upgrade contract has been awarded to a Sydney-based firm Watpac.
The redevelopment programme will include a 60m extension of the terminal's 220m wharf into Campbell's Cove and the addition of a new mezzanine level, entry foyer and wraparound deck for passengers to easily embark and disembark.
Archipelago Philippine Ferries (APFC) is spending $249m on the purchase of 30 passenger and cargo vessels by 2018.
Each of the roll-on, roll-off vessels has a capacity to accommodate 270 to 300 passengers, seven buses and approximately 40 cars.
APFC chairman Christopher Pastrana said the first ten of the 30 twin-hulled ships, called Fast Cats, will be available this year.
The company has already received two vessels, which are operating on the Batangas City to Calapan route.
Bahamas Prime Minister Perry Gladstone Christie revealed that the government is planning to invest approximately $250m to expand the Freeport Container Port transhipment hub.
The expansion will enable around one million additional containers to pass through the Freeport Container Port annually.
Many other Caribbean countries are looking at increasing or establishing a container port operation, as the expansion of the Panama Canal is scheduled to be completed soon.
Netherlands-based Damen Shipyards Group opened a new shipyard in Vietnam, which represents its first formal joint-venture yard in the country.
Damen Song Cam yard is designed to meet European health, safety and environmental standards and will initially produce approximately 40 ships a year.
The 43ha yard has direct access to open sea, a 120m-long and 85m-wide outfitting hall equipped with three overhead cranes of 25t each, an air-conditioned and controlled environment paint shop, and other carpentry workshops.
A regional administrative court in Italy accepted a request from Venice port operator Venezia Terminal Passeggeri, other port firms and a committee representing cruise operators to lift the ban on the entry of large cruise ships in Venice.
The ban was introduced by the government of ex-premier Enrico Letta in November 2013, to reduce the number of cruise vessels of more than 40,000t from making their way towards Venice's cruise ship terminal.
More stringent rules were set to be introduced this November that would have banned ships of more than 96,000t from entering the terminal.
The Philippines lodged a complaint against China for preventing two of its civilian vessels from reaching sailors on the Second Thomas Shoal, which is known as Ayungin in Manila and Ren'ai Reef in Beijing.
The Philippines and China both claim the shoal to be part of their continental shelf.
According to Philippine officials, the vessels were deployed to deliver supplies to a military ship, which has been grounded in the South China Sea since 1999.
A 585ft bulk carrier called Summer Wind and a barge carrying 924,000gal of fuel oil collided near Texas City, in the Houston Ship Channel on 22 March, resulting in the release of approximately 168,000gal of fuel oil into the water.
According to reports from the US Coast Guard, the barge was being towed by the motor vessel Miss Susan, which was travelling from Texas City to Bolivar.
Kirby Inland Marine, the owner of Miss Susan, has activated an emergency response plan and is working with the US Coast Guard, Texas General Land Office, Galveston County Office and a wide variety of federal, state and local government agencies and non-profit organisations to control and clean-up the oil spill.