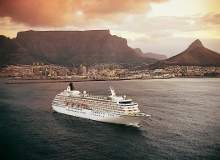 Bluefin Robotics' underwater autonomous vehicle was deployed as part of an operation that found the wreck of sunken Japanese battleship, the Musashi.
Led by Microsoft co-founder Paul Allen, a team of researchers used various methods to narrow the search area for the wreck and later sent the Bluefin 12 to track the vessel.
According to Bluefin Robotics, the underwater autonomous vehicle located the shipwreck in the Sibuyan Sea after three dives.
Panama Canal Authority (ACP) has reportedly planned a new project worth up to $17bn, to allow the canal to handle the world's largest ships.
Reuters reported that the authority prepared the installation of a fourth set of locks that are expected to serve bigger ships capable of carrying 20,000 containers.
Panama Canal Authority CEO Jorge Quijano was quoted by the news agency as saying: "Looking at our geology and the experience we gained with this current expansion, we estimate it's a project that could cost between $16bn and $17bn."
The IMO Sub-Committee on Navigation, Communications and Search and Rescue (NCSR) agreed new ship routing measures to protect sensitive areas in the south-west Coral Sea, off Australia's Great Barrier Reef.
With this development, vessels crossing through the region will be required to avoid the area and use two new, 5nm-wide two-way routes either side of it.
The two-way shipping routes will reduce the risk of ship collisions and groundings by separating opposing traffic streams, shoals and islets in the sensitive marine environment in Australia's Coral Sea Commonwealth Marine Reserve.
Stena Line launched the world's first methanol-powered ferry Stena Germanica, which complies with stricter regulations for minimising emissions.
With this new environmentally friendly Ro-pax ferry, Stena Line resumed its service on the route from Kiel in Germany to Gothenburg in Sweden, across the Baltic Sea.
Stena Line managing director Carl-Johan Hagman said: "We are very enthusiastic about methanol's possibilities and it has the potential to be the maritime fuel of the future."
Cruise operator Carnival Corporation signed two strategic memorandums of agreement to build a total of nine new cruise ships over a four-year period between 2019 and 2022.
Under these agreements, Italian shipbuilder Fincantieri and Germany's Meyer Werft will each build new ships based on Carnival's next-generation ship designs.
The deals will also include options for additional ships and are subject to conditions such as satisfactory financing.
Maritime Asset Security & Training (MAST) warned that ships in the Indian Ocean are at risk.
The Indian Ocean still faces challenges such as a lack of intelligence information sharing between countries involved in counter-piracy operations in the region, the security company said.
MAST COO Gerry Northwood OBE said: "Whilst recent reports and incidents seem to be pointing to the Far East as the next piracy hotspot, the real security risk to shipping remains within the Indian Ocean, which is being 'under-hyped' by some commentators."
Mobile satellite communications services provider Inmarsat launched its latest service Fleet Media, which offers entertainment for travellers at sea.
This new facility was developed in cooperation with NT Digital Partners, a joint venture between global content agency Spafax and the non-theatrical distributor Swank Motion Pictures.
According to Inmarsat, the service provides visual content, including international blockbuster films, television programming, as well as sports and news.
Japanese shipping company Nippon Yusen Kabushiki Kaisha (NYK Line) agreed to sell its subsidiary luxury cruise line Crystal Cruises to Genting Hong Kong (GHK), for $550m in cash.
With the purchase deal, Crystal Cruises' fleet increased by one vessel in addition to its current Crystal Symphony and Crystal Serenity.
Crystal Cruises president and COO Edie Rodriguez said: "The proposed expansion of our fleet will present our loyal Crystal Society members and new luxury cruise guests with more itinerary options, accommodation choices and exceptional vacation experiences, as we continue to position Crystal as the innovative leader in global luxury cruising."
Rolls-Royce signed a service agreement with Busan-based ship repairer Sunjin Entech in a bid to extend its service capability in South Korea.
With this development, Rolls-Royce can provide customers with a bespoke service solution at the two main repair hubs of Sunjin, Gupyung and Youngdo yards.
Rolls-Royce Marine Services north-east Asia director Anthony Tan said: "Sunjin has established a solid reputation for ship repair over the past 52 years and this new agreement will further strengthen and enhance its standing in a competitive ship repair market."
Maersk Line contracted China's COSCO Shipyard to build seven 3,600TEU container vessels.
The order for 200m-long and 35.2m-wide vessels was part of an investment programme announced by Maersk Line, to invest $15bn into new building, retrofit programme, containers and other equipment over the next five years.
Maersk's order also included the option for two additional vessels, to be declared within eight months.