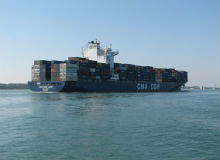 Launched late last year, the Maritime Growth Study intends to point the way forward for the UK. Its recommendations are wide-ranging and detailed, highlighting the need – now and in the future – for a thriving British maritime sector, particularly in the face of growing worldwide competition.
As of 2013, shipping alone contributed approximately £1.8bn to the UK's trade balance. Data from the Office for National Statistics shows that the direct contribution to the UK economy from the maritime sector, including marine industries, was at least £11bn in 2012. In addition, approximately 95% of goods that the UK imports and exports are transported by sea.
These figures, coupled with Lloyds Register's Global Marine Trends 2030 report forecasting that seaborne trade is predicted to double by 2030, demonstrate the necessity for the UK to remain at the top table of maritime powers.
Drawing skills from far and wide
The study was chaired by Lord Mountevans, a director at international shipbroker Clarksons and the chairman of Maritime UK, and was backed by an advisory group of eight industry experts.
Michael Parker, chairman of CMA CGM Holdings UK and chair of the advisory group, says the idea was to draw in a collection of people "with a wide breadth of knowledge and experience".
"This is a very disparate industry, particularly when you take in all the services, and the lawyers, brokers and financiers," he says. "One of the strengths is its diversity.
"What we've had over the last few years is recognition by government that this is an industry with a future."
"It was very much a collaborative approach. One important thing to recognise is how widely the study consulted with people in the industry. There were a lot of panels, pulling in people from all sorts of areas."
It is not only support from within the industry itself that is crucial, but also government. This, according to Parker, is one of the most exciting aspects of what the study represents – a continuing shift in attitude.
"What we've had over the last few years is recognition by government that this is an industry with a future," he says.
"If you go back to the 1980s, shipping was seen as a smokestack industry, one that had had its day and should be consigned to history. That [view] is indeed history. It is now a growth area."
A three-pronged approach: leadership, marketing and skills
This idea of a growth industry, and the opportunities it provides, is something that Parker often comes back to. The question now is how best to reap the benefits and confront the challenges.
The recommendations from Mountevans focus on three main areas: leadership, marketing and skills.
In terms of industry, the study looks at the creation of one body, working with government, to gather and disseminate the plethora of diverse views.
According to Sir Alan Massey, chief executive of the Maritime and Coastguard Agency (MCA), such leadership is paramount.
"On the one hand, that means leadership from the industry at large," he says. "Industry acknowledges this. There is some already a degree of coherence in what they do and it would seem a sensible idea to set up a universal body that can speak for industry, promote industry, and get industry as a whole to work in a more coherent way
On the other hand, greater simplicity is also required at a government level. With a wide range of departments involved in maritime policy, it can be a complicated and time consuming process for ship owners interested in putting their vessels into UK tonnage tax or under the UK Flag.
"Currently, a ship owner has to liaise with the Department for Business, Innovation & Skills on apprenticeships; the Department for Transport on other forms of training and policy issues; the MCA on the Flag, and then HMRC about tax issues. This can be quite a protracted process," says Massey.
The maritime image
The reorganising of structures is only one element, however. While the study acknowledges that the UK has a strong "maritime offer", it is generally accepted that more needs to be done to market it, both nationally and internationally. Creating this image also feeds into the skills debate that is beginning to pick up traction.
Seafarers UK director general Commodore Barry Bryant RN estimates that there are approximately 25,000 commercial seafarers today – over time that figure will have to be replenished.
"We've got to make the industry attractive to our young people," says Bryant. "We need to make kids understand what a challenge it is but also how it is a one-off. It's an exciting place out there, with huge responsibility at quite a young age.
"It's an exciting place out there, with huge responsibility at quite a young age."
"We can see a shift of emphasis. We're spending more time on campaigning with the British public. We're trying to make them realise how important UK maritime is."
Mountevans recommends an industry-wide body to identify and prioritise these issues by developing a skills strategy, and an extension of apprenticeship programmes to include more roles in the maritime sector, such as engineering.
Massey agrees… saying the "seed" [of maritime careers] has to be planted at a young age if we want to inspire people in that direction, while Parker believes that, as a "hidden industry", it is imperative to work with the media to piece together a compelling story, embedding it in people's thoughts.
Changes afoot at the MCA
One of the more radical suggestions to be found in Mountevans's future vision is the separation of the UK Ship Register (UKSR) from the MCA's regulatory functions, and for the UKSR to adopt a more commercial-oriented mindset.
Shipping Fleet Statistics from 2014 show the UK fleet falling by 17%, from 16th place in 2013 to 19th place in 2014 in the world rankings according to deadweight tonnage.
"The notion of splitting the UKSR away from the MCA's more regulatory functions is, for me, a really positive one," says Massey. "Even if you did nothing else to the MCA, you could and should be prepared to consider doing that."
"Breaking the ship register away will allow us to not just remarket the UK Flag but actually to inculcate a different approach in the way we run the register, maybe in becoming a bit more commercial and competitive, and offering more of a business-to-business service to our customers."
A new approach to the register is just the first step. The MCA is also recruiting a commercial director, to sit under a separate directorate, while a reshaping of its long-term vision is also on the cards.
Massey explains: "A study has already started in the wake of the recommendations. It will, amongst other things, be exploring the options for doing something different with the MCA's status and governance arrangements to improve our responsiveness to modern customer expectations.
Time to get on the bandwagon
With the MCA embarking on a period of change, there is a sense of urgency spreading across the industry. For while it is acknowledged that UK maritime is performing well, competition from abroad is growing.
"Shipping will go on regardless of whatever the UK does," says Parker. "The whole question is, how much of the international shipping industry is going to be based in the UK, as opposed to somewhere else? And what the industry will look like in this country.
"In the worst case scenario, ship owners go somewhere else, and if they do, ship managers tend to follow the owners."
Massey argues that it's time for the UK maritime sector to "lift its collective sights".
"It's vitally important to make sure that the UK maintains open access to effective and efficient international sea trade and is able to drive forward the already substantial economic value of the UK maritime sector," he says.
"Now is just the right time to be laying the foundations to make that possible and the Maritime Growth Study has provided excellent analysis and arguments to build on."