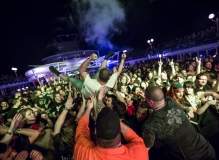 A long time ago in a galaxy far, far away – well, in January in a Virgin Holiday Cruises poll – a third of holidaymakers, after being asked which theme they would like to choose for a ship-based holiday, plumped for Star Wars. While lightsabre battles on deck would be far more exciting that a traditional game of quoits, one can imagine that an authentic Mos Eisley Cantina-based cabaret band playing the same tune over and over again could quickly get tedious. Other themes Virgin offered its pollsters included a zombie apocalypse, Pirates of the Caribbean and Star Trek. While a ship-based replica of Death Star or a floating USS Enterprise may be light years away, cruise operators are seeking to lower their ship gangplanks to a new generation of voyagers and arouse the excitement of veteran travellers alike by offering similarly quirky themes.
Fantasy themes and hairy feet competitions
If nothing else, Virgin's poll shows that the sci-fi and fantasy genres, which were once the exclusive sphere of geeky fandom, have now proudly raised their heads into the popular imagination. One fantasy heavyweight that has already got in on the action is Lord of the Rings, celebrated as part of a new CosPlay – dressing up as character from a film, book or computer game – themed cruise offered by Trilo3y Voyages. With something for all hobbits and elves alike, entertainment ranges from the sublime, with lectures by academics and JRR Tolkien's grandson, to the ridiculous, such as a poolside hairy feet competition. Well, it's something to do before second breakfast.
But the cruise may have missed a trick with its destination. Instead of visiting New Zealand so hobbits, elves and wizards can immerse themselves in the frozen mountains and lush forests where Peter Jackson sited his movie version of Middle Earth, options include the Caribbean, Sydney, Bruges and Paris, and Bermuda. Hardly Mount Doom.
Despite the apparent success of fantasy-themed cruises, it's hard to imagine a Game of Thrones themed cruise catching on. Passengers would worry whether all diners would survive to the end of dinner each evening, especially if the band strikes up the infamous death-precursor tune The Rains of Castamere.
Swapping primetime for downtime
While many people welcome the break from being constantly slumped in front of the TV, others would prefer to take their obsession to sea with them. Ballroom dancing has been a big feature of cruises since their earliest days; legend has it the band on the Titanic was still playing as it sank
Ballroom dancing is enjoying something of a revival thanks in no small way to the exceptional success of Strictly Come Dancing which has been shimmying round viewers' screens on Saturday evenings since 2004. While ballroom classes on ships are nothing new, P&O Cruises' Strictly Come Dancing cruise features professional dancers from the programme to show cruisers a move or two, and outspoken judges to presumably tell them where they're going wrong. Or if you just want to see how the professionals do it, you can sit back with a Mojito and tap your feet along to big-bang versions of pop classics. With several destinations to choose from, you can Mambo your way round the Mediterranean or Foxtrot round the Baltic.
Those who prefer The Great British Bake Off may be disappointed to hear that among the many cookery cruises on offer, the only place you'll be getting a soggy bottom is poolside, despite the fact that Mary Berry was recently made godmother of Viking Cruises' new ship Viking Alsvin at its recent naming ceremony in Amsterdam.
Music for all
Those who dismiss cruises as the sole reserve of the blue-rinse brigade probably expect a musical repertoire of show tunes and opera-lite from the likes of Jane McDonald and cover bands; but one new breed of musical cruises has been turning the amp up to eleven since 2011. 70000TONS OF METAL (the organisers' own capitals and spacing – I know, I'm shocked at the lack of umlauts too) styles itself as a heavy metal festival at sea, with the Caribbean destination second only to very, very loud music, a bar that never shuts and a uniform of Jack Daniels t-shirts.
Canadian organiser Ultimate Cruises asks: "What do you get if you take 60 metal bands and have them play 120 shows for only 3000 fans on one 154,000 ton cruise ship sailing to Jamaica?" A lot of hair in the bathroom plugholes, presumably. Should you tire of constant thrash and crowd-surfing, you can relax with metal karaoke until sunrise, the 'All Star Jam' clinics and workshops with on-board musicians or participate in their "infamous belly flop contest". Ouch.
Should your musical tastes be better suited to a gentle nodding-along to an improvised saxophone noodle and the occasional utterance of "nice" rather than head-banging until the sun comes up, you may prefer a Jazz Cruise. Leaving from Fort Lauderdale and calling at destinations in Jamaica, Cayman Islands and Mexico, the Entertainment Cruise Productions annual event features performances by 90 world class jazz musicians, including the Arturo Sandoval Band, Monty Alexander and Gregory Porter, over the course of a week. Groovy.
The best of the rest – place your bets, on your marks, or take aim
On-board casinos have always been a popular way for travellers to unleash their inner James Bond, especially those travellers who live where gambling is restricted. Poker in particular has enjoyed a renaissance through online gaming, enabling players anywhere in the world to pit their poker face against professionals rather than Dave from HR and Trudy from Accounts. The Cruise Authority's World Poker Tour lets players place their stakes in person with the likes of Poker Hall Of Fame member Mike Sexton, former tennis star Vince Van Patten and, err, "the beautiful Royal Flush Girls".
You'd have thought runners would go stir crazy on board a cruise ship – pity the participants in the North Pole Marathon who were stranded on board by bad weather one year and had to run the race round and round the deck. But The Running Cruise keeps the racing on terra firma with a choice of Caribbean island runs, a half- or full marathon jog spread over a week in Hungary, Slovakia, Austria and Germany, or a whole marathon in Alaska. Between athletic endeavours, runners can get training tips from coach Jenny Hadfield and every slow runner's hero John 'The Penguin' Bingham. As any runner knows, rehydration is important, so there are post-race parties with beer. Mmm, beer.
Murder mystery on a ship? Well, unless there was a suspect splash and a missing lifeboat you can be sure the perpetrator hasn't gone far. P&O ferries offer mini cruises to Bruges, including over the Christmas market season, with a themed crime story acted out for amateur sleuths to exercise using their magnifying glasses. Armchair detectives can set their sights on scenarios based around the cast of a former maritime soap opera getting together to re-launch the show, or a historical society searching for a pirate's hidden treasure. Shiver me timbers.
These are just a tiny selection of the massive variety of themed cruises offered by cruise operators looking to attract new clientele and keep regulars coming back for more. Whatever your favourite hobby, or if there's a new pastime you want to pursue, chances are there's a cruise to suit your tastes.
Now, where's my Galadriel costume?