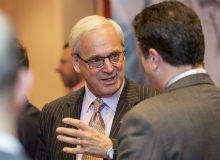 As an island nation, the sea and maritime industry are inextricably linked to the economic fortunes of Mauritius. As such, it is no surprise to see that the country's government is eager to expand its capital and largest city Port Louis into a bunkering hub, capable of selling 1 million metric tons of bunker fuel per year.
To put this into context, in 2014 the port sold 287,546 metric tons, which was a 6.8% increase from 269,324 the year before. With an estimated 35,000 ships moving in the waters around Mauritius between Asia, southern Africa and South America, the appeal is there for all to see. But, why expand now?
A watershed moment
As stated, the increase in sales from 2013 to 2014 demonstrates expansion as a result of the current commercial environment, but as new fuels appear on the market, minds are beginning to turn to the future.
The International Bunker Industry Association (IBIA) held an event in October 2015, Mauritius: A Bunker Hub: Driving the Ocean Economy, which brought together the whole bunkering community in Mauritius – storage, port, banking, insurance, suppliers; the whole gambit, and looked at networking and training.
Held at the invitation of the government, the main thrust of the occasion was to analyse where Mauritius and the Indian Ocean communities fit into the larger bunker scene.
"Port Louis is modernising as a result of normal commercial operations," explains IBIA chief executive Peter Hall, referencing the figures from 2013-2014.
"The majority of goods are moved via containers. Container ships are getting bigger, so ports worldwide are developing their facilities to handle these larger ships."
"As far as the industry is concerned we're at a watershed where we have potential new fuels on the market."
This, adds Hall, has forced the hand of developers to ensure that supply routes are sustained, but has also opened up the ability for ports to "entertain deeper vessels in a safe manner".
Nevertheless, there is little doubt that new fuels such as LNG, – perhaps replacing the fossil-fuel driven culture of today – are causing many to consider how bunkering will look and operate in the future.
"As far as the industry is concerned we're at a watershed where we have potential new fuels on the market," says Hall, "so the barriers to entry are less than they would be under a normal scenario.
"Ten years ago, the fuel supply market was pretty consistent, but what we now have is a new era of new fuels and new opportunities. They need investment, so it creates opportunities for other countries to think 'well, why don't we take advantage of this?'" You're not only building for today, you're building for the future."
Taking heed of this message, the Mauritius Ports Authority has already hired Royal HaskoningDHV to look into the possibilities for Port Louis to be converted into a LNG hub.
Challenges: building reputation and capacity
Pulling this off, however, will require strong relationships and support from a whole range of people and industries.
Hall says that, as bunkering is a relational business, "and one where you want to chew over a few ideas", Mauritius has to follow the lead of others who have set the example, such as Gibraltar. The territory on the south coast of Spain was handling in the order of 300,000-400,000 tons of fuel oil, but is now up to 4 million.
"It's a significant growth and it's achieved that through its reputation," says Hall. If marine traffic can be encouraged to stop and Port Louis can provide the services to those ships – fuel, repairs and crew changes – "you have a multiplier for the economy". Estimates suggest that for every $100 spent on fuel, an additional $100 is spent in the local economy, on direct and indirect services.
"A bunker operation is a bit like a car going into a service station," adds Hall. "The ship will go and it won't only just get topped up with fuel, it will take the opportunity to change crew, pick up spare parts, and perhaps also have small repairs."
Thinking outside the box will therefore be vital to the success of Port Louis. If such services are to be available, electronic companies could be needed to support the repair of faulty communications equipment, for example.
It's also necessary to look at the "big picture" as Hall puts it. A good, reliable supply of fuel will be crucial in convincing ship operators to change their supply arrangements.
"When you look at the wider region of the Indian Ocean, you can see that there is natural gas and oil that is still to be developed," says Hall. "There is a supply chain that needs to be made more robust. But, for the years to come, with the natural deposits there, it could have its own resource on the doorstep."
Sustainable growth
Opportunity abounds, then, and progress has been made.
The Mauritian government has begun to liberalise bunker trade, reducing and removing charges and duties, as well as offering a quicker process for issuing bunkering licences and import permits.
"If you grow too quickly, you're stretching the elastic band of the capability."
More IBIA events such as the forum, bring together external experts and the local communities through networking opportunities, are also on the agenda. Growing the competency of the local community and building the necessary infrastructure will take time, however, hence the 25-year timeframe.
"If you grow too quickly, you're stretching the elastic band of the capability," warns Hall.
"When you do that, there is a possibility of it snapping. This is a slow moving process. And at the same time you need to be grounded in terms of the capacity and competency of people. Experience takes time.
"It needs to be a considered pace. The 25-year figure is very realistic."