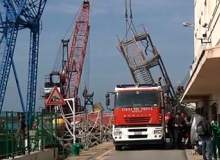 The Port of Melbourne's $1.6bn Port Capacity Project reached another milestone in May with the shortlisting of four bidders to build and operate the port's new international container terminal at Webb Dock East.
Shortlisted bidders for the project include a consortium of CMA CGM, ANL Container Line and Macquarie Specialised Asset Management; Australian International Container Terminals (AICTL), a group comprised of International Container Terminal Services and Anglo Ports; Hutchison Port Holdings; and Qube Holdings.
According to the Port of Melbourne Corporation, shortlisted bidders should submit their proposals by September 2013, while the winner is expected to be announced in early 2014.
The new terminal will include about 30 hectares of waterfront, a utility 'off-dock' area and a container facility.
With the fortunes of the global shipbuilding industry at the mercy of fluctuations in global trade demand and other factors, any technologies that simplify and streamline the construction of vessels will be welcomed.
South Korean shipbuilder Hyundai Heavy Industries (HHI) has introduced new mini welding robots that are able to carry out welding (and, with the right software upgrades, steel cutting, blasting and painting) in areas that are inaccessible to human welders.
When the welding arm is retracted, the robot measures 50cm by 30cm by 15cm, while its six joints will help in performing almost all types of welding work at a similar speed as a human welder. According to HHI, an operator can manage three of the mini robots at one time, increasing productivity threefold.

Tragedy struck at the Port of Genoa in Italy when the cargo ship Jolly Nero crashed into a control tower, killing nine people.
The crash occurred when Jolly Nero was making a routine reverse manoeuvre to exit the port, during which the vessel careened into the 164ft control tower, toppling it.
Funerals for eight of the nine victims of the crash were held on 15 May, with salvage teams continuing to search for the body of the ninth victim amid the rubble.
A major investigation into the cause of the crash is ongoing, with an engine malfunction during the manoeuvre thought to be a factor. The ship's captain and a pilot from the port who was onboard for the manoeuvre are being investigated over possible manslaughter charges.

With Arctic seas becoming an increasingly important maritime region for international trade and the oil and gas industry, classification society the Russian Maritime Register of Shipping (RS) is preparing to modify its requirements for icebreakers and ice-class ships.
The changes, scheduled to come into effect in 2014 and primarily regarding damage trim and stability calculations during possible ship damage, are designed to make ice ship design and construction more efficient as demand for these vessels increases.
"The shipbuilding of today will need technical standards to enable a reduction of construction costs for these ships to be achieved without harm to their safety", said RS chief executive officer Mikhail Grigoriyevich.

Alternative marine power (AMP) is an effective way to reduce air pollution in and around ports by providing power to docked vessels from the shore, rather than ships constantly running auxiliary diesel engines.
In February 2013, the Port of San Diego announced plans to expand AMP to a new terminal, and now its Californian counterparts the Port of Los Angeles and the Port of Long Beach are following suit.
The ports announced in May that PierPass will install AMP at 13 cargo terminals across both facilities by the end of 2013.
The new shore power systems, which are being installed to support clean air initiatives led by the two ports and the California Air Resources Board, are expected to provide power to half of the ports' container cargo, refrigerated cargo and cruise vessels by January 2014.

Seaglider, developed by the University of Washington's School of Oceanography and Applied Physics Laboratory in Seattle, US, is now ready for commercialisation following an agreement signed between the university and Kongsberg Underwater Technology.
The agreement gives Kongsberg the exclusive rights to develop, manufacture and market Seaglider technology.
Seaglider is an autonomous underwater vehicle (AUV) that can gather information at water depths of up to 1,000m and come up to the surface to communicate data on water properties, such as temperature, salinity, and oxygen concentration back to users by satellite. After receiving further instructions, the system can dive again to repeat the process.

In the wake of the recent catastrophe at the Port of Genoa, the timing of a new European research project to improve onboard safety seems particularly apt. The project, called Co-operative and Adaptive Ship-based Context Aware Design (CASCADe), will run for three years, looking into the best ways to improve symbiosis between current bridge design, operational procedures and the end user.
Around 80% of ship collisions and groundings take place due to failures of bridge systems and their usage, according to estimates.
CASCADe will develop an adaptive bridge system to identify, prevent and recover from human errors by improving the interaction between crew and machines on the bridge.