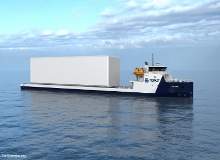 Vard " class="fullwidth lazyload" src="data:image/gif;base64,R0lGODlhAQABAAAAACH5BAEKAAEALAAAAAABAAEAAAICTAEAOw==" data-src="https://www.ship-technology.com/wp-content/uploads/image-digitalinsightresearch/nri/ship/news/May%202016/VARD%20Top.jpg">
Vard Holding (VARD), the Norwegian subsidiary of Italian ship builder Fincantieri , secured a $300m contract to design and build 15 module carrier vessels (MCV) for Topaz Energy and Marine (Topaz ).
The vessels, which measure 123m by 16.5m, will be based on the Vard 9 21 design and will be suitable for navigation of shallow river systems to ferry modules through the Russian waterways to oilfields in Kazakhstan. They will be equipped with a capacity to carry high deck loads of up to 1,800t.
Topaz will operate the newly built vessels through a consortium led by Blue Water Shipping for the end-client Tengizchevroil.
Heriot-Watt scientists discovered the genetic code of the marine bacteria which fed on the oil spilled in the Deepwater Horizon disaster, which could aid in future clean-up efforts.
In 2010, a gas release coupled with an explosion on the Deepwater Horizon oil rig working on the Macondo exploration well for BP in the Gulf of Mexico ejected 3.19 million barrels of oil into the ocean.
Heriot-Watt Microbiology associate professor Dr Tony Gutierrez experimented on samples of oil-contaminated waters from the Gulf of Mexico collected shortly after the incident, which contained the bacteria that fed on the oil.
French container shipping company CMA CGM confirmed its intention to acquire Singapore-based global container shipping firm Neptune Orient Lines (NOL) in an all-cash voluntary conditional general offer for all outstanding shares.
CMA CGM priced each NOL share at S$1.30 in cash, which represents a 49% premium to NOL's unaffected share price with CMA CGM specifying that the price will remain fixed. The total amount to be invested by CMA CGM will be S$3.4bn ($2.4bn).
The announcement comes after the potential transaction secured the regulatory approvals from Anti-Monopoly Bureau of the Chinese Ministry of Commerce (MOFCOM) and the European Commission.
Shipping container lines Hanjin , Hapag-Lloyd , KLine, Mitsui OSK Lines , Nippon Yusen Kaisha and Yang Ming created a new Alliance , called THE Alliance.
THE Alliance is expected to establish a leading network in the container shipping industry with a projected capacity of approximately 3.5 million twenty foot equivalent unit (teu) or 18% share of the global container fleet capacity.
The newly formed alliance will cover all East-West trade lanes namely the, Asia-Europe, Mediterranean, Asia-North America West Coast, Asia-North America East Coast, Transatlantic and Asia-Middle East , Persian Gulf and Red Sea lanes.
Genting Hong Kong signed a contract order worth around €3.5bn with Germany's Lloyd Werft Group to build ten ships, comprising two mega cruise ships for Star Cruises, and eight vessels for Crystal Cruises.
The vessels are expected to be delivered over the next six years, reported businesstimes.
The order includes two global-class of ships for worldwide cruising each measuring 201,000 gross tonnage (gt) with 5,000 lower berths for Star Cruises.
Fujitsu " class="thirdleft lazyload" src="data:image/gif;base64,R0lGODlhAQABAAAAACH5BAEKAAEALAAAAAABAAEAAAICTAEAOw==" data-src="https://www.ship-technology.com/wp-content/uploads/image-digitalinsightresearch/nri/ship/news/May%202016/Fujitsu%20text.jpg">
Joint research undertaken by Fujitsu Laboratories and Tokyo University of Marine Science and Technology resulted in the development of new technology that analyses ship-related big data to estimate fuel efficiency, speed and other performance in actual sea conditions with a low error margin.
The new technology facilitates an accurate estimation of ship performance in actual sea conditions, with reduced errors, making use of Fujitsu Laboratories' patented high-dimensional statistical analysis technology, Human Centric AI Zinrai, which is used to estimate the performance of ships that are at sea.
It uses a large volume of measurement data gathered during the ship's voyage, including sensor data of meteorological and hydrographic conditions, such as wind, waves, and ocean currents, ship engine log data, and data about the speed and position of the ship.
DP World signed a deal with the Government of Somaliland to manage the port of Berbera on the eastern coast of Africa.
A joint venture company will be established to invest in and manage the Port of Berbera, while the investment worth $42 million will be carried out in phases and will be subject to the port's volume.
The deal is expected to provide an economic boost to the Horn of Africa and the other land-locked countries along the east coast by turning the port into a regional trade and logistics hub.
A consortium led by researchers from the University of Southampton IT Innovation Centre, UK developed unmanned autonomous vehicles (UAVs) to scan the ocean and collect environmental information to manage one of Europe's busiest ports.
Claimed to be low cost, the on-demand UAVs will operate on intelligent data analytics to provide the Port of Leixões, Portugal with environmental impacts.
The UAVs, inter-connected, will relay observations to a geo-spatial environmental data fusion platform that creates data for marine risk analysis, facilitating a rapid response impact analysis.
UK-based passenger shipping company Steam Packet announced an investment of £170m to improve the port facilities on the Isle of Man.
The company intends to allocate the funds on a range of services, including new vessels, port facilities and fare reductions, aiming for increased passenger capacity within a year, as well as introducing special offers and a new frequent traveller scheme.
The investment will also be used for two new vessels, and retaining the Ben-my-Chree vessel, in a bid to restore an all-round passenger and freight back-up for the fleet.
Dryad Maritime unveiled WxConnect, a scalable, managed weather forecasting service for maritime vessels.
The weather forecasting service has been released as the latest figures from the International Union of Marine Insurance show that losses due to weather are on the rise.
Designed and developed by Dryad's in-house teams and meteorologists, accredited by the World Meteorological Organisation, the service is offered alongside Dryad's Vessel Safety Management service to enhance the tangible safety and operational benefits, whilst reducing burdens for masters and shore-based teams.