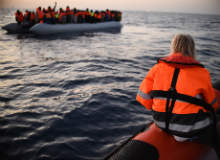 Facing one of the biggest humanitarian crises of our time, at the start of this year non-governmental organisation Médecins Sans Frontières (MSF) launched its operation at sea, to provide vital search and rescue services for refugees in the Central Mediterranean.
After being involved in the rescue of more than 20,000 people since early 2015, MSF at Sea has been lauded as "absolutely heroic" by the UN High Commission for Refugees.
MSF emergency coordinator Will Turner has been there from the beginning, as one of the key members on board of MSF's first ship, the MY Phoenix. Turner tells about the challenges involved in chartering new territory, the dramatic situations encountered on board and why it is important for the shipping industry to face their maritime and moral obligation and get involved.
Eva Grey: How did MSF decide to launch their operations at sea in response to the refugee crisis?
Will Turner: MSF as a humanitarian organisation has always been following the migration issues over the years. What we saw in 2014 was a significant increase in the number of people crossing and losing their lives in the Central Mediterranean, which was a world-established route.
We simply felt compelled to respond in the absence of a coherent and appropriate response from the European Union. We felt compelled to assist and towards the end of 2014, we started to prepare to become operational in 2015.
We started our operations in May aboard the MY Phoenix, which was the boat I was operating on in partnership with Migrant Offshore Aid Station (MOAS). A few days later we had another boat called Bourbon Argos, followed by a third called the Dignity1.
EG: Does MSF operate independently at sea or did it form collaborations with other organisations?
WT: MSF basically decided to have three operational models for operating at sea this year.
---
---
When the IMO says it is going to take action, what does it mean?
---
One of them was the partnership with MOAS, which is focused on sea operations, while MSF took care of people during and after the rescue. For our second model we had the Bourbon Argos chartered from the Bourbon company, which was operated by MSF. For the final model, we actually bought the Dignity1 ship and equipped it with MSF's crew and personnel.
The composition of each the boats was made up of the ship's crew, a rescue team, medical personnel and also cultural mediators who help with communication and engagement with the people we rescue, to translate and help deliver our messages.
Right now there are two ships operating. As we're coming into the winter months, the number of people crossing reduces, so there are sufficient boats for their rescue at the moment. But we expect the situation to carry on as we've experienced over the past two years, with big increases in numbers as soon as the weather starts to improve in spring and summer, and that's when we will look if there's a need for us to increase our operations again.
EG: What was your role on board of the MY Phoenix?
WT: I was an emergency coordinator, so I was responsible for MSF team's operations on the boat, ensuring a good collaboration with the captain, as well as being the final person responsible and decision-maker whilst on board. Overall, I was responsible for caring for the people on board, but also liaising with the authorities and with other MSF and search and rescue boats in the area to ensure that we cover the needs as quickly and effectively as possible.
EG: How difficult was it for the organisation to adapt to the new environment and what were some of the main challenges of operating at sea?
WT: I think initially one of the challenges was the new context of carrying out a sea operation of this scale. Just to have the challenge to learn a new skills set; search and rescue at sea is not an easy task and there are inherent risks associated with that. But what MSF was able to do, as we did in many new or challenging environments, was adapt quickly and effectively.
To begin with, the migration issue was emerging as one of the main humanitarian crisis of our time, with over 2,500 people in the Central Mediterranean dying in 2014. This simply wasn't acceptable on Europe's doorstep.
At the same time, it's also a highly polarised debate in Europe. We have to highlight that this is a humanitarian situation, that people are fleeing some of the worst conflicts of our time, with more people displaced (now) since WWII. That was something we wanted to highlight with this operation, and give people a voice while going through these horrendous experiences.
EG: Is there a specific case that stuck with you during your time spent on board?
"We had a family from the besieged neighbourhood of Yamuk in Damascus, with a father, wife and two small children who have been surviving barrel bombs."
WT: The most powerful and impressive aspect to this operation is the people. It's a very surreal situation where we are out at sea and then suddenly you come across a small boat – either a rubber inflatable boat of about 8m long, or a traditional wooden fishing boat – absolutely crammed with people.
There are often over 100 people on one of these small boats, while some of these wooden boats can house over 600 people crammed on top. And people are in a very vulnerable position, it doesn't take much for one of the badly made, rubber inflatable boats to malfunction and deflate, or the panic and movement of people on deck to make it capsize. Suddenly, you have hundreds of people in the water and potentially a mass tragedy in front of you.
It's a very vulnerable position and when people come on board they are very grateful to have been rescued. This time spent with people on board was very powerful.
We had a family from the besieged neighbourhood of Yamuk in Damascus, with a father, wife and two small children who have been surviving barrel bombs dropped on their neighbourhood by the Syrian regime. When the neighbourhood was overtaken by Jihad and their suffering became so unbearable that they had to flee, they found that they couldn't stay in the neighbouring regional countries because they are so overwhelmed and are starting to limit the support for refugees. So they felt that they had to go and make the journey through Libya and then risk their lives again.
I think it's a great failure of our time that we acknowledge that people are facing great risks to their lives and we are not doing enough to support them.
We shouldn't forget that Europe is not taking the burden of this refugee situation – the regional countries support the majority of people fleeing and several do try to come to Europe, which is understandable, seeing that Europe is one of the places that can offer the means and the resources to protect these people.
EG: How has the shipping industry responded to this crisis so far?
WT: From our experience, we saw commercial shipping offering assistance in some rescues.
---
---
Across numerous industries, hackers have continually adapted their methods to fit their target.
---
There would be times where we would engage in rescue operations and commercial ships would be requested to come and be on standby in the area, or assist in a rescue, which is much welcomed. Considering the scope of departures from Libya, it's not always possible for rescue ships to be the first in the area.
However, the concern has sometimes been that commercial ships are avoiding their maritime obligation by trying to avoid calls for rescue and intervention. This is the impression that was sometimes felt, but of course it's very difficult to measure.
But certainly one area where I would consider the shipping industry should look at, particularly those working in the Mediterranean, is the provision of life saving devices. Obviously most people crossing do not even have life jackets so in the case of an emergency, giving people a life jacket or having life saving devices available is fundamental.
I think there should be more reflection from the shipping industry to ensure that this basic provision of emergency blankets and basic foods and water to care for people is essential. But there should be really an ethical and a moral reflection on how shipping companies in that part of the world are provisioned, in case of being called to intervene in a rescue operation.
EG: What sort of cooperation and support does MSF hopes to receive from the shipping community?
WT: In the absence of policies which would hopefully limit the number of people risking their lives at sea, we think the maritime community should mobilise as much as possible.
What we would like to see is the cooperation with other organisations or entities to provide a better operation in the Central Mediterranean, to adequately rescue and care for these people. Obviously MSF has built up some expertise and knowledge, but of course there are many people who have a lot to offer and I think there are many natural partnerships.
Whether it is direct support or support in kind, as a maritime community we should feel compelled to do something because of the extent of these people's suffering.