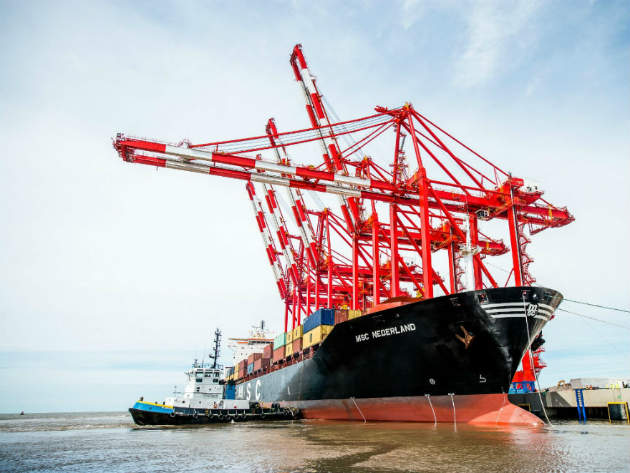 The numbers are staggering. As of 12 July, Chinese and South Korean shipyards have delivered 21 ships of 12,500-20,000 twenty-foot equivalent units (TEU) so far this year. That data, complied by IHS Maritime and Trade, goes on to show that a further 16 will be arriving between now and the end of the year.
"[That makes] an aggregate of 263,000 TEU," says Richard Clayton, chief correspondent at IHS Maritime and Trade. "A further 53 [are] due for delivery in 2017, plus 47 on order for 2018 (810,000 TEU)."
These ships are undoubtedly 'mega', but could they get even bigger? Clayton explains: "I have seen designs for ships up to 25,000 TEU capacity but the peak as of now is 20,000." To put this into context, "these are ships that are larger than the expanded Panama Canal can accommodate".
The Panama Canal recently underwent a huge $5.25bn expansion programme, adding a new lane of traffic, and increasing the width and depth of the lanes and locks. The official website describes how "after the expansion, the post-Panamax vessels will be able to transit through the Canal, with up to 13,000/14,000 TEUs". It was inaugurated on the 26 June by the Cosco Shipping Panama vessel.
Ports: are they ready?
It's easy to see the trend in the growth of ships, but what cannot be forgotten is the role of ports. Amidst the fanfare that greets the arrival of colossal ships, there's a feeling that ports are struggling to keep pace.
"When these ships come in to port, they need larger container gantry cranes, a larger storage yard, and better inland distribution," says Clayton. That of course costs money, not to mention the necessary space to expand, which is not always a given in densely populated cities.
One story of expansion comes from the UK. Liverpool2 is a new deep water container terminal, currently under construction, at the Port of Liverpool, costing up to £300m. Owner and operator Peel Ports last month signalled the start of marine trials with the Mediterranean Shipping Company (MSC ). It is expected that Liverpool2 will be fully operational by the end of this year.
"There are designs for ships up to 25,000 TEU capacity."
David Huck, port director at Peel Ports Group, is determined that the terminal will be ready for whatever the future brings. "Originally we weren't planning for mega max cranes," says Huck, "but we made the conscious decision about two years ago, looking at the infrastructure we're putting in place, how do we future proof it?
"So, let's make sure the quay wall and infrastructure is capable of going deeper and that the crane rails can accommodate larger cranes in the future, and so on."
Liverpool's trials with MSC will see the likes of the 3,007 TEU MV MSC Nederland and 2,668 TEU MV MSC Santhya operate over the next two months. But, compare those two to MSC's Oscar Class, the largest vessel in the world when measured by container capacity.
Measuring 395m long and 59m wide, the MSC Oscar can hold up to 19,224 TEU. The company says a typical call at port can last for between 36 and 60 hours. But note this, from an Oscar Class fact and answer document: "MSC currently has no plans to build vessels larger than the Oscar Class. Vessel size may increase in years to come but ship size is constrained by today's infrastructure. Only 20 ports in the world can accommodate 19,000 TEU vessels."
Those 20 ports are: Dalian; Xingang; Qingdao; Busan; Ningbo; Shanghai; Yantian; Tanjung Pelepas; Bremerhaven; Hamburg; Gothenburg; Aarhus; Wilhelmshaven; Antwerp; Rotterdam; Singapore; Kwangyang; Xiamen; Gdansk; and Felixstowe.
A changing market: expand or suffer the consequences
With so few ports having the necessary infrastructure, market dynamics are shifting. "If you do what you've always done, you'll get what you've always got," says Huck, when asked if ports are under too much pressure to adapt. "That pressure…at the end of the day, you either invest in your customers or you don't. It really does come down to that." Clayton agrees: "Change is a constant: customers can't be taken for granted."
In a talk at the Global Liner Shipping Conference in April, APM Terminals chief executive Kim Fejfer announced boldly that change in the port industry "has been more pronounced in the past two years than in the past twenty".
As described earlier, Peel Ports is investing to meet this change, as are ports in the US. PortMiami boasts on its website that it's "ready for the big ship era", following the installation of bigger gantry cranes, while the Port of Long Beach is working on its Middle Habor project. Once completed – sometime around 2020 – this $1.3bn undertaking will be capable of handling 3.3 million TEUs a year, and 24,000 TEU ships, according to the port's official website.
PSA Singapore is going one better, expanding the Pasir Panjang terminal's capacity to 50 million TEUs. Clayton says Singapore is, in effect, "planning for 2050 – more than a generation away". Meanwhile, on Canada's East Coast there are plans to develop two container terminals in Nova Scotia, capable of handlings ships of 14,000 TEUs and possibly more.
Lest we forget about European ports. "Ports such as Rotterdam, Antwerp, Felixstowe, and Hamburg have invested significant sums of money to be included in the rotation of ports on the mega-ship ports," says Clayton. "Others have not had access to capital, can't expand for physical reasons such as proximity to residential or industrial area, or would rather focus on smaller sizes."
Clayton believes, therefore, that mega ships will most likely be used on long-haul, large volume routes, "such as Shanghai-Rotterdam or Shenzhen-Long Beach", rather than the routes for West Coast South America to East Coast North America.
The end of city ports?
The inability to expand because of a dearth of land has produced some murmurings that this could be the beginning of the end for the link between cities and ports. At the Shipping, Cities and their Interdependencies conference held last June, Olaf Merk, the International Transport Forum 's administrator for ports and shipping, outlined how there is a demand "special port complexes". "Cities don't have the space for that, especially as cities grow," Merk added.
However, Clayton is not overly concerned with such a development, stating that ports of all shapes and sizes "no longer need to be close to cities". Why? Principally because transported goods from mega ships are usually destined for regions, not just cities. Therefore, "the region is best served if the port lies away from the confines of a city", he adds.
"Change is a constant: customers can't be taken for granted."
But, Huck warns: "Ports have to be in a location near the market. They just have to be. It's all about cost, carbon and congestion. So you've got to be in close proximity to your market place."
All of this begs the question: will this era of mega ships continue to thrive? Clayton's belief is that poor growth in European economies and the dip in China's economy will temper shipowners' lust for mega ships; "at some point the economies of scale stop," he adds.
"Who knows?" asks Huck. "If you would have stepped back five years ago and said 20,000 TEU ships would become more prevalent, people would have laughed. It's a difficult one."