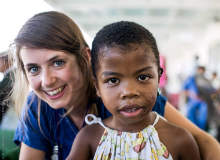 For four decades, international faith-based charity Mercy Ships has been delivering life-changing medical care to millions in the most underdeveloped nations around the world.
Having stopped in more than 587 ports in Togo, Sierra Leone, Guinea, Republic of Congo and Madagascar, the organisation has directly transformed the lives of 2.5 million people, as well as rebuilding entire communities and training generations of medical professionals.
Committed to primarily serving countries in the lower third of the UN Human Development Index, the organisation ensures help is delivered where it is needed most.
"It is common for people to walk for days to find out whether they may be eligible for surgical treatment," says Mercy Ships chief executive Judy Polkinhorn, painting a picture of just how much deprived communities rely on the organisation for relief, as well as to fill in the gaps in their healthcare systems.
"Although initially involved in responding to several natural disasters with previous vessels, today Mercy Ships is primarily engaged in providing free surgical, medical and dental care and is committed to investing in local healthcare infrastructure by training and mentoring the nation's healthcare workers in ways that will continue to have a positive impact long after the ship leaves port," Polkinhorn adds.
Repurposing old vessels for a greater good
Mercy Ships started as the brain-child of founders Don and Deyon Stephens. Before launching the organisation, Don Stephens was inspired by the work of the international hospital ship SS Hope. After his research showed that that 95 of the 100 largest cities in the world were port cities, the idea that these communities would be best served by a floating medical facility was born.
The inspiration to move forward with his ideal came after the birth of Stephens' profoundly disabled son, John Paul, followed by a visit to Mother Teresa in Calcutta, India, which "further deepened his commitment to serving the world's neediest people," as Polkinhorn explains.
In 1978, the couple bought a retired ocean liner named Victoria for $1m and transformed it into a hospital ship with three operating theatres and a 40-bed ward.
Over the first ten years of Mercy Ships' operations, the Stephens family would live and travel on board of the vessels as they sailed to the South Pacific, Central America and the Caribbean Sea in the mid-80s, followed by Africa where the charity's only ship, the Africa Mercy, resides today.
"The hospital has five operating theatres with an annual capacity of approximately 7,000 surgical procedures and 82 beds."
Although throughout its history the charity has had between one and three ships in operation at any given time, today it only employs the Africa Mercy, a 152m, 16.572 GT converted rail ferry which has a greater capacity than all of Mercy Ships' prior vessels combined.
Most of the original deck now houses a 1,200m2 hospital, fully equipped with a state-of-the-art CT scanner, an X-ray machine, laboratory services and a Nikon Coolscope to aid accurate diagnoses. The hospital has five operating theatres with an annual capacity of approximately 7,000 surgical procedures and 82 beds spread between the recovery ward, intensive care unit and low-dependency ward. A satellite located in the ship's main communications centre also allows instant consultation with doctors back in the UK.
With an onboard crew capacity of 474 people at one time, volunteers can use the ship' many non-medical facilities including a day care center, an accredited academy for all grades, a library, a launderette, a shop for groceries and sundries, a restaurant, a gymnasium, and a donated Starbucks cafe. Africa Mercy also accommodates a fleet of 28 vehicles for land-based operations.
Each year, more than 1,600 nurses, doctors, dentists, surgeons as well as teachers, cooks, engineers and agriculturalists from over 40 countries volunteer their time and expertise to Mercy Ships. To become a member of the Africa Mercy team, successful candidates go through a comprehensive five-week training program followed by a three-week practice period, a big part of which represents cross-cultural training.
While volunteers cover their own costs in their entirety, Mercy Ships draws its funds from a broad variety of sources, including individuals, rotary clubs, trusts, schools, churches, and companies. Every pound that Mercy Ships receives is complemented by over two pounds in contributed gifts-in-kind and services.
Apart from contributions from the public, medical companies donate pharmaceuticals, equipment and supplies, while corporations often cover other necessities such as fuel, food and building supplies. For each of its journeys, Mercy Ships works in close co-operations with the host country's government, which waives port fees and associated costs for the ship to dock.
Leaving a lasting impact
This mammoth operation has obviously had a tremendous impact on the developing world, not least because, in accordance with Stephens' initial research, 75% of the world's population continues to live within 150km of a port city.
The charity's committed volunteers have so far touched base in 587 ports, delivering over 79,000 lifesaving surgeries. But its impact extends far beyond the hands-on medical procedures.
"Mercy Ships provides a variety of training opportunities for medical professionals [such as] surgeons, nurses, anesthesia providers, administrators and community health workers, along with curative surgical interventions," Polkinhorn says. "By developing medical facilities on land and training local personnel, Mercy Ships ensures that increased medical care can be provided after the Africa Mercy departs from its host country."
During last year's stay in Congo and Madagascar, the organisation trained 728 healthcare and 416 non-healthcare professionals, as well as training 52 people in nutritional agriculture. Furthermore, programmes set up in cooperation with the host country's government help carry on the legacy.
"Many factors influence the selection of the next country for a field service but most important is that we receive an invitation by the nation's government with a signed protocol to serve in a country, with the government agreeing to full participation with us, including the provision of dock space, access to water for the ship and partnership with the health ministry of the nation," Polkinhorn explains.
Before the ship's arrival, an awareness campaign is launched in the area with the help of local outlets, radio, television and flyers to alert the public to the ship's upcoming visit and the nature of conditions which can be treated.
"An advance team will liaise with local health authorities and hold pre-arrival screenings in outlying locations to enable hundreds of prospective patients receive appointment cards to come to the ship to be further assessed for a particular type of surgery."
Although Mercy Ships has had a hugely positive impact everywhere it moored, Africa Mercy's first point of service in Monrovia, Liberia serves as a snapshot of its rehabilitating powers.
Initially invited by the United Nations, Mercy Ships spent four years addressing the "surgical backlog and helping to rebuild infrastructure from 14 years of civil war" in the country and stayed on through the election of Africa's first woman president, Madame Ellen Johnson-Sirleaf.
During its time there, professionals aboard the vessel performed nearly 3,000 reconstructive and general surgeries, 401 surgeries for women needing gynecological repairs, 289 orthopaedic surgeries, and saw more than 16,348 dental patients and 35,042 eye patients. Its lasting legacy was further enforced through the training of 33 oral health professionals, two Liberian surgeons, eight eye workers and six obstetric nurses. Furthermore, two clinics, a school, and demonstration farm were constructed, aspects of the city water supply repaired and wells and latrines dug and rehabilitated in many communities.
"It was an incredible opportunity to come alongside a nation in post-conflict recovery," Polkinhorn says. "In the past couple of years, Liberians have battled another kind of war – the war on Ebola, and we hope someday to be able to return with the ship again to serve the people of this nation."
Looking ahead: the mission continues
In 2013, Sue and Bill Gross gave Mercy Ships $20m to build a new hospital ship to serve people in West Africa. In December that year, Mercy Ships signed a contract to purpose-build a new hospital ship to more than double the services they provide.
"For now, Africa Mercy is stationed in Tamatave, Madagascar, where it returned in August 2015."
At the moment, the 37,000 GRT hospital ship is under construction by China Shipbuilding Industry Corporation in its Tianjin Xingang Shipyard with project management by Stena RoRo of Gothenburg, Sweden and construction design by Deltamarin of Turku, Finland.
"The new ship will be classed by Lloyd's Register of the UK, flagged by Malta and will take several more years to build, crew and launch," Polkinhorn explains.
For now, Africa Mercy is stationed in Tamatave, Madagascar, where it returned in August 2015 after a short yearly maintenance break and it will remain until May 2016.
After that, the ship's next stop is nation of Benin from August 2016 until June 2017. Initially scheduled to dock in Benin in 2014, the organization had to redeploy due to the Ebola outbreak in the region of West Africa.
"Following the past two years of service in Madagascar, the decision to return to West Africa was taken with great care and deliberation even though Benin was not affected," Polkinhorn says.
"Despite the stability of both the country and its economic growth, Benin is still considered one of the poorest nations in the world, ranking at 165 out of 187 countries according to the United Nations Human Development Index in 2013. Benin welcomes support to improve the country's health system."