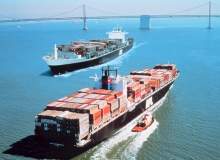 Since 2005, with certain retrospective requirements that go back to 2000 and in some cases 1990, Annex VI of the International Convention for the Prevention of Pollution from Ships (MARPOL) has been the basis of legislation reducing the amount of NOx and SOx emissions from ships. For each of these emission types, this has followed a pattern where the first two changes are not overly disruptive, but where the third step demands a considerable change to operational procedures or engine design.
NOx – one size does not fit all
For ships built from 1 January 2000, the range of 9.8-17.0 g/kWh (grams of NOx per kilowatt-hour), depending on engine rated speed, was introduced. On 1 January 2011, in the second Tier of control, the range was reduced to 7.7-14.4 g/kWh, but with Tier 3 the limit is due to be restricted yet further to 2.0-3.4 g/kWh.
Currently it is North American and US Caribbean Sea areas that are affected by ECA-NOx legislation and new builds with a keel laid date after the start date will need to meet this new Tier 3 limit. It is this looming start date that is causing the industry to think very differently about how to control NOx emissions.
"For decades now ships have been built generally with one main engine and three generators, and that's been the standard for ferries, cruise ships all over the world," says Andy Wright, a consultant on fuel and exhaust emissions at FOBAS (Fuel Oil Bunkering Analysis and Advisory Service) for Lloyd's Register Marine.
"There hasn't been a lot of decisions to make about the core machinery to be fitted. However, this new legislation means that decision making has to be made that will affect the viability of that ship for its service life – get it wrong or be outside the norm at your peril."
---
---
An EU-funded project aims to improve global port safety and efficiency using a wireless network, differential satellite systems and enhanced navigational tools.
---
The basis of the Tier 3 limits is the reduction in NOx achievable by use of Selective Catalytic Reduction (SCR) units but these types of after-treatment device can be very sensitive to the sulphur content of the fuel used and low inlet temperatures. However, Donald Gregory, Partner at Sustainable Maritime Solutions and a marine engineer by trade, who set up SEAaT to support emissions trading and emissions abatement technologies, says that for two stroke engines an effective solution is possible by using EGR (Exhaust Gas Recirculation) to achieve Tier 3 NOx compliance.
"The benefits are no requirements for urea, and no requirements for expensive catalyst," he says. "SCR technology appears to be the most effective in smaller engines (<2MW) that use diesel fuel."
ECA-NOx for 2016 or 2021?
One of the complications currently facing the industry is that it is has not yet been decided when exactly Tier 3 will come into force. "Shortly, during the next IMO MEPC (Marine Environment Protection Committee) 66 meeting it will become clear whether this regulation applies from 2016 or 2021," explains Maurits Prinssen, Project Manager of Sustainable Development at the Port of Rotterdam in the Netherlands, adding that LNG (liquefied natural gas) may bring solutions for ship owners, and that new LNG bunker facilities are planned to be operational at the Port of Rotterdam in 2016.
"Alternatively, abatement technology like SCR [selective catalytic reduction] can be used, and some vessels are already equipped with this technology," he says.
Carter Atkins, part of the Environmental Management Division at the Port of Los Angeles, says that meeting this emission criterion is "technology-forcing" and using SCR could meet this emission limit. "However, there is no 'one size fits all' solution at this time," he warns.
ECA-SOx
"It is this looming start date that is causing the industry to think very differently about how to control NOx emissions."
Currently, the North Sea and the Baltic Sea, along with North American and Caribbean Sea areas, are classified as ECA-SOx areas. "At the end of this year, 1 January 2015, the inside ECA limit reduces to 0.1%, which is a big drop," says Wright.
"Outside the ECA area originally started at 4.5%, which was reduced to 3.5% on 1 January 2012 – which affected around 10% to 15% of deliveries – and yet with 2.8% as the usual amount in residual fuel oils there wasn't, at this point, any need to involve any technology to meet the sulphur limit." This limit is not due to be further decreased to 0.5% until 2020 subject to a fuel availability review to be concluded 2018.
However, inside ECA-SOx areas are a different story altogether. "Inside ECA areas were originally set up at 1.5% sulphur, then 1.0 % kicked in on 1 July 2010, but the new 0.1% limit is a big change," says Wright. Wright says that this is low sulphur even for distillate fuels which can easily be 0.3% or 0.5% sulphur so it is "not an automatic compliance switching to use distillate type fuel".
The only exception, reports FOBAS, will be for ships using exhaust gas cleaning systems – SOx scrubbers – "approved in accordance with the relevant IMO guidelines".
SOx compliance options
Wright explains that there are two main options on the table for SOx compliance: to use a regular fuel and clean it up through a system such as a SOx scrubber or to use a low sulphur fuel, such as sulphur controlled distillate or essentially sulphur free LNG.
"Each of them will have a Capex and an Opex, though, so it's a case of what one ship owner will put their money on," he says.
---
---
The recent rescue of 52 scientists from a vessel trapped in Antarctic ice has brought icebreakers into the spotlight.
---
"Previously the industry had virtually no capital expenses in this area and everybody followed the same route; you had compliance by buying the fuel and that was it. But now each has to make their own decision and not just follow the herd."
He adds: "At the moment, there's about a$400 premium on distillates as opposed to residual fuel oil and people, of course, don't know where this differential is going."
Scrubbers
Gregory says that the availability of LNG is limited so the switch to LNG has so far been on specific liner routes or where there are heavy subsidies.
"Scrubbers make economic sense when the exposure to an ECA is about 50% and the vessel has a significant fuel consumption," he explains. "The wet scrubber technology has pretty much matured now and the scrubbing process is reliable and effective, and achieves emissions lower than using more expensive diesel fuel." He adds that the operating costs are "around 2% of the fuel cost" and that the "Capex ranges between $100 to $400/kW".
According to Gregory there are currently around 80 ships with declared orders for sea water scrubbers. "But the underlying market is possibly as much as 300 ships being investigated for scrubbers," he says. "The difference relates to secrecy surrounding strategies and investments. Many ship owners with ships that visit ECAs are planning to purchase much higher cost marine gas oil to achieve compliance."
"There are two main options on the table for SOx compliance: to use a regular fuel and clean it up through a system or to use a low sulphur fuel."
Retrofitting
Ship owners weighing up retrofitting options against new vessel builds will likely find that retrofitting vessels is more costly. Having participated, through the Technology Advancement Program, in a scrubber retrofit project for three auxiliary engines on a 5,000 TEU containership with the Port of Los Angeles, Atkins agrees.
"The total project cost was approximately $3.7 million dollars," he says. "The cost of controlling emissions is significant, whether it be the cost of compliant fuels or emission control technologies."
Stormy seas ahead
FOBAS sends out regular updates to the industry regarding SOx and NOx compliance and Wright believes that because the transition to achieve compliance takes time, ship owners are generally being a little sluggish in their approach. "Soon the industry will start to recognise that it needs to take action and start taking steps towards it," he says.
"In all likelihood, it will go to a multiplicity of different solutions, with each one good to a greater or lesser extent for the scenario painted out for that ship," he says. "For example, somebody ordering a fleet of oil tankers, whether operating out of Rotterdam, Singapore or Philadelphia with the same ship and same product, you can see just those three areas that the approach to ECA-SOx would be quite different. There's a legacy issue now, which depends on which part of the world you operate in, and where you would like the vessel to operate if you sell it on."
Atkins adds: "Ship owners' strategies are dependent on a wide number of variables including the geographic region of operation, routing, rotation, type of service, vessel type, engine size, where the vessel is owned or chartered, whether the vessel is a new-build, its age, and so on. There is no 'silver bullet' when it comes to reducing emissions from ships."