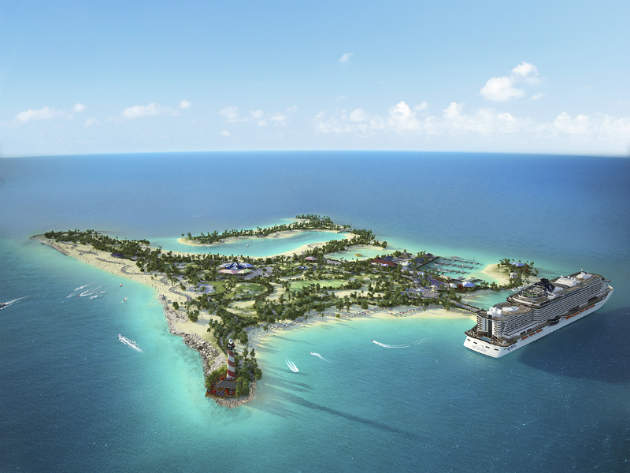 Many of the world's most popular cruise lines offer passengers exclusive access to their own branded private islands. The Bahamas is home to many of these and is where Disney Line has created its Castaway Cay, Norwegian Cruise Line has its Great Stirrup Cay and Royal Caribbean owns CocoCay. But in November 2018, MSC Cruises is set to open the biggest of them all: Ocean Cay MSC Marine Reserve.
Currently in development, which is due to take around two years, Ocean Cay is located 32km south of Bimini and 104.5km east of Miami. It is spread over 95 acres, of which 44 will be turned into six different beaches with a total of 3.5km of beach front.
From mining site to paradise island
The development of the private island is part of a €9bn investment plan which includes the company's expansion across North America and product development and innovation, which includes the Ocean Cay.
Originally this man-made island was created for the excavation of its white aragonite sand. However, in December 2015 MSC Cruises' executive chairman Pierfrancesco Vago signed a 100-year lease agreement that will enable MSC Cruises to occupy and develop the island.
"The island has some of the finest aragonite sands in the world and once the work is completed, its surrounding waters will be home again to beautiful corals and rich aquatic life," says Gianluca Suprani, head of global port development and shore side activities at MSC Cruises. "It will become a truly exclusive destination for MSC Cruises guests to experience the best the Caribbean has to offer."
A natural progression
The reason behind MSC Cruises' decision to launch Ocean Cay in the Bahamas is down to the MSC Group's long-standing relationship with this region and the success of its operations there.
"Our sister company, MSC Cargo, was the first global shipping line to serve the Bahamas, and currently the sole major supplier to the Freeport Container Terminal, accounting for nearly 99% of the containers handled," explains Michelle McGregor, the operations manager for Ocean Cay, adding that Nassau and other Bahamian ports have figured prominently in MSC's Caribbean itineraries since operations started here.
"We have actively profiled the Bahamas as a top tourist destination around the world and since we started operating in the Bahamas, our cruise activities have generated more than $25m in terms of economic output and more than 400 jobs," she says. The development itself is set to create 1,000 positions and once the work is finalised around 120 locals will be employed to run the operations.
Design and preservation plans
In addition to the six beaches, a $2m investment into the island's development will create two lagoons, ten football-pitch-sized shallow blue waters and an active surf zone on the largest of the beaches will be . A range of water sports can also be pursued on the other five beaches. Further features include a lighthouse, a yacht club on the north beach, and the central midland, an area for sports and events.
In order to protect the area, the island will be surrounded by a 200km2 marine reserve while other preservation strategies are also being introduced to support the local ecosystem.
"Expert ecologists have been enlisted to undertake a coral relocation project, designed to help create a new marine habitat."
"Expert ecologists have been enlisted to undertake a coral relocation project, designed to help create a new marine habitat, while allowing the existing habitat to thrive," says McGregor, adding that a comprehensive landscaping plan will plant over 80,000 indigenous Caribbean trees, grasses, flowers and shrubs, such as Jamaica Dogwood and Beach Morning Glory.
While the island is made of sand, in terms of other materials being used, those conveying the Bahamian culture will be prioritised and indigenous materials are also being used.
How to cruise to Ocean Cay
Once the island opens for visitors, MSC Seaside, MSC Divina, MSC Opera and MSC Armonia will be the first to stop at Ocean Cay as part of their Caribbean itineraries. The latter two ships will stop at Ocean Cay daytime hours, during the day, whereas MSC Seaside and MSC Divina will leave the island late in the evenings so guests can partake in activities during the day and night.
"We are building a purpose-built berth and pier right on the seafront meaning that MSC Cruises guests will be able to step off the ship straight onto the island," says McGregor.
McGregor also explains that guests could get to stop at Ocean Cay when booking a 14-night cruise on MSC Seaside, as part of MSC Armonia's Europe to America trip, and on MSC Divina's voyage to Central America via Panama, Costa Rica and Mexico.