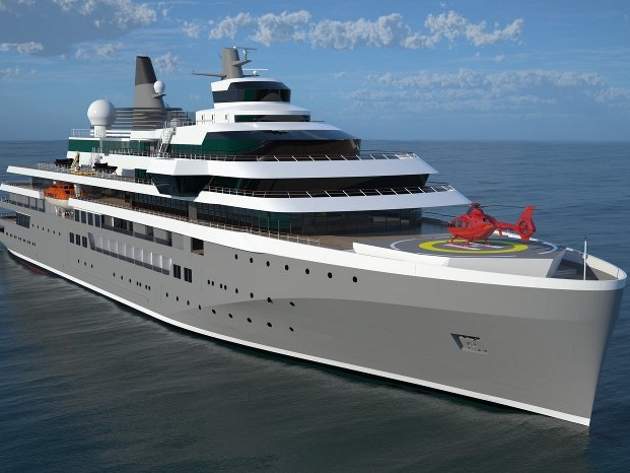 Anaklia Development Consortium (ADC) won a deal from the Government of Georgia to exclusively build, develop and operate the $2.5bn Anaklia Deep Sea Port for a period of 52 years.
As part of the contract, the government will invest $100m in the construction and development of railway and transportation links, connecting the port to the neighbouring region.
Spanning an area of 400ha, the port will pave the way for a new maritime corridor from China to Europe.
A group of ports, including Antwerp and Zeebrugge, Belgium; Rotterdam, The Netherlands; and Singapore, joined together to develop a set of harmonised liquefied natural gas (LNG) bunkering standards.
The ports have formed a body, called the Network of Ports and Maritime Administrations, which also includes Jacksonville, US and Norway, to create the world's first harmonised LNG bunkering guidelines.
Additionally, a memorandum of understanding (MoU) was signed to include the Ministry of Land, Infrastructure, Transport and Tourism, Japan; and Ulsan Port Authority, South Korea in the Network of Ports and Maritime Administrations.
The Netherlands-based Damen Shipyards Group, along with Expedition Voyage Consultants and Knud E Hansen developed a new design for expedition cruise vessel.
Known as the Damen Expedition Cruise Vessel, the new design is suitable for expedition operations in both remote polar and tropical regions.
Featuring around 1,100m² of public space and 2,500m² of outside deck, the vessel can accommodate 115 passengers and has 30 days of autonomous cruising capability.
Construction started on the UK's new £200m research ship RRS Sir David Attenborough with the laying of the keel.
Cammell Laird shipyard is building the vessel in Birkenhead, in the Port of Liverpool City Region, UK.
Commissioned by the UK's scientific research agency the Natural Environment Research Council (NERC), the vessel will be operated by the British Antarctic Survey (BAS).
The Danish Maritime Authority is planning a study into unmanned ship concepts in collaboration with the Technical University of Denmark (DTU).
Being conducted under a DTU project on research-based maritime consultancy financed by Danish Maritime Fund, the pre-study also aims to develop projects to provide technological and economical benefits to Denmark's shipping industry.
Under the collaboration, both the DTU and Danish Maritime Authority aim to increase understanding of unmanned ships.
China-based ZPMC was selected to provide 12 remote-controlled ship-to-shore (STS) cranes for APM Terminals' MedPort Tangier facility, currently under construction at Tanger-Med II port complex in Morocco.
APM Terminals has also placed an order for 32 automated rail-mounted gantry cranes (ARMG), which will be installed at the facility, with Austria-based Künz.
Once complete, the five million twenty-foot equivalent units (TEU) container terminal will be able to serve ultra-large container ships (ULCS) with capacities up to 20,000TEU.
National trade association American Waterways Operators (AWO) approved an audit of its Responsible Carrier Programme (RCP) by the American Bureau of Shipping (ABS).
The RCP is a safety management system for tugboat, towboat and barge companies.
It requires AWO member groups to undergo periodic management and vessel audits conducted by an independent third party.
Global audio visual design company Consultancy Team UK partnered with charity group Mercy Ships to design and procure technology, as well as install and construct the latter's new floating hospital.
As part of its collaboration with Mercy Ships, Consultancy Team will design audio-visual technologies and infrastructure for the new 37,000t ship.
Once completed, the vessel will be the world's first purpose-built floating hospital, which will feature a multi-purpose auditorium, multiple high specification meeting rooms, two decks of hospital facilities and medical training rooms.
US-based conglomerate General Electric's (GE) marine solutions completed a series of upgrade activities on Carnival's flagship ocean liner Queen Mary 2 (QM2).
During the 18-day upgrade period, GE replaced oil distribution boxes on steerable pods, modified harmonic filters, and conducted general maintenance on the propulsion plant of the vessel. An upgrade on the ship's controls was also carried out.
Completed ahead of schedule, the upgrade will allow the vessel to operate for a further 20 years.
The International Chamber of Shipping (ICS), the global trade association for shipowners, called on the International Maritime Organisation (IMO) to set a timeline to curb the shipping sector's greenhouse gas (GHG) emission volume.
ICS has also urged IMO to develop details of a carbon dioxide (CO2) reduction commitment plan for the shipping sector.
With the new plan, along with existing IMO CO2 reduction guidelines, the global shipping industry will be able to reduce CO2 emissions even further.