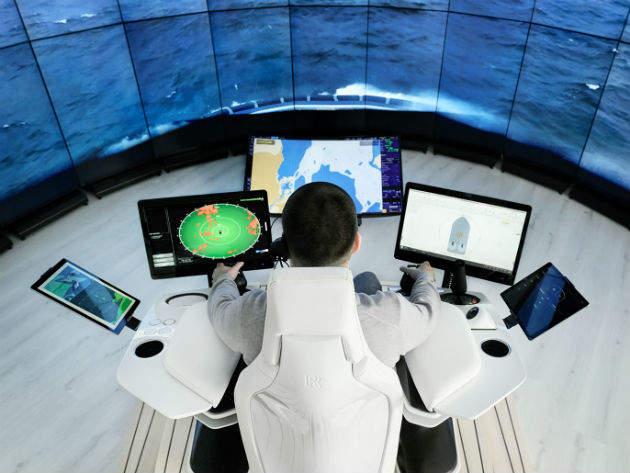 The future of autonomous shipping could be in hands of One Sea, the brand name given to a global ecosystem that is developing autonomous marine transport.
The idea was developed through the Finnish Maritime Cluster's (a group of maritime companies in Finland) Strategic Research Agenda (SRA) 2025, which outlines a roadmap for research in the industry.
SRA's objective (as well as putting the Finnish Maritime Cluster on the map as the world's most creative and adaptive maritime network) is to have the first autonomous vessels sail the Baltic Sea within the next few years. A wide range of sea trials of digital solutions in the Baltic Sea is envisioned, which will create new opportunities for autonomous shipping.
These objectives were developed into the idea of a global ecosystem for autonomous marine transport – called One Sea – which launched on 22 September last year.
While the overall plan is to achieve fully remote-controlled vessels in the Baltic Sea in three years and autonomous commercial maritime traffic by 2025, Päivi Haikkola, who is leading the One Sea ecosystem project, says that there aren't separate goals for the Baltic Sea, confirming that the One Sea ecosystem is a global mission.
The One Sea ecosystem
The One Sea ecosystem is the result of collaboration between industry organisations and companies, with DIMECC, an innovation-led platform, selected to manage the ecosystem and optimise collaboration between all stakeholders.
"One Sea itself is a joint effort between companies," says Haikkola. "Our smart environment is the collaboration platform where we can share information and communicate."
There are almost 80 companies in the ecosystem, but the founding partners are ABB , Cargotec (MacGregor and Kalmar ), Ericsson , Meyer Turku , Rolls-Royce, Tieto and Wärtsilä. Tekes , the Finnish funding agency, has invested financially in the ecosystem.
"The One Sea ecosystem will create international standards in areas such safety, testing, data transfer, cyber safety, data and systems architecture and artificial intelligence."
The One Sea ecosystem will create international standards in areas such safety, testing, data transfer, cyber safety, data and systems architecture and artificial intelligence, and will harmonise all these different areas across the industry.
Haikkola explains that as the One Sea ecosystem acts globally, it can ultimately be any environment where someone is working towards the One Sea goal of autonomous maritime.
"So, in a harbour in Singapore, this could be the existing networks or software, utilised to advance the automation of the harbour," she explains. "At sea this can be satellite networks, situational awareness systems, remote control centres, autonomous steering systems, and so on."
She adds: "It could also be intelligent fairways, satellite or communication networks – to mention a few."
The current plan is to have the ecosystem assembled by the autumn of 2018, and by 2021 it should be able to support itself without the need for any external funding.
Any gaps in the technology required to solve issues within the One Sea ecosystem will be solved through the platform, which also plans to nurture the growth of start-up companies in the autonomous marine environment.
One Sea milestones
Despite the vision of achieving commercial autonomous maritime traffic by 2025 being highly ambitious, Haikkola says that the goal is "still possible to reach."
In order to keep the One Sea vision sailing ahead, road mapping exercises and general milestones have been defined to help keep targets on schedule.
"We'll need test areas immediately, several national pilots between 2017 and 2020 and global testing should start around 2020," says Haikkola. "Full-scale testing and validation should be done [by the] latest 2024 and fully remote-controlled ships should sail around 2020 – either manned or unmanned with local permits or special approval."
After that she believes the autonomous control will increase gradually towards fully autonomous in 2025.
"The autonomous control will increase gradually towards fully autonomous in 2025."
"One must also remember that these visions will only be practised on a few chosen vessels in the beginning," she adds. "If we talk about a fully autonomous global fleet, then the timescale is completely different, but as we have just been awarded a test area in Finnish territorial waters, we believe ourselves to be well on the way."
Technological achievements
Technological development is done within the companies participating in the ecosystem, and although it is still early days, a major breakthrough was celebrated earlier in June by Rolls-Royce and global towage operator Svitzer .
In Copenhagen's harbour in Denmark, one of Svitzer's tugs, the 28m-long Svitzer Hermod, demonstrated the world's first remotely-operated commercial vessel. With the captain at the ship's remote base at the Svitzer headquarters, the vessel berthed alongside the quay, undocked, turned 360 degrees, and was piloted to the Svitzer headquarters before docking again.
"It was an honour to be present at what I believe was a world first and a genuinely historic moment for the maritime industry," says Mikael Makinen, president of marine for Rolls-Royce. "We've been saying for a couple of years that a remotely-operated commercial vessel would be in operation by the end of the decade. Thanks to a unique combination of Svitzer's operational knowledge and our technological expertise, we have made that vision a reality much sooner than we anticipated."
Rolls-Royce and Svitzer intend to continue their collaboration in the fields of autonomous navigation, situational awareness, remote control centre and communication.
Technological challenges
When it comes to technological challenges, Jouni Lehtinen, director of R&D at MacGregor's (Cargotec) Cargo Handling Division and a One Sea management board member, believes that integration is still one of the biggest challenges ahead for autonomous shipping.
"My personal opinion is that 95% of the required sensor technology, algorithms and communication methods exist already today, and the major challenges are in systems integrations and process implementations," explains Lehtinen. "Vessels are full of equipment from various makers and together we need to find ways to handle emerging integration needs."
Haikkola believes that the One Sea ecosystem is the way to address integration issues. "The problem is that globally there are several large suppliers as well as software companies, who all want to be the integrator of data," she explains.
"However, in a free market situation the users choose various suppliers for this, or might even do it themselves," she continues. "The purpose of the ecosystem is to enable communication between the main actors to ensure that the data from various actors can communicate with each other and to further openness to all actors in the field."
Regulation concerns
A concern held by many invested in the vision for autonomous shipping by 2025 is that new regulations will not be in place. With technology increasing so rapidly, regulations on a national and international level need to be made in line with the proposed time scales.
"The main bottle neck is the regulation part," says Haikkola. "Global regulation is changed very slowly hence the first applications probably need to be local, with local regulation."
Yet in June this year, the 98th session meeting of the Maritime Safety Committee (MSC ) agreed to include the issue of marine autonomous surface ships on its agenda. It "recognised that the International Maritime Organization (IMO) should take a proactive and leading role, given the rapid technological developments relating to the introduction of commercially operated ships in autonomous/unmanned mode."
It was agreed that a scoping exercise be carried out, which "should address different levels of automation, including semi-autonomous and unmanned ships," and which could also include discussion around a definition of what is meant by an "autonomous ship."
"We are positively thrilled about the decisions that were made at IMO MSC98, that will enable the work to be started," says Haikkola. "We also hope that the started scoping exercises would be finished sooner than expected, so that we might start the actual work of changing the regulation."