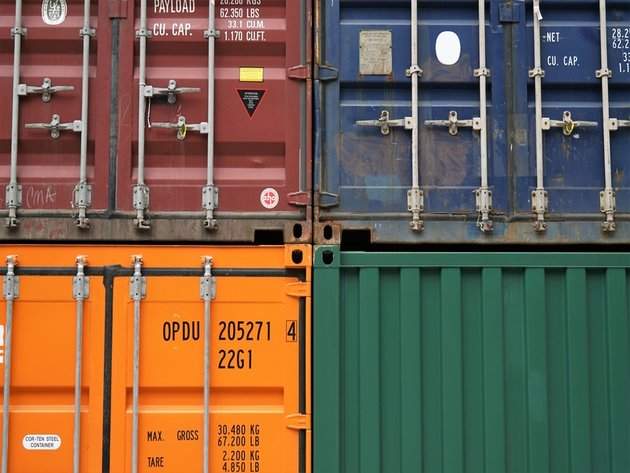 Since its invention in 1956 by the late American businessman Malcom McLean, the shipping container has revolutionised how goods are delivered across the world.
Today, 90% of the products we use have most likely been stored in one at some point during their long journey to reach us.
Over the past decade, containers have also gained in popularity as low-cost, space-efficient units, redesigned as modern apartments, restaurants, bars, schools and even shopping malls.
Containers' versatility has proved hugely inspiring and now big companies, as well as independent developers, are tapping into their potential, proving the container has applications in sustainable living, medical practice, science and sport.
GrowFrame, the travelling farm
After learning that half of the containers going back to Asia from export markets are empty, design student Philippe Hohlfeld from London's Royal College of Art saw the wasted space as an opportunity. Hohlfeld designed GrowFrame, a collapsible hydroponic farm that cultivates food in empty 20ft and 40ft shipping containers on the way back to Asia.
The science behind GrowFrame relies on simplified hydroponics, or the method of growing plants without soil. By isolating each plant into its own microsystem, they are able to grow unsupervised in the enclosed space of a container over a three- to five-week journey. The system holds each plant's roots in a rationed amount of nutrients for the specific journey, while grow lights encourage them to flourish.
"The focus of the industrial design was to facilitate easy loading, quick harvesting, and efficient collapse and storage," according to the project's website.
GrowFrame aims to repurpose more than "9,000 hectares of land travelling around the globe into the world's future food source". The solution will be tested on an upcoming trial journey between the UK and Hong Kong.
Empowering Arctic communities with fresh food
In a similar approach to sustainability, Kikiktagruk Inupiat Corporation (KIC) has launched subsidiary Arctic Greens to provide fresh produce – grown inside a 40ft container – to Kotzebue residents in Alaska.
Due to extremely low temperatures that can drop to -60°C, local produce is almost impossible to obtain, and any imported vegetables come with a high price tag.
As a result, KIC has partnered with Anchorage-based Vertical Harvest Hydroponics to build a custom-made container that uses nutritious water pumps to grow vegetables, and has full control of the temperature inside.
Since its debut in June 2016, the quirky farm has grown 21 herbs and vegetables, including kale, romaine lettuce, broccoli and basil, to the delight of local residents. It aims to produce up to 550 pieces of fresh food every week by the time it's fully operational, KIC president Will Anderson told online publication Inhabitat.
Arctic Greens plans to expand further into Alaska, bringing container-based farms to over 30 Northern communities.
Repurposing containers for science
Shipping containers are now part of the southernmost building project in the world, all in the name of scientific research.
Antarctica New Zealand, the crown entity responsible for developing, managing and executing New Zealand's government activities in Antarctica, is undergoing a $6.2m upgrade of its Hillary Field Centre (HFC) at Scott Base.
Part of this transformation is modifying shipping containers and turning them into specialist laboratories to be 'docked' into the HFC.
One 20ft container has been transformed into a marine laboratory, specially designed so that fish tanks with a constant flow of up 10,000 litres of seawater per hour could be fitted across its walls. The bespoke lab room was also hooked up to fire sprinklers and a high speed data connection upon its arrival at Scott Base.
The governmental body states that this is only one element of a set of mobile container laboratories, including a "plug and play" docking facility, a workstation area, meeting rooms and "a breakout space for cross fertilisation within the Antarctic science community". The entire restoration project is on track to be finished before April 2017.
Lobster shipping made easy
When it comes to transporting goods at sea, some are more delicate than others.
The carriage of lobsters is traditionally done by road or air, but a high mortality rate (5%-10%) of lobsters transported by plane is pushing operators to find new pathways.
French shipping giant CMA CGM and smaller company BioNovations of Nova Scotia are separately developing their own technologies to enable the safe and efficient transport of live lobsters by sea.
CMA CGM has developed Aquaviva, a special ocean-going container capable of shipping seafood by the tonne. The ship uses reefer technology to fill containers with sea water chilled at just the right temperature, recreating the lobsters' natural environment, with each crustacean separated from the other.
A special system, called INNOPURE technology, also filters small bacteria from the water and is in charge of oxygenation, filtration and water flow. CMA CGM already has 10 containers fully assembled, with plans to deliver an entire specialist fleet.
Similarly, live seafood transport system manufacturer BioNovations aims to develop its own containerised system by late 2016 or early 2017, when it would deliver 40ft containers capable of holding 25,000lbs of lobster.
Bringing salmon farming above water
In July 2016, the world's biggest Atlantic salmon producer Marine Harvest came up with the idea of building salmon farms aboard unwanted cargo ships. The proposal came at a time when salmon production is faltering in Norway, due to a ban on traditional fish farms on the open water aimed at curbing outbreaks of sea lice.
In an interview with Bloomberg, Marine Harvest CEO Alf-Helge Aarskog described the initiative as "more or less kick-starting fish farming again in a new way".
The group applied for six development licences for a pilot project to customise an old Panamax cargo vessel. The vessel is to be retrofitted with cages in each of the ship's six tanks, each with a volume of 65,000 cubic metres, where the salmon will be farmed. The remaining space will be dedicated to feed storage. Each ship would be able to farm 950,000 fish, according to the company.
The group believes this method would bring both cost and environmental benefits, when compared to traditional open sea farming. If commissioned, the ships would be moored in an area of Norway designed for aquaculture.
Mobile emergency clinics bring relief to communities
Containers have also been put to good use in the medical field.
International healthcare provider Clinic In A Can has been supporting communities in need of medical attention throughout Haiti, Sierra Leone, Nicaragua, Nigeria, Kenya, South Sudan, the US, United Arab Emirates, Saudi Arabia and the Philippines. The organisation delivers state-of-the-art clinics repurposed from former containers, which can be used in the aftermath of a disaster.
The solar-powered containers are designed to operate on less than 500 watts of electricity, and can be engineered to serve as anything from a primary care unit, a critical care unit, a surgical suite, a trauma and emergency unit, a dental suite, or any other medical space.
In a similar initiative witnessed during the Ebola outbreak of 2015, Baylor Global Innovation Center won a $85,000 grant from the US Agency for International Development (USAID) to turn a recycled shipping container into an eight-bed medical unit.
This resulted in the creation of the Emergency Smart Pod, a low-cost emergency facility that can be easily deployed by helicopter to wherever there is a medical emergency, for example, in the middle of a virus outbreak or in the aftermath of a natural disaster.
The aluminium containers are built out of 100% recycled materials, are completely air- and water-tight, and are equipped with smart devices that can adapt to various languages and literacy levels, but can also connect with other pods for the exchange of critical medical information.
Croatia's containers with a twist
In October 2016, a group of three wakeboarders became the first to build a wakeboarding park made up entirely of shipping containers.
The Water Crane Project is a colourful assembly of seven containers in Uljanik Pula Wharf, Croatia. The three thrill-seekers behind the project – German duo Dominik Gührs and Felix Georgi, and Austrian Dominik Hernler – had to search for the perfect crane to lift the containers and arrange them in a 360-degree obstacle course, complete with a suspended container that acts as the centrepiece.
The park was assembled over ten days, using 28 anchors weighing 800kg each, and required the help of five divers who helped position the containers in place.
"There has never been a levitating obstacle in wakeboarding ever, which is why none of us have ever ridden anything like it," Gührs told SurferToday. "Wakeboarding on a crane is incredibly cool. Combining it with container obstacles both in the water and in the air is just crazy and something completely new in our sport."