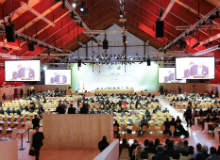 As world leaders shook hands over a host of climate deals aiming to usher in a new era of social and environmental responsibility, the shipping industry found its place in the spotlight during the COP21 conference in Paris.
Although not included in the formal negotiations, the contribution of the shipping sector to mitigating climate change was discussed at length during the 'Shipping as Part of The Climate Solution' conference, organised on 1 December by the International Chamber of Shipping (ICS), Armateurs de France and the Norwegian Shipowners' Association (NSA).
A panel of industry representatives, regulators and thought leaders debated how regulation can reconcile the sector's role as enabler of economic growth with steep carbon cuts, as well as the most promising technological and renewable energy solutions that can deliver future transformation.
Call for IMO leadership to enforce greener shipping
The international shipping industry fully supports a global deal on climate change, and calls on world leaders for a decisive agreement on CO2 cutbacks. This was the unanimous conclusion of the conference panel on Tuesday, which pledged its commitment to reducing carbon and greenhouse gas emissions.
The debate gravitated around the fact that shipping is at the heart of a dilemma: as carrier of over 90% of global trade, NSA chief executive Sturla Henriksen asked how the industry can reconcile its role in an expanding economy with the drastic emissions cuts needed as part of the 2°C scenario.
Samantha Smith, Leader of the Global Climate and Energy Initiative at WWF, called for a tighter regulatory framework from the International Maritime Organisation (IMO). "We would say that it is essential that the IMO and its members show the leadership that we need, not only to cap emissions, but to put the sector on a course of very steep emissions reductions," she said during the conference.
Suggesting a strong levy on bunker fuels as a first step, Smith said that talks between WWF and developing country governments showed that "it is possible to do this in a way that's consistent with the principle of common but differentiated responsibilities under the UNFCC."
ICS secretary general Peter Hinchliffe fully backed the role of the IMO in leading the industry towards a greener future. "I hope that all of you will leave today with the image of an efficient, progressive industry, without which the maintenance and achievement of modern lifestyle could not be done across the world, bringing benefit equally to developed, developing, and least developed countries," he said. "This can only be done through the IMO and that is our call to the climate conference: give this task to the IMO, because the IMO will deliver."
"Give this task to the IMO, because the IMO will deliver."
The regulatory body already has a host of global measures put in place for climate mitigation, such as a requirement for all ships built after 2025 to be at least 30% more fuel-efficient, an integral contribution towards the industry's pledge to reduce CO2 emissions per tonne-km by at least 50% before 2050.
Highlighting these measures, IMO's head of air pollution and energy efficiency Edmund Hughes argued that the organisation has indeed showed leadership and decisive action. However, he warned that shipping is not a pleasure industry, but a servant of world trade, making drastic carbon cuts a difficult issue for policymakers.
Nevertheless, Smith pushed for further action from the organisation in areas beyond legislation, saying: "There is a pathway towards progressive, incremental change and at some point you will have to have a step change in technology. I would encourage the IMO to consider the issue of what it takes to stimulate transformational technologies as opposed to incremental improvements."
Wind, wave and solar energy: the future of shipping?
This "step change" was discussed in the second part of the debate, Pioneering Change and Climate Solutions, and a consensus emerged that shipping cannot shirk its responsibility to deliver trade in the most efficient way possible.
Henriksen perhaps put it best, saying: "We are facing a global generational and existential challenge. As part of the low-carbon society, there is no place to hide."
Speaking about the ways in which the industry can use innovation and technology to achieve this aim, Smart Green Ship Alliance CEO Diane Gilpin highlighted the benefits of renewable energy.
"It's important to decouple ourselves from traditional bunkering arrangements and to use the energy that is available at sea," she said. "I'm sure many will agree there is an abundance of wind, wave and solar energy out there.
"It's time for the industry to recognise the opportunity in realising a whole range of technology and innovations which could rapidly decarbonise the industry."
For Gilpin, a clear regulatory signal could produce what she described as rapid acceleration in technological change, but this does not have to be so different as to scare or hinder the industry.
Instead, she claimed, the mission is to use proven, existing commercial solutions and combine them in new ways to create "good to go" applications.
"How do we reduce carbon emissions? How do we do it drastically and quickly? I think we need to embrace that challenge."
Global Ocean Commission co-chair Jose Maria Figueres agreed that technology was key, putting forward the view that there could be room for "third party auditing of technologies … to see if they are a song or a dance or if they are really delivering the goods", but added policy and financing to his argument, posing what is perhaps the million-dollar question: how we do finance the transition for the world to move from a fossil fuel-based economy to a renewable-based economy?
While concrete answers were few and far between – the emphasis at the conference was much more on espousing the opportunities and what can be done – these arguments are at least being debated and all options, including levies, are on the table.
"We are not afraid to consider market-based measures or a levy," said Armateurs de France director general Eric Banel. "We are not afraid to speak about new technologies and new types of propulsion."