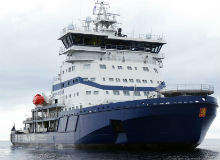 Polaris icebreaker" class="fullwidth" src="https://www.ship-technology.com/wp-content/uploads/image-digitalinsightresearch/Active/2016Q3/2.NRI/Ship/Features/polaris.jpg" />
In April, the Polaris icebreaker left the Helsinki Shipyard for her first trials at sea. Built by Arctech for The Finnish Transport Agency and to be used in the Baltic Sea, this vessel is being called everything from next-generation to the most advanced icebreaker in history. It will be delivered later this year and is expected to have a service life of 50 years.
Polaris will be in operation year round for icebreaking and assisting other vessels in ice conditions, breaking through 1.6m thick ice. According to Arctech, the hull form and propulsion arrangement will reduce ice resistance. However, it will also be capable of oil spill response, emergency towing and rescue, when needed.
"The ice and weather conditions on the Baltic Sea vary greatly and are difficult to anticipate. The Polaris will meet the needs of Finnish winter navigation to an even greater extent," said Tero Vauraste, CEO of Arctia Shipping, in December. Arctia Shipping provides seaborne trade in ice conditions in the Baltic.
The first LNG icebreaker
At the heart of the Polaris – and the cause of much of the hype and anticipation – is its place as the first ever LNG-powered icebreaker. It will reportedly be the world's greenest vessel of its kind.
To achieve this, Polaris will use Wärtsilä's dual-fuel (DF) engines, which can operate on both LNG and low sulphur diesel fuel. Calling it a "natural" progression for the company, Mika Ojutkangas, from Wärtsilä's Marine Solutions division, believes that LNG's potential to cut emissions is a huge factor.
"When operating in gas mode," he explains, "nitrogen oxide (NOx) emissions are at least 85% less and CO2 emissions are some 25% less than those of a conventional marine engine running on diesel fuel. Additionally, the sulphur oxide and particle emissions are negligible at almost zero."
"Polaris will be used by the Finnish Transport Agency."
The Polaris will use one eight-cylinder Wärtsilä 20DF, two nine-cylinder Wärtsilä 34DF, and two 12-cylinder Wärtsilä 34DF engines. But, how will they help the vessel live up to its billing?
"The engines take in a very lean mixture of gas and air and ignite it with a very small amount of pilot diesel," explains Ojutkangas. This pilot fuel acts "like a spark plug", igniting the gas and contributing to less than 1% of the total energy at full load. "The dual fuel engines can also run on traditional marine diesel, just as regular diesel engines do," says Ojutkangas. The LNG fuel tanks need 800 cubic meters of space, carrying enough fuel for a ten-day operation.
Polaris, then, is following a growing trend in the wider maritime industry: driving down emissions, with LNG at the forefront of this progress. However, when it comes to icebreakers and ships operating in polar regions, there is also the International Maritime Organization's (IMO) Polar Code to consider.
This code, expected to enter force in January next year, has been hailed by the IMO as a "historic milestone…in the harsh environment of the waters surrounding the two poles". It follows the adoption in 2009 of guidelines for ships operating in polar waters, and will apply in the Arctic and Antarctic regions.
The environmental element of the code states that the use of heavy fuel oil (HFO) is banned in the Antarctic, while vessels operating in the Arctic are encouraged not to carry or use it.
Challenges: conditions and space
It's reasonable to assume that, following Polaris' example and a need to meet the new code, others will also decide that LNG should become part of their future fuel mix.
Earlier this year, Daewoo Shipbuilding and Marine Engineering (DSME) launched a new icebreaking LNG carrier; but, this is only designed to carry LNG, and is not 'powered' by it in the sense of the Polaris icebreaker. So, what are some of the obstacles standing in the way of a LNG-powered icebreaker revolution?
"The most difficult issues are related to the vessel range and engine load response," says Ojutkangas. "Ice breakers are, besides dredgers, among the most demanding applications for engines."
This demand and icy conditions in the polar regions mean that the engine load changes "rapidly". "You must be able to make an engine that is responsive and can give more power per unit," Ojutkangas outlines, "but still fulfil all requirements for both emissions and fuel consumption.
"One common scenario in ice breaking is that the assisted, or towed, vessel is following very closely behind the ice breaker. The ice breaker then encounters an ice ridge and has to pass it without slowing down in order to avoid a collision with the assisted vessel. The performance requirements are then very much related to the safe operation of the vessel."
There's also an issue with fitting it all in. LNG and the necessary storage tanks need more space than other, traditional marine fuels – therefore it is imperative that the icebreaker has low fuel consumption, Ojutkangas adds.
More LNG and dual-fuel icebreakers in the future?
Ojutkangas is confident that, moving forward – and despite the aforementioned challenges – more and more icebreakers will follow Polaris' lead. "If we look beyond the Baltic Sea and Gulf of Bothnia, to the sensitive polar regions, we will see similar trends," he says.
However, there's one stumbling block that hasn't been mentioned, and one that is commonly cited as a reason for the lack of progress on more widespread use of LNG: infrastructure.
"Will other icebreakers follow Polaris' lead?"
Ojutkangas says: "Icebreakers often require a lot of fuel but also operate in a wider area than ferries. Bunkering this kind of vessel with trucks just takes too much time due to the amount of fuel required." Polaris, which received its first LNG from Skangas AS in June, will in the future be bunkered directly from Finland's first LNG terminal – the Pori Terminal – due to open in August.
That shows the necessity of having bunkering facilities in place. It's all well and good having the capability to run on LNG, but shippers need to be able to get the fuel on board.
As Ojutkangas explains: "Expanded use of LNG is not a matter of technology anymore, the technology is well proven. I would consider it a matter of availability and infrastructure, and finally [the] price of the fuel."
If one were to make a prediction: the Polaris will not be the only vessel of its kind for very long.