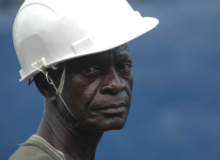 Working away from home and their families for extended periods of time, seafarers often suffer from loneliness and isolation, as well as facing the risks of piracy attacks and abductions at sea.
The maritime charity Sailors' Society has made it their mission to extend a helping hand and provide practical, emotional and spiritual support to seafarers and their families at home, in ports and at sea.
The charity's 110 chaplains form the core of their operation. Working in 88 ports across 27 countries, the chaplaincy programme reaches around 350,000 seafarers every year.
"Our services are needed in all ports around the world," says deputy CEO and director of Wellness at Sea Programme, Sandra Welch. "We aim to place chaplains in ports where there is no provision for welfare services and seafarers need our assistance most."
Some of the exceptional and gruelling circumstances in which chaplains intervene include the provision of humanitarian aid to crew who have been arrested, abandoned, or are victims of piracy.
In 2015, the society offered support for the Turkish crew aboard the MV Iron Trader in Vitoria, Brazil, who were denied payment by their firm. Another case was the predicament of a Ukrainian crew left stranded on the MV Nicola in Invergordon, Scotland after their ship experienced technical difficulties.
Today, the charity is helping the crew and families of the MV Seamen Guard Ohio whose 35 seafarers have been detained in India for over 1,000 days, as well as assisting seafarers incarcerated in Nigeria.
Helping victims of terrorism rebuild their lives
On 1 May, 10 seafarers were released after spending five weeks in captivity at the hands of Abu Sayyaf terrorists, an Islamist militant group based in the southwestern part of the Philippines. Their release came a week after Abu Sayyaf beheaded Canadian businessman John Ridsdel.
"This was a highly sensitive case and had to be handled carefully to protect the hostages, their families and our chaplains," Welch says.
The society's chaplain Muhartono Tito, who is based in the Indonesian port of Banjarmasin, had been providing welfare assistance to the seafarers' families prior to their release, as well as helping the seafarers themselves deal with their trauma after they made their recovery.
Having previously worked as a pastor and chief engineer at sea, he now provides counselling to people in distress.
"Following such a traumatic incident, there's a strong possibility that the seafarers and their families will suffer from stress."
Speaking about their ordeal during detention, Muhartono said: "One of the seafarers I supported was shot by terrorists. Before being shot, he saw four of his friends kidnapped and told me that the sound of gunfire was deafening.
"The man was in a grave condition when he arrived at hospital, and his doctor was amazed that he was still conscious. After two days of operations, the man's condition deteriorated and doctors told his wife to expect the worst, he was weak and they only gave him a 20% chance of surviving his injuries."
Amazingly the seafarer survived and made a full recovery.
"Following such a traumatic incident, there's a strong possibility that the seafarers and their families will suffer from stress; being able to offer them long-term emotional support is an integral part of my role," Muhartono said.
Along with providing counselling, Muhartono asked the ship owner to give the seafarers a grace period off work to help their recoveries.
Although the chaplains are not trained psychologists and the charity will always encourage the individuals to seek professional treatment as well, "our chaplains are well trained and experienced in providing emotional and practical support to seafarers," Welch says.
Expanding the support network through Crisis Centres
A new report from the International Chamber of Commerce's International Maritime Bureau (IMB) showed that piracy is at its lowest level since 1995. At the same time however, the Malacca Strait and Gulf of Guinea remain piracy hotspots, and kidnappings are still rampant in West Africa.
Responding to the ongoing violence at sea, in 2015 the Sailors' Society launched a Crisis Response Centre in Durban, which forms part of the Society's Africa Hub.
"Our Durban based centre manages a comprehensive network of trained port chaplains who are available 24/7 throughout sub-Saharan and West Africa," Welch says. "The crisis service reaches traumatised crew by operating a mobile call-out team to offer fast response and 'in situ' care to crew affected by a crisis at sea.
"It is most effective since it not only responds to crisis situations, but also serves as a training and research centre, the aim of which is to increase awareness regarding trauma resulting from piracy and crisis incidents.
"The need for these centres is very pertinent, piracy and trauma can have severe long lasting impacts on affected seafarers with many being unable to resume normality of life," she says.
"The need for these centres is very pertinent, piracy and trauma can have severe long lasting impacts."
A second centre was set up earlier in March in Odessa, Ukraine to respond to crises in Europe, while another one is currently being prepared to open in the Philippines.
Furthermore, the charity is now promoting its Ship Visitor App, a first of its kind platform which feeds on global ship tracking data from MarineTraffic in order to help chaplains see which vessels are in port and which are due to arrive.
"Data can then be accessed by chaplains in other ports and, subject to confidentiality and data protection policies, can be used to provide ongoing care and assistance as ship and crew continue their voyage," Welch explains.
The society is now looking to extend its services to ports in India, the Far East and China, as well as North and South America.
This year, China is thought to have overtaken the Philippines as the largest single source of seafarers qualified for international trade, according to a Manpower Report from BIMCO and the International Chamber of Shipping
"As far as I am aware there are few chaplaincy and welfare services based in China so this is certainly an area where we are needed to provide assistance to seafarers and their families," Welch says.