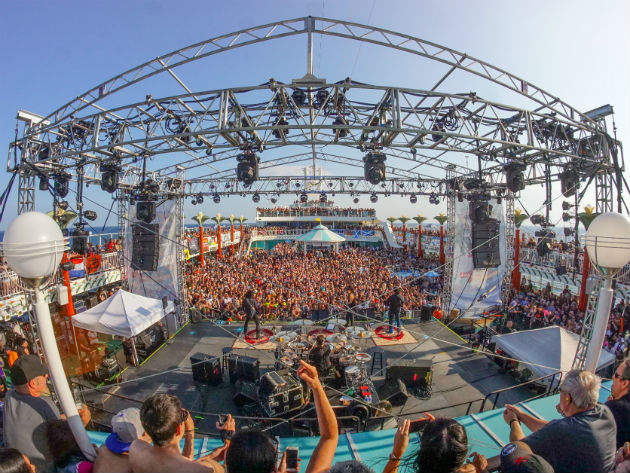 Planning a cruise often involves thoughts of relaxation, picturesque locations and a sense of 'getting away from it all'. However, throughout the year there are cruises that offer the complete opposite: a rock 'n' roll festival.
Live acts perform on custom-built stages while traversing the oceans, some for up to five days at a time. It poses many logistical challenges, not to mention the mixing of passengers and artists.
"Once you walk over that gangway to the ship, something in your subconscious happens," says Andy Piller, skipper and organiser of 70,000 Tons of Metal. "The mutual respect develops and they realise, literally, 'we're all in the same boat'."
How do you pull it off? Piller believes some experience in the music industry is helpful, as "nearly every agent or manager I spoke to, their first reaction was 'are you completely crazy?'
"I spent my entire working career in the industry as promoter and road manager," he adds, "so I had a load of connections in my network."
Security is also a consideration, with some organisers opting for their own – "we bring our own force onboard, as the ship's security is not used to handling that type of crowd," explains Piller – while others use security provided by the cruise liner.
Here are some of the loudest and most ambitious rock 'n' roll cruises.
70,000 Tons of Metal
The world's biggest heavy metal cruise is how the organisers of 70,000 Tons of Metal describe their voyage.
"When we came up with the idea ten years ago, there weren't any other heavy metal cruises around," says Piller. "From the displacement of the vessel and the number of passengers, we outnumber all of the others."
Piller and his team welcome around 4,000 people on board and 60 bands, an increase of 20 from a couple of years ago, following a switch from Royal Caribbean's Sovereign-class to the Independence of the Seas.
"For the heavy metal world this was all new."
The cruise will sail out of Fort Lauderdale on 2 February, spending five days at sea, with a stop in Labadee, Haiti, along the way. A single ticket starts at $999.
"There was no track record – for the heavy metal world this was all new," says Piller.
Next year's line-up features metal favourites such as Anthrax, although all bands are given equal billing and Piller believes "there is an intimacy factor to it". However, he is open to the idea of expanding it further. "What do we do, do several cruises or go to bigger ships? I can't really reveal everything, but yes there are plans. What doesn't grow, dies."
KISS Kruise
Without doubt, the KISS Kruise is one of the biggest of its kind – mostly because of the gravitational pull of its headline act.
Setting sail on 4 November from Miami, the five-day event, organised by theme cruise specialists Sixthman, is held on the Norwegian Pearl and travels to Cozumel and Grand Cayman.
A dozen acts will be there to support KISS – who are known for their extremely vibrant and sometimes explosives live sets – performing on six stages.
Gene Simmons, one of the founding members of KISS, told Rock Cellar magazine: "The word has certainly spread. People have the time of their lives on the KISS Kruise. I'll be an officiant at a wedding on this cruise."
Monsters of Rock
On 1 February, the seventh edition of Monsters of Rock (MOR) will depart Tampa, Florida, on the Brilliance of the Seas, a Radiance-class ship from Royal Caribbean that includes a nine-story central atrium.
Featuring the likes of Vince Neil, of Mötley Crüe fame, and Saxon, MOR also invites passengers to attend its pre-cruise party in Tampa.
Speaking to CNBC last year, MOR producer Larry Morand said: "The people on the cruise know how to handle their partying. But this is still rock 'n' roll, and therefore it's still a nonstop party."
Much like Piller, Morand spent a large chunk of his career as a tour manager, and added: "The bands bring their families, and the fans have become friends off the ship."
Rock Legends Cruise
One for the mature rock fan, the Rock Legends Cruise features some of the big music heavyweights of the 1980s, also sailing on the Independence of the Seas from the 19-23 January. It will depart from Port Everglades and make a port stop in Cozumel, Mexico.
"The idea began in 2009 for the 2011 cruise," explains Pam Myers from the Native American Heritage Association, the charity that runs the cruise. "This demographic loves their music as they grew up during the formative years of rock 'n' roll."
"My pipedream would be to have two ships."
Next year's edition will feature acts such as REO Speedwagon and Thin Lizzy, with a total of 20 artistd putting on 60 shows. Prices for an interior cabin range from $599 to $1,099, depending on the number of people and location on the vessel.
Myers says the charity coordinates closely with Royal Caribbean for everything from "crane operations, terminal usage, menus to specialty drinks". "We also build a stage on the pool deck and use the theater and ice rink as venues."
Rock Legends does not include VIP packages, but as with any passenger cruise, onboard security personnel are present. As for the future – "my pipedream would be to have two ships," says Myers.
Rock the Boat UK
Rock the Boat brought its show to the UK for the first time ever this year, sailing from Southampton at the end of September. This came after five successful years in Australia, during which approximately 33,000 passengers came on board.
Organised by Choose Your Cruise, the show has a 50s and 60s theme, and follows the company's previous Cruisin' Country event.
The 2016 edition was hosted by the Celebrity Eclipse, which is operated by Celebrity Cruises and launched in 2010, and visited Zeebrugge, Belgium, and Cherbourg, France, before returning to Southampton.
Those onboard were treated to meet and greets with artists – including radio broadcaster Tony Blackburn, and Gerry and the Pacemakers.
The Rock Boat
Very similar in name – but an altogether different festival than Rock the Boat – is The Rock Boat, which sails on the Norwegian Jade.
Also organised by Sixthman, this cruise departs Tampa, Florida on 10 February, and calls at Harvest Caye, Belize, and Costa Maya, Mexico.
The Rock Boat goes all the way back to 2001, starting life with just three acts and 400 passengers onboard. Hurricane Katrina caused the 2005 edition to be cancelled, but the cruise has gone from strength to strength ever since.
Kevin Griffin, frontman of Better Than Ezra, one of this year's headline acts, recently told Parade: "It's cool being on the boat with the fans; you end up having great conversations and finding out about them.
"The people that go to The Rock Boat are true music fans. I think for a music lover there is just no better experience."