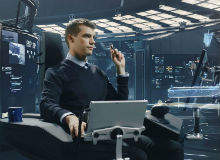 The future of unmanned ships is a regular topic of discussion within the maritime industry. At this stage, there are more questions than answers, as differing visions of autonomy emerge. For Rolls-Royce, this future involves a small team of seven to 14 people, monitoring and controlling the operation of a fleet across the world, all from shore-based control centres, which could be located thousands of miles away.
This 'crew' will use all manner of technology, from interactive smart screens, voice recognition systems, holograms and surveillance drones, with eyes trained on what is happening on board and externally.
Rolls-Royce has been working with the VTT Technical Research Centre of Finland and Tampere Unit for Computer Human Interaction (TAUCHI), and this latest development marks another step in its 'oX' operator experience concept.
Eija Kaasinen, principal scientist at VTT, said in March: "The autonomous ship does not mean removing human beings entirely from the picture, as is sometimes stated. Unmanned ships need to be monitored and controlled and this will require entirely new kinds of work roles, tasks, tools and environments."
The design of the centres is visually stunning, but who staffs them? And could the systems of a shore-based control centre be hacked? Iiro Lindborg, Rolls-Royce's general manager for remote & autonomous operations, ship intelligence, explains more.
Gary Peters: You launched your vision of control centres in March. How much work went into developing this?
Iiro Lindborg: The control centre vision itself is part of our oX concept, and we started work on this in 2012.
The centre is the fourth release under this concept, and the work itself took around three to four years to develop. The oX concept has one common theme: human factors. We are looking at the role of the human operator and how we make his or her work more pleasurable and less stressful.
To our knowledge [this is the first of its kind]. I'm not aware of anything in the marine industry that has been developed to this extent.
GP: How did you decide on the look of the centres and their operation?
IL: We did a lot of background research. Our researchers have quite extensive knowledge and have worked within this type of area before, including on remotely operated metro systems, and so on.
We took what we thought were some of the challenges from other industries and have tried to solve them for autonomous and remotely operated work in the marine industry. We used innovative methods from other industries to decide on what we would include in ours.
GP: There's a lot of detail, but what are the key features of the control centres?
IL: In our world, the key thing is collaboration and how different systems work together. Transparency of information is key. You don't want a situation where one doesn't know what the other is doing.
It is also important to consider shift handovers and changes in the staff who are manning these remote operations. People need to know what has happened on the previous shift, which is one of the main challenges we have today.
GP: How do you ensure information is transparent?
IL: In our concept we have something similar to an electronic log book. All of the actions and events are stored and can be played back. People can also highlight or mark different events.
For shift changes, rather than say a 15 or 30 minute handover meeting, in our concept you might have two or three hours overlapping. So, it would transfer from one to the other in a transitional phase. It then becomes more of an observatory change, rather than just a handover meeting.
GP: There's a great deal of technology involved – voice recognition systems, holograms and so on. As these technologies develop over the next few years, will your control centres also adapt and change?
IL: Yes, I think that's a normal evolution. What we envisage now might be totally different when technology evolves. If the technology evolves faster, we might have some solutions arriving earlier than expected. But most of the technologies exist already, more or less. When we started our work, we were looking at technologies that may exist in five to ten years' time. But, the technology development has been faster than expected in that sense.
GP: Rolls-Royce's vision includes a small crew of seven to 14 people monitoring and controlling the operation of a fleet. How would you select these people?
IL: This is one of the things we are currently investigating. While we are building the prototype centre, we are testing different methods; what kind of person would be best suited to use this system?
There might be a situation where current users are biased towards the way they operate vessels today. Therefore, we need to discover the correct balance between introducing new technologies and keeping the existing ways of working.
GP: Would they be ex-seafarers?
IL: For sure, that's a must. We need to have the expertise in there. Also, you'll need the local expertise. Depending on where the vessel is operating, you should always be aware of the local environment and phenomena, which only those who have sailed in those waters will know. So, it is a must to have seafarers in the control centres.
GP: What level of training would be required to work in a shore side control centre?
IL: People would need training for the system itself, in terms of how the system behaves. I think the most important thing is to understand what is expected, so it is a kind of scenario-based training.
Each system may react differently to a different event, but you need to be able to anticipate what might happen next; you should always be on top of things and know the consequence of an event.
GP: How do you see unmanned and remotely-controlled ships developing in the future?
IL: Within the next five years we will have demonstrators for sure, most likely in local areas, probably within one or two flag states. We will also have supporting systems on sea-going vessels that are trialling the technologies needed for more autonomous operations, particularly for safety aspects.
GP: Thinking about safety, what are the dangers of remote monitoring? Could the system be hacked?
IL: That's always a possibility. I think the key thing is how you prepare and mitigate against that. It is almost impossible to create a system that is completely bulletproof. There is always some possibility of intrusion. Our philosophy is that we are designing our systems so that we have clear intentions on what happens in the event of something like this.
GP: Could this risk put off some people from developing autonomous systems?
IL: Yes, I think so. It is risk, and to counter that risk you do need quite a lot of resources, too. You have to be up to date on all of the developments. It requires a lot of [hard work].
GP: Now you have released your vision, what's the next step?
IL: In relation to the control centre, we are now in the prototyping phase and are currently building a system for this purpose.
We plan to complete the project demonstrator by the end of the decade. This will be a live functioning centre, but it will be a steady approach, with some functions tested at first, before we add more layers to it. There is much work to be done, but we are progressing very well. We hope to have the demonstrator available as soon as possible.
GP: How important is collaboration with other industries and companies within shipping?
IL: It is really important. I'd say it is crucial in all of this, because it is something that is not for today, but rather the future. From the research side, the main thing is the cross-industry research we have carried out. We have looked at multiple angles here. We are taking the best practices from other industries and looking at their challenges.
It is like having a blank piece of paper; we don't want to draw the same things over and over again. It is important to know how other industries have solved their problems. What can we learn from them? We are not trying to do this alone. We want to do it together, as an industry.