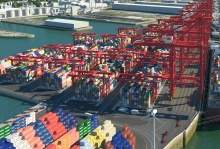 UK Prime Minister David Cameron must be hoping that Christmas comes early this year. That's when the £300m Liverpool2 port regeneration is scheduled for completion, a welcome slice of good news for the Tories as critics question the government's commitment to creating a 'Northern Powerhouse' in the wake of rail modernisation delays outlined by Transport Secretary Patrick McLoughlin in June.
Part of a £500m investment by North West operator Peel Ports that includes tri-modal warehousing and distribution facilities along the Manchester Ship Canal and M62 corridor, Liverpool2 will become the UK's most central deepwater terminal, capable of handling 95% of the world's container fleet.
Only 8% of goods currently arrive in the UK through the Port of Liverpool, with the majority of cargo destined for the North transported via road or rail, incurring hundreds of additional miles, burning fuel, creating road congestion, and adding to both carbon emissions and supply chain costs.
---
---
US ship owner TOTE is launching the first liquefied natural gas (LNG) powered container ships.
---
To enable Liverpool2 to fulfil its potential as a premier freight transport hub, Peel Ports has launched the Cargo200 campaign – and is calling on the UK freight and logistics industry to radically rethink outdated supply chain and services routes in order to reduce freight mileage by 200 million miles by 2020.
"The Cargo200 initiative puts a name to something that most of us know instinctively makes sense; that shipping goods closer to their end market is cheaper and more efficient than importing via distant ports and using inland networks to the final destination," states Patrick Walters, Peel Ports' group commercial director.
"Mile for mile, sea transportation is far more efficient and much less damaging for the environment in terms of sulphur and carbon emissions than road transport. Yes, there is work to be done to further minimise the environmental impact of sea transportation, but is far better to maximise water-borne transit than to incur inefficiencies associated with road."
Healthy profits: Cargo200 aims to reduce emissions and transport costs
Currently, 50% of demand for UK cargo comes from the northern half of the UK, including Scotland and Ireland. By switching delivery of ocean-going freight from south-east landings to the centrally located Port of Liverpool, Peel Ports claims that cargo owners can save up to £400 per container.
"The rationale is simple and based on our modelling, which shows that many northern-based cargo owners stand to save hundreds of pounds per container, and reduce their carbon footprint, by going via Liverpool rather than south-east ports," says Walters. "Recent data published by the government already shows that the real 'golden triangle' for warehousing and distribution is further north than originally thought. So, the issue is then about the costs of getting goods from the south-east ports to the UK's commercial heartland as compared with Liverpool.
"There are some differences between road and rail, and the exact figures are naturally dependent on exactly where the final destination is, but the modelling that has been done for us by external consultants has already been stress-tested and verified by a number of shipping lines."
"Many northern-based cargo owners stand to save hundreds of pounds per container, and reduce their carbon footprint, by going via Liverpool rather than south-east ports."
Clearly, Peel Ports stands to profit from increased throughput at the Port of Liverpool. With this in mind, is the Cargo200 project less about reducing freight industry carbon emissions and more about persuading UK freight operators to make the modal switch from road transportation to shipping?
"Cost is always going to be the main driver of decision-making in competitive markets and the arguments we're making reflect that," counters Walters. "However, we also know that their carbon footprint is an increasing concern for a number of our customers and that they are looking for ways to fulfil their commitments to corporate social responsibility.
"The rationale for change encompassed by Cargo200 covers financial and environmental benefits, so while we might be appealing in the first instance to bottom-line thinking, we know that a shift to Liverpool will also make a contribution to UK and European carbon emission reduction targets."
Sea change: Liverpool2 and redrawing the UK supply chain map
The success of Cargo200 hinges on the timely completion of Liverpool2. The facility will add half a million containers to the Port of Liverpool every year, boosting its annual capacity to two million, and will be capable of handling huge post-Panamax vessels carrying up to 13,500 containers.
"Until our new terminal at Liverpool2 opens in December, shipping lines are limited to vessel sizes of around 4,000TEU due to the tidal lock system," Walters explains. "The difference is the investment we're making in Liverpool2, the Port of Liverpool as a whole, and the wider logistics solution that we can offer cargo owners, such as the new import centre at Port Salford.
"The advantage of taking goods close to market by sea has always been there, but from December 2015 that benefit will be allied with a modern, efficient container terminal with the capacity and technology to accommodate some of the world's largest vessels, plus the connectivity to distribution and warehousing options that our customers need."
---
---
EfficienSea2 is the latest EU-backed maritime innovation project hoping to reshape the future of navigation.
---
Peel Ports has garnered initial support for Cargo200 from household-name brands including Typhoo and B&M, but with competition intensifying in the global freight and logistics market, how confident is Walters that the operator can secure long-term buy-in from the gamut of industry stakeholders?
"The work we're doing is the continuation of a long-term effort to change the face of UK logistics – and it goes much wider than just the benefits of going via Liverpool," he says. "For example, the challenges of driver shortages and congestion in the south-east have been well reported, and there is clear government support for the Northern Powerhouse and rebalancing the UK economy.
"Cargo200 fits into that context and supports the arguments that many people are making about the sense of shipping goods closer to their end destination. Peel Ports is speaking to shipping lines, cargo owners, hauliers, forwarders and intermediaries and the initial responses are very encouraging.
"We are aiming to gain the support of 200 or more cargo owners who will be able to make the most of the new port and transport infrastructure if shipping lines make direct calls in Liverpool."
Integrated thinking: the future of the UK freight shipping sector
Peel Ports offers up a simple distance/cost model to illustrate the potential savings freight operators can make by rethinking supply chain and services routes and using the rejuvenated Port of Liverpool.
The distance from the port of Felixstowe to Trafford Park in Manchester is 247 miles, compared with just 38 miles from Liverpool. By using Liverpool2, hauliers could in theory save £400 in road costs and £150 in rail costs per container, while at the same time eliminating the impact of rail capacity constraints.
"The main thing we are seeing is that cargo owners – our ultimate customers – want a more integrated solution."
Moving from the micro to the macro, how does Walters see the freight shipping sector evolving, and what impact could a rise in oil prices potentially have on Cargo200 and the sector as a whole?
"There are some clear issues and trends in the container shipping industry, such as increasing vessel size, shipping line alliances and port performance challenges," he says. "But the main thing we are seeing is that cargo owners – our ultimate customers – want a more integrated solution.'
"Like all ports, we aim to provide an operation that offers outstanding efficiency at the quayside, but we are looking to go much further with services and partnerships that help our customers get their goods closer to market, with lower costs, less risk and congestion, and reduced carbon footprints."