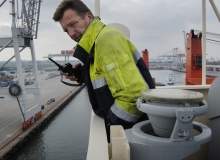 For as long as ships have been sailing the seas, there have been maritime pilots to assist them in their most treacherous passages. There are references to pilots, expert shiphandlers with unrivalled local knowledge who assist or take over from ship's masters to guide vessels through dangerous or congested waters, in ancient texts such as the Bible and Homer's Iliad, as well as Coleridge's famed 1798 poem The Rime of the Ancient Mariner.
For many, the roots of modern pilotage can be traced back to the establishment of the Corporation of Trinity House in England in 1514, by Royal Charter granted by King Henry VIII, with a licence to regulate pilotage services. Trinity House relinquished its role as the UK principal pilotage authority in the late 1980s as the responsibility was passed to individual Competent Harbour Authorities.
Trinity House was where Nick Cutmore got acquainted with maritime pilots; he joined the corporation in 1974 when he had barely hit his twenties. He would spend nearly 25 years at Trinity House, working his way up to the position of navigation manager and playing a role in the introduction of differential global positioning service to British waters. "It's hard to believe how things have changed in that time," he says now.
Cutmore left the corporation in 1998 and soon after became the secretary general of the International Maritime Pilots' Association (IMPA), the representative organisation of the global pilotage sector with its headquarters – a converted Second World War-era sloop called HQS Wellington – on the River Thames in London.
IMPA was consulted by the International Maritime Organisation (IMO) in its 2004 recommendations on the conduct of pilotage services and the certification of pilots, but binding legislation on pilotage is the responsibility of individual countries. Nevertheless, while there is some variation in protocol for pilots, the fundamentals (giving the pilot the conduct of navigation during the relevant passage, while the master retains overall command) are the same almost everywhere, with many countries following the legislation laid down by the UK.
The importance of the maritime pilot
Clearly, the world of shipping has changed almost beyond recognition since the days when harbour pilots sailed out to meet incoming ships in specialised cutters and schooners. But modern technology hasn't threatened the pivotal role of the pilot with redundancy – quite the opposite, in fact. The physical and economic realities of today's shipping industry make pilots more important than ever for the delicate task of manoeuvring huge ships into and out of port, argues Cutmore. The low power-to-weight ratio of large ships creates completely different challenges than those experienced by maritime pilots' counterparts in the aviation industry.
---
---
For a seafarer getting cargo safely from A to B is paramount – and you can't afford to make mistakes.
---
"We are trying to get a quart into a pint pot," he says, referring to the enormous container ships and bulk carriers that strain the dimensions of even the largest ports and canals. "We now have these mega vessels; you've got ships now plying the seas that are too big to get into US ports, which is quite significant. Pilots are called upon to deal with greatly reduced turning basin clearance, very little under keel clearance, and it's expected. So pilots have to be better than they used to be."
It's not only the steadily expanding tonnage of merchant vessels that is making pilots' jobs trickier and more crucial than ever. Cutmore also describes the "declining standards of manpower on ships, and I can say that safely, because it's a fact acknowledged at IMO." As skills and labour shortages become more pronounced throughout the industry, seafaring standards are slipping and existing crews are becoming more exhausted, placing an even greater premium on the experience and local know-how that pilots provide.
"It certainly strengthens the need for pilots," says Cutmore. "We have no fear about the profession's future because of this."
Be the best: what does it take to become a pilot?
When it comes to the best route into the pilotage profession, there's no substitute for hard-earned experience. Command experience and certification is the gold standard for making the transition into pilotage. Due to the difficulty of retaining sufficient numbers of pilots in various regions, training courses are becoming available to open new avenues into the field, but given the high levels of skill and knowledge required to do the job, it's understandable that certified seagoing experience is "the traditional and still most widely used route into pilotage", according to Cutmore.
But having the right experience is no guarantee that a mariner will be cut out for a job that requires pilots to board unfamiliar vessels while they're still in motion, quickly take stock of the situation and start making decisions almost immediately. There are personal characteristics – communication, charisma and calmness, for a start – that are almost as important.
"You have to have a certain persona to do it. You are on your own, by and large."
"A great number of pilot groups do biometric testing as part of the entry procedure," Cutmore says. "You have to have a certain persona to do it. You are on your own, by and large; you have to carry the crew with you by certain force of personality, and part of that is to have the innate competence and knowledge, but also to be able to carry the crew with you in this passage and be unflappable, even when you want to flap. It's not for everybody, and there are a number of entrants to the profession who get weeded out during the training phase because it's clear they don't have that persona."
The ability to think on one's feet is also a must. Pilots regularly tell Cutmore that it's the unpredictability of the job, the fact that you'll never know what might happen on any given day, that provides one of its biggest thrills. "We always say that pilotage is a dynamic business; you can plan, you have a master-pilot exchange, you have a passage planned and agreed," he says. "But I think it was [19th century German Field Marshal] von Moltke who said, 'No plan survives first contact with the enemy.' In the case of pilotage, you may plan certain things based on tide, wind and so on, but you cannot plan passing traffic to the nearest second. But it's enormously satisfying for pilots; you can have all sorts of protocols, but at the end of the day he has to deliver the ship safely to the berth or take it out to sea. That involves an element of on-the-hoof work."
Challenges and community spirit
Prospective entrants should be under no illusions that pilotage is a tough job, and it's not made any easier by the prevailing labour conditions in the industry. Cutmore cites declining competence and engagement among ships' crews as the biggest challenge facing pilots today. "[That] isn't to imply these people are stupid, it's just there are fewer of them, they are fatigued and they have very little time in a position to learn."
The "glory days" of the 1950s and 1960s, as Cutmore puts it, when seafarers would spend years apprenticing at sea as they moved up the mariner's career ladder are long gone, and what's left are crews who are less and less likely to provide any support to pilots when they board and take control on the bridge.
"The bridge team look upon the pilot when he comes onboard and think, 'Here comes somebody who's had some sleep recently and knows what he's doing – we can all go and get our heads down.' They don't stay for the passage; so far as they're concerned, having a pilot onboard is a chance to get a break themselves. And who can blame them? I'm not criticising them. I wouldn't encourage my kids to go to sea in this day and age."
---
---
The dream of the Nicaragua Canal has drifted through the centuries without ever truly taking shape.
---
Crewing levels and skills shortages represent an industry-wide labour issue that might only be resolved with long-term reform and a shift in the economics of shipping. But there are smaller, simpler issues that could make pilots' lives easier (and safer) if they were resolved by shipowners. Transporting harbour pilots from the shore to an incoming ship (or back to shore from an outgoing vessel) is occasionally done by helicopter, but far more common is a simple pilot ladder, which the pilot will use to transfer from his own boat to the larger vessel while both are in motion. It's a hazardous endeavour at the best of times, but the lacklustre state of many pilot ladders can make the risk intolerable.
"The pilot is there to help the guys get into port," Cutmore says. "Be nice to him, give him a ladder that's clean and isn't going to break underneath him. You see those ladders – we have about a 15% defect level with pilot ladders. These are human beings. I go up and down them and I hate it. I absolutely dread doing it. We do have helicopter boarding but by and large most pilot boarding is through a traditional ladder. We're always on about it at IMO."
In the end though, most pilots relish their tough and vital task, as well as the solidarity of the wider pilotage community – something that IMPA encourages with its annual IMPA Congress. "Pilots just love meeting other pilots," says Cutmore, his voice immediately brightening. "Our last conference was in Panama – we had a whole day on canals. The Kiel Canal pilots, the Manchester Ship Canal pilots, the Welland Canal pilots and obviously Panama all did presentations, and you've got a couple of hundred blokes all craning their necks listening to every word. You're thinking, 'Jeez, look at that.' There's a real community. We don't have any problem maintaining membership or interest in IMPA's work."