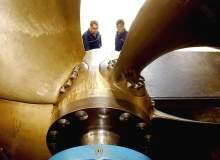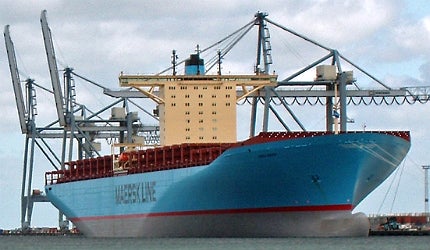 As countries run low on their own natural resources and consumer goods, they are becoming increasingly dependent on a reliable shipping industry for global trade.
In light of this, rapid innovation in marine propulsion during the last few years has resulted in the development of new engines that are designed to be more powerful and energy-efficient.
The world's largest and most powerful diesel engine was built with this in mind – to propel a new generation of larger tankers with a capacity to hold more cargo.
Nuclear-powered icebreakers have also been designed in recent years to help oil companies traverse the frozen waters of the Arctic, and aid Russia in boosting international trade.
In terms of energy efficient designs, the shipping industry has started to look seriously at ways to reduce fossil fuel consumption by building electric motors, which have been used on watercraft from submarines to research vessels.
The trend towards using renewable and alternative energy sources to fuel engines has also gained momentum over the last few years as countries look towards cutting down on pollution in the maritime sector.
Here, we compare the latest generation of ship engine designs that are expected blow the last generation of machines out of the water.
Electrifying designs
GE Power Conversion's Captain Mark Dannatt, a retired Royal Navy captain, recently said: "I've seen the future of naval propulsion, and it's electrifying."
Speaking at the Euronaval exhibition and conference in Paris in October, he explained that maritime operations require ships which are operationally dependable, financially efficient and respect the environment.
Under these circumstances, electrical propulsion is worthy of further investigation based not only on fuel and maintenance costs but also on the consequential impact on improvements in ship availability, Dannat said.
GE's Power Conversion business is currently supplying its electrical propulsion drive train for the UK Royal Fleet Auxiliary's (RFA) new fleet of Military Afloat Reach and Sustainability (MARS) tankers.
"Nuclear-powered icebreakers have also been designed in recent years to help oil companies traverse the frozen waters of the Arctic."
The RFA is replacing its existing, single-hulled tankers to meet International Maritime Organization pollution regulations, as well as stringent European Commission environmental regulations.
In a draft legislation approved in September 2012, the commission states that under a business-as-usual scenario, the emissions of the maritime sector will surpass emissions from all land-based sources, reinforcing the need for greener propulsion systems.
But it's not just the navy that's benefiting from electrified propulsion; Norway's Sustainable Electric Propulsion Systems (STADT) has designed a hybrid electric converter for use in seismic research vessels, including Det Norske Veritas's MS "Sanco Spirit" and various other ships.
The Stascho electric propulsion system is available in models from 100kW to 100MW and supplies sinusoidal voltage and current to the electric motor and back to the main switchboard. This ensures that there is no interference from inverter drives on other sensitive electronic equipment on the ships.
While STADT has designed a system that integrated AC electric motors, General Atomics (GA) is developing a 36.5MW superconducting DC homopolar motor for ship propulsion.
The company argues that motors using DC power are significantly quieter, smaller – due to fewer components – and more efficient than AC motor systems, and are suited to simpler, less costly ship electrical distribution architectures.
Alternative fuels
Keeping in mind global carbon reduction targets and increasing anti-dumping tariffs, Rolls-Royce has developed an engine powered by waste-derived liquid biomethane to power passenger ferries running on LNG and the world's first fossil fuel-free sailing cargo ships being constructed by B9 shipping.
"The shipping industry has started to look seriously at ways to reduce fossil fuel consumption by building electric motors."
The company says its Bergen K reciprocating gas engine has already contributed to substantial reductions in NOx, SOx and CO2 compared with conventional diesel engines.
The engine will be used in conjunction with B9's dyna-rig sail propulsion system, a free standing and free rotating system which comprises of multiple small sails that operate electronically.
The system is set to provide around 60% of the fossil fuel-free vessels' thrust, with the remainder coming from Rolls Royce's engine.
Some vessels are also incorporating propulsion systems powered by algal oils. In January 2012, giant cargo boats and US Navy warships were successfully powered by oil derived from genetically modified algae as part of its initiative to cut its fossil oil use by 50% by 2020.
Two months later, the US Navy Frigate fleet ship USS Ford sailed from Everett, Washington to San Diego using 25,000 gallons of Solazyme's Soladiesel blended with military diesel.
Powerful propellers
Nuclear power for propulsion is also able to reduce carbon emissions in the shipping industry, but its other operating characteristics are even more appealing to vessel designers.
Nuclear fuel is energy-efficient – a small amount of the resource can provide energy equivalent to millions of times its weight in coal or oil. Secondly, it is possible to build a reactor which will operate a vessel for several years without refuelling.
"Rolls-Royce has developed an engine powered by waste-derived liquid biomethane to power passenger ferries running on LNG."
What's more, a nuclear propulsion plant allows more space for cargo because the need for large fuel bunkers is eliminated. It also allows a vessel to operate at higher speeds without refuelling.
Nuclear propulsion has proven particularly beneficial to icebreakers built by Russia for the exploration of frozen waterways in the Arctic.
These icebreakers are more powerful than their diesel-powered counterparts and can force their way through thick ice at speeds of up to ten knots.
More broadly, there is a growing trend for the development of uber-powerful engines in the shipping industry as a new generation of supertankers and container ships begin to set sail.
And even as ships move towards an all-electric model, the demand for diesel is still high.
The Wärtsilä RT-flex96C diesel engine is currently the largest and most powerful engine in the world. Standing at 13.5 metres high and weighing 2,300 tonnes, the two-stroke turbocharged engine comes in six cylinder in-line through to a 14 cylinder versions.
The RTA96C-14 can achieve a maximum power output of 108,920 horsepower at 102 revolutions a minute, while peak capabilities of the 14-cylinder version can exceed 80MW.
Although the RT-flex96C runs on diesel, Finnish manufacturer Wärtsilä kept energy efficiency in mind when building this engineering feat.
The design is based on the older RTA96C engine, but modern fuel injection systems have been replaced with the traditional camshaft, chain gear and fuel pumps. As a result, 50% of the energy in the fuel is converted to motion.
---
Related content
---
Development of the world's first-ever 100% fossil fuel-free sailing cargo ship has begun in the United Kingdom and Ireland, following the successful conclusion of primary testing.
Technological and structural advances are pushing boundaries in ocean-going efficiency, productivity and precision.
Atomflot's expanding nuclear icebreaker fleet brings with it a number of industrial and geopolitical implications, including a possible boost for Russia's coal exports.
---