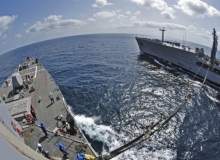 In April, scientists from the US Naval Research Laboratory (NRL) announced they had successfully powered a remote-controlled aircraft using nothing but seawater. By extracting carbon dioxide (CO2) and hydrogen and converting it to a liquid hydrocarbon fuel, researchers at the NRL's Materials Science and Technology Division had proved that seawater fuel was actually possible.
It has been described as a 'game changing' technology which could solve the US Navy's dependency on fossil fuels. Seawater, unlike oil-based fuels or nuclear power, is in abundant supply and is easily accessible. Ships could be fuelled by the very water they sail on. That is particularly important for the navy as it means no more dangerous at-sea refuelling which can interrupt vital missions.
Being able to convert seawater into fuel would also eliminate vulnerable supply chains and lessen the reliance on foreign supplies – a vital strategic goal.
A solution for the industry's fuel problems
With the development of sea-based converters and the ability to make fuel 24 hours a day on board ships, costs for fuel would inevitably fall. Reducing costs and increasing supply chain efficiency is particularly important for the commercial shipping industry, especially as the price of traditional oil-based fuels continues to rise.
Increasing fuel prices, expanding regulations and the lingering effects of the global recession have meant the shipping industry has had to find ways to increase efficiency. So is seawater fuel the answer? In the short term at least, the answer is probably no. Big companies are reluctant to invest time and money into a technology which is still in its very early stages.
Jasper Boessenkool, head of strategic R&D at Maersk Maritime Technology – an in-house company working to optimise Maersk's maritime fleet – says more research is needed to assess the overall energy required to convert the seawater to fuel.
---
---
As unmanned and automated technologies continue to advance on land and in the air, Rolls-Royce's marine division is looking to implement the idea at sea.
---
"Maersk is constantly evaluating potential future technologies to improve fuel efficiency and alternative sources of energy. Some of the technologies – like turning seawater into fuel – are in the emerging stage and will require some more research before Maersk will assess the commercial viability," Boessenkool said.
Boessenkool says Maersk have "systematically evaluated" its fleet over recent years to implement technologies that improve fuel efficiency. Examples include fitting a new bulbous bow to optimize vessels to their new operational profile in which vessels, on average, sail at slower speeds than originally designed for.
A realistic option for refuelling ships?
US scientists say the converted seawater is more likely to power jet aircraft aboard US Navy aircraft carriers rather than power the ships themselves. The end product of the conversion process is 'JP-5' fuel, used to power jet aircraft, and not 'F-76' Diesel Fuel Marine, used for ships. But studies have shown that JP-5 could be "an acceptable substitute for F-76" – meaning ships could run on converted jet fuel – but fuelling a ship and an aircraft is a different order of magnitude. Converting enough seawater to fill up a ship would be a huge undertaking.
And that's the problem. Many critics of seawater fuel say the process is just too energy intensive to be viable. It would require more energy to be put in than you would get in return.
"Where is this energy going to come from when you're on board a ship?" wrote energy journalist William Tucker. "You'd have to have a power source to start that is greater than what you end up with. That may make sense when it comes to manufacturing jet fuel from the reactor aboard a nuclear-powered aircraft carrier. It may in fact be quite efficient. But powering Navy ships with seawater fuel made with the fuel you've already got on board — it's crazy."
Another potential pitfall for seawater fuel is the amount of CO2 emissions the final product will create. Even if it was a viable technology, there is a chance it will not meet strict CO2 emission targets being rolled out in the next few decades. It is estimated that global shipping currently accounts for 3% of total global CO2 emissions. When combined with CO2 from aviation, the total emissions from both industries are comparable to the CO2 produced by the entire African continent.
"US scientists say the converted seawater is more likely to power jet aircraft aboard US Navy aircraft carriers rather than power the ships themselves."
Under new EU rules coming into force next year, all ships operating in the English Channel, North Sea and Baltic Sea will have to use fuel with a maximum sulphur content of 0.1%.
By 2020, all ships worldwide will have to operate on fuel with a sulphur content of 0.5% under International Maritime Organization rules. Would seawater fuel comply with the stringent IMO rules? It is too early to say, the process is not expected to be commercially viable for another ten years.
Low-sulphur fuels and LNG alternatives
With seawater fuel a distant dream, operators will have to start using low-sulphur fuels to comply with regulations instead. The problem is that low-sulphur fuels are expensive. Operators like P&O Ferries says their fuel bill will rise by £30m a year as a result of complying with new rules, which will be passed on to customers.
Recent trends indicate that operators are adopting fuels like Liquid Natural Gas (LNG) and bio-fuels in order to meet strict CO2 targets and become more energy efficient. Rolls Royce, for example, say they are "bullish" on LNG-based power and propulsions systems for a wide array of ship types, especially in light of the shale gas revolution currently underway in the US. Obstacles which may prevent the use of LNG are also being overcome including bunkering challenges.
"This is leading more ship owners to convert to gas, and for new builds, to really evaluate a pure gas solution as the best alternative," said a Rolls Royce spokesman. "We have had significant success in providing pure gas systems to dozens of vessels in Europe for many years, and we expect this to grow considerably in Asia and North America in the coming years."
In a recent report by Lloyd's Register titled Global Marine Fuel Trends 2030, experts predicted that LNG would have a "significant market share by 2030", even if there was not a major push to adapt existing propulsion systems.
Though some groups are quick to point out that LNG offers only "short term" and "incremental benefits" in terms of reducing CO2 emissions.
---
---
In the not too distant future, commercial ships could be able to reduce their dependence on fossil fuels by harvesting energy from the waves.
---
A new report from the Tyndall Centre for Climate Change Research says more radical "step-change" forms of propulsion should be implemented if global emission targets are to be met. One radical idea is to utilise wind technologies – wind has been used to power ships for centuries – in the form of kites or Flettner rotors.
Back to the future – wind technology
While not powerful enough to be the sole power source for ships, wind power could make a "significant contribution" to vessel propulsion.
"I think wind power technology makes complete sense and in the longer term there is definitely a role for it," explains Dr. Michael Traut, a research fellow at The University of Manchester. "It does not necessarily have to compete with other technologies, vessels will likely utilise wind power in a hybrid setup."
The question is whether the industry is prepared to invest in new technologies such as wind or converted seawater.
"There is not a lot of appetite for big investments at the moment." says Traut. "Most shipping companies do not want to invest in research, they are more interested in what is already out there and what is going to be a good return on their investment – which is very difficult in relation to many technologies."
On the whole, Traut says he is not committed to just one type of technology to reduce dependency on fossil fuels. That is reflected in the industry too. It is about employing a range of technologies in an attempt to become efficient and meet CO2 targets, including low-sulphur fuels, LNG and even wind power. But there is no definite answer and a revolutionary change, like seawater fuel, does not look likely anytime soon.