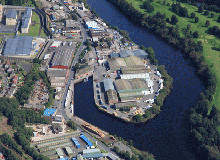 Canada's Victoria Strait expedition crew found one of the two explorer ships that were lost in 1846 during an expedition to find the Northwest Passage.
According to the Canadian Government, one of the explorer ships either HMS Erebus or HMS Terror, which were part of the expedition led by Sir John Franklin, was found on the sea floor in northern Canada.
Canada Prime Minister Stephen Harper said: "This is truly a historic moment for Canada.
"Franklin's ships are an important part of Canadian history given that his expeditions, which took place nearly 200 years ago, laid the foundations of Canada's Arctic sovereignty."
Scotland's commercial port Perth Harbour was put on the market by Bidwells on behalf of Perth and Kinross Council in order to raise private-sector investment and position the harbour as a key logistics hub.
Perth Harbour is located on the River Tay, 30 miles from the North Sea and handles coastal and dry bulk ships up to 90m-long, carrying up to 2,500t of cargo from Europe, the Baltic and Scandinavia dock at its four main berths.
Bidwells head of commercial property Graeme Duncan said: "Perth Harbour is unique in the area because of its location."
The Perth and Kinross Council property is expected to gain large investments and to become the future hub of Scotland's harbour operations.
Crude oil tanker company DHT Holdings planned to acquire all of the outstanding shares of Singapore-based private company SAMCO Shipholding.
Samco Shipholding was established in 2008 and owns a fleet of seven very large double-hull crude oil tankers (VLCC) with an average age of approximately 4.5 years.
The acquisition agreement also included Samco's 50% ownership in another Singapore-based Goodwood Ship Management.
Researchers from Massachusetts Institute of Technology (MIT) developed a new oval-shaped submersible robot to perform ultrasound scans to search ships for hollow compartments that may conceal illegal imports.
The new underwater robot was designed by researcher Sampriti Bhattacharyya along with advisor, Ford professor of Engineering Harry Asada, and was introduced during the International Conference on Intelligent Robots and Systems.
Though designed to check for cracks in nuclear reactor water tanks, the robot has a flattened panel on one side for sliding along an underwater surface, which can be used to inspect a ship for false hulls and propeller shafts.
The Australian Maritime Safety Authority (AMSA) banned container ship Vega Auriga (IMO 9347786) from using or entering any of the country's ports.
The direction came in the wake of repeated breaches relating to seafarer welfare and maintenance of the vessel.
AMSA ship safety division general manager Allan Schwartz said: "Vessels that do not meet such standards, including standards for the welfare and treatment of crew, pose an increased risk to seafarer safe operations and the marine environment.
"Seafarer welfare is just as important as the proper maintenance of ship equipment, and an integral part of safe operations.
"A failure in either system could lead to serious accidents."
Classification society DNV GL developed a new eco-friendly, battery-powered vessel that is faster and safer than diesel-powered ships, to revolutionise short sea shipping.
With a fully charged 3,000KW battery, the ReVolt vessel has a range of 100nm moving at an average speed of 6k. The vessel's lower than average speed has required designers to fit a straight vertical bow in order to reduce its water resistance.
ReVolt does not need a crew, so there is no requirement to build a superstructure for accommodation. This increases the vessel's loading capacity while cutting down operating and maintenance costs, DNV said.
Keppel Offshore & Marine's subsidiary Keppel FELS recently won a $227m contract from Qatar's Gulf Drilling International (GDI) to construct a repeat high-specification KFELS B-class jack up rig.
The new rig named Halul is the fifth KFELS B-class jack up ordered by GDI from Keppel, which has already started works to deliver it in 2016.
Halul will be able to operate in the high ambient temperatures of the Middle East and will be equipped with larger spud cans for reduced bearing pressure and wider operational coverage.
Northrop Grumman manufactured a winterisation field upgrade kit for ships using the Northern Sea Route.
The new kit was developed to extend the low temperature capability of marine navigation equipment and allow ships to function in the Arctic environment of the polar shipping routes.
Northrop Grumman Sperry Marine managing director Jeanne Usher said: "Ships operating in the Arctic environments are exposed to a number of unique risks and we recognise the need to ensure that our equipment is capable of functioning effectively under the challenges of polar operations."
Japanese shipping company Kawasaki Kisen Kaisha (K-Line) agreed to pay a $67.7m criminal fine for conspiring to fix prices, allocate customers and rig bids of international ocean shipping services for roll-on and roll-off cargo.
According to the US District Court in Baltimore, K-Line was involved in the conspiracy from February 1997 to September 2012 for shipments from the US and elsewhere, including the Port of Baltimore.
Roll-on, roll-off cargo is non-containerised cargo includingshipments such as new and used cars and trucks, and construction and agricultural equipment.
More than 200 African migrants were considered dead when a boat carrying around 250 passengers sank in the Mediterranean Sea off the Libyan coast in the night of 14 September.
According to officials, the majority of the passengers were African and only 26 people had been rescued at that time.
Al Jazeera quoted Libyan navy spokesman Ayub Qassem as saying: "There are so many dead bodies floating in the sea."
"The under-equipped coast guard is said to be struggling to search for surviving passengers, who were attempting to illegally migrate to Europe."