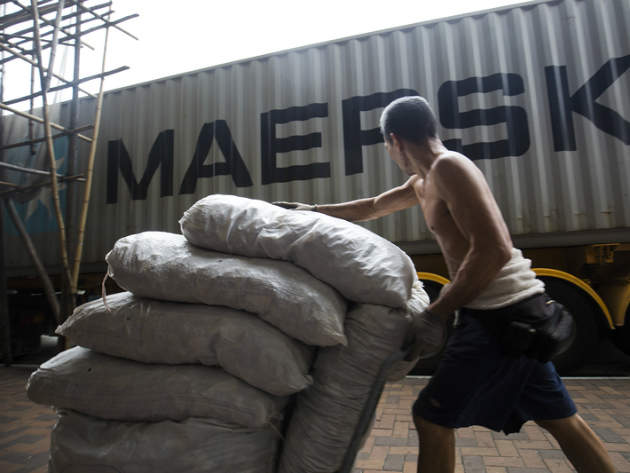 In March, marine conservation group Sea Shepherd Global carried out investigative work which revealed that large shipments of shark fins continue to arrive in Hong Kong on shipping containers transported by Maersk, as well as airlines Virgin Australia Cargo and Cathay Pacific.
The findings were particularly shocking given various shipping companies' 'No Shark Fin' carriage ban commitments.
Maersk, the world's largest shipping line, was the first to commit to banning the carriage of shark fins aboard its ships in 2010. Since then, 16 of the world's leading container shipping lines have followed with their own pledges.
But despite global efforts to end the practice, demand for shark fins is still strong, particularly in the Chinese market, where shark fin soup is served at special occasions and is seen as a sign of affluence.
"Disrupting the supply chain of endangered species products from source to markets is simply another tactic that we use alongside our more established public awareness and demand reduction strategies," says WildAid Hong Kong wildlife campaigner Alex Hofford.
"We have had some considerable success with over 17 of the world's top global container shipping lines pledging 'No Shark Fin' bans, which together represent over 60% of the total market."
The recent investigation however shows that more needs to be done to put an end to the smuggling of shark fins across the world.
Shark populations on the brink of extinction
Shark finning involves the brutal practice of catching a live shark, slicing off its fins with a hot knife blade and then dumping the still-living shark back in the ocean, where it cannot swim anymore, resulting in drowning or bleeding to death.
For years, shark fin products have been seen as symbolic of the illegal wildlife trade. In 2013, a report from the Marine Policy Journal estimated that 100 million sharks are killed each year due to commerical fishing. Today, 50 shark species are listed as being at high risk of extinction by the IUCN Red List of Threatened Species. In 2014, an IUCN report warned that a quarter of the world's sharks and rays are threatened with extinction.
More than 100 countries are involved in the business of trading in shark fins, with exports targeting the main consumer nations, such as mainland China, Hong Kong, Malaysia, Singapore, Taiwan, and Thailand.
But by far, Hong Kong serves as the main hub, handling anywhere from 50 to 80% of the world's shark fin trade.
Over 90% of these imports come into Hong Kong by ship. Statistics from the Hong Kong Government Census & Statistics Department show that in 2015, 5.2 million kg of shark fin was brought into Hong Kong's harbours by ship.
Over the course of five years, shipping's share of imports has progressively grown, from just over 82% in 2010 to 91.8% in 2015.
"Crunching the Hong Kong government numbers, we can see that the global marine conservation community is putting quite a significant dent into the proportion of shark fin coming into Hong Kong, though anecdotal reports indicate that much of the trade is migrating to Vietnam and China's southern port city of Guangzhou," a government document explaining the Hong Kong shark fin trade reads.
How traffickers are circumventing bans
Today, full or partial bans on the practice of shark finning, as well as its transportation, are enacted in some countries and jurisdictions.
The 17 shipping carriers that have so far committed to not transporting such products – including Maersk, China COSCO, Mediterranean Shipping Company and Hanjin – make up about 67% of the total shipping market share that adhere to these strict no-carriage policies.
But despite the work being done, market demand is still strong, and leakages exist. In the first two months of 2017, Hong Kong's Customs and Excise Department seized about 1,280kg of dried shark fins in four containers from India, Egypt, Kenya and Peru.
Smugglers manage to circumvent the bans by mislabelling the content of their containers as "dried seafood", "dried goods", or "marine products".
"The container shipping companies and airlines involved in the recent scandal are the victims [of] unscrupulous traders who are mis-declaring shark fin to get around the corporate bans," Hofford says.
In a statement, Maersk Group says that in the past, it has experienced incidents where cargo has been declared as "frozen fish".
"Maersk Line does not accept illegal cargo," says a company spokesperson. "As an ocean carrier, Maersk Line relies on our customers to fulfil their regulatory obligations and it is therefore critical that the information we receive from our customers is correct.". It has also promised to "always cooperate openly and proactively with all relevant authorities anytime there is a suspicion of illegal activity, an incident or investigation.
"In the case of shark meat and shark meat products we have gone even further and have a policy not to accept shark products due to CITES [Convention on International Trade in Endangered Species of Wild Fauna and Flora] restrictions and regulations governing international trade of these products and the high risk of illegality. We regard any breach of our policy as very serious."
Hong Kong's Single Window proposal
In light of the investigation, Maersk, Cathay Pacific and Virgin are working in close collaboration with Sea Shepherd Global and WildAid to close all remaining loopholes, and "a full review is being undertaken of their booking procedures and alert mechanisms to help them enforce their bans," Sea Shepherd's Asia director Gary Stokes said in a statement.
"We continue to have close collaboration with Maersk, and they are creating a best practice document that will soon be circulated to the 17 members of the Hong Kong Shipping Association, of which Maersk is the chair, as well as to all the smaller intra-Asia 'feeder' shipping lines'" Hofford says.
WildAid, together with other conservation groups, is also currently lobbying for support to the Hong Kong government's 'Single Window' initiative, which will require exporters to file import manifests for the screening of cargo prior to arrival, rather than post-arrival, which is the current practice. Hong Kong is the only major economy which allows post-shipment import and export declaration.
At present, 51 trade documents are submitted to <U>the government relating to the trading of goods into, out of and through Hong Kong. Over half of these documents are still being processed by conventional paper means, resulting in a "fragmented approach not conducive to the efficient processing of incoming and outgoing goods," according to a government press release from 2016.
The proposed Single Window (SW) policy would replace this, acting as a "single IT platform for the one-stop lodging" of all of these documents. This, coupled with the availability of pre-shipment information, would enable "the Customs and Excise Department to carry out more effective risk-profiling and hence more targeted enforcement work," the government's proposal suggested.
The Asia-Pacific Economic Cooperation (APEC) aims to develop SW within each member economy by 2020. For The Association of Southeast Asian Nations (Asean), eight out of the ten Members have already developed national SWs.
However, a consultation from April 2017 mentions concerns regarding the additional compliance cost of introducing pre-shipment information.
The revised proposal therefore asks for a more "pragmatic, incremental approach" and only commits to "explore ways to encourage voluntary submission of TDEC at the pre-shipment stage" via a user-friendly design of the Single Window website. Post-shipment data would remain as a minimum legal requirement.
Meanwhile, an ongoing petition is currently urging global courier company FedEx to follow in the footsteps of logistics giant United Parcel Service (UPS) and implement a ban on illegal wildlife products, including shark fin, which it continues to transport.