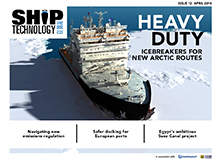 Ship Technology Global is now available for the iPad. You can download our app from Newsstand, or continue to read your free copy in our web viewer.
The melting of Arctic ice is opening up new sea routes and opportunities in trade and oil exploration, but unpredictable weather conditions in the regions are increasing the need for heavy icebreaking capabilities. We find out when and where future icebreakers will be needed, and which countries are best prepared to push ahead in the Arctic sea.
As ship and port operators come under more pressure to clean up marine diesel engines in order to comply with new, stricter emissions regulations, we explore the technological options available and find out how they compare in terms of cost and efficiency. We also profile a new device that could allow ships to harness power by capturing wave movement in any direction and ask if it can be scaled up for commercial use.
Moreover, we ask how the Egyptian Government's plan for a massive industrial hub around the Suez Canal will fare in the midst of political tension and find out how the EU-funded DockingAssist initiative aims to improve port efficiency and safety in Europe.
In this issue
Navigating Change
With new regulations for emissions due to come into effect, Frances Marcellin speaks to industry insiders to find out what exactly is changing and what the compliance options are.
Click to read the full article.
Waves of Power
A new device allows ships to harness power from the sea by capturing wave movement. Elly Earls asks Mairi Wickett, managing director of WITT Energy, about the technology that could reduce commercial ships' dependence on fossil fuels.
Click to read the full article.
Future Icebreakers
Opportunities in Arctic trade and oil exploration are increasing the need for heavy icebreaking capabilities to deal with unpredictable conditions. Chris Lo asks when and where future icebreakers will be needed, and which countries are best prepared.
Click to read the full article.
Position of Strength
An EU-funded project aims to improve global port safety and efficiency using a wireless network, differential satellite systems and enhanced navigational tools. Julian Turner talks to Josep Perello of Ateknea Solutions about the DockingAssist initiative.
Click to read the full article.
The Suez Answer?
The Suez Canal is again in the spotlight after the call for bids on the Egyptian government's plan to develop some 29,000 square miles along its banks into a new logistics and industrial hub.
Dr Gareth Evans investigates.
Click to read the full article.
Leading Design
QinetiQ's Paramarine software is used extensively by naval architects and shipbuilders across the world. Ross Davies explores the technology's main capabilities, and asks how it is being used to train the next generation of marine students.
Click to read the full article.
Next issue preview
Developers have been devoting a significant amount of time to charting the world's seas and have come up with several apps for gadget savvy sailors. From the open source SEAiq to the Garmin BlueChart Mobile we profile the best navigation apps available on the market today.
We also take a look at the drives of continued growth in the cruise industry, investigate the viability of Rolls-Royce's groundbreaking design for unmanned cargo vessels, and speak to the UK's Royal National Lifeboat Institution about the construction and the capabilities of its new, publicly funded Shannon class lifeboats.
Moreover, we assess the threat posed by 'ghost ships' to shipping traffic and explore the tracking technologies that are being used to minimise such risk, and find out more about DNV GL's plan to transform phased-out tanker ships into floating wastewater treatment plants for seaside cities.
Digital magazine FAQ
Ship Technology Global is available on the iPad and as a free desktop version*. You can download our app or read the latest issue here.
Sign up for your subscription here.
*Browser compatibility: The desktop version can be viewed in the latest two version of Chrome, Firefox and Safari, as well as in Internet Explorer 9 and 10. Some features may not be compatible with older browser versions.