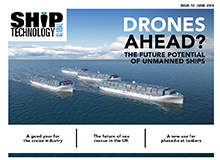 Rolls-Royce made waves earlier this year with its draft design for an unmanned cargo vessel. While unmanned technology has already found various applications in land-based and aerial drones, its use at sea has been lagging behind. We explore the potential of cargo drones and ask whether the concept could be a viable option for the shipping industry.
We also profile the most popular mobile navigation apps on the market, speak to the UK's Royal National Lifeboat Institution about the construction and capabilities of its new Shannon class lifeboats and take a look at DNV GL's proposal to transform phased-out tanker ships into floating wastewater treatment plants for seaside cities.
Moreover, we ask the Cruise Lines International Association about the driving factors behind the continued growth of the cruise industry and explore the most innovative gadgets and technologies used by cruise operators to manage and entertain passengers on board.
Click here to read this issue.
In this issue
Mobile Apps: A Mariner's Guide
The explosive growth of the smartphone and tablet market has led to a blossoming trade in mobile navigation apps. Chris Lo profiles six of the most popular apps available on the market.
Click to read the full article.
Spooking the Seas
The recent plight of the abandoned Russian cruise liner Lyubov Orlova has captured the public's imagination. Ross Davies investigates the threat ghost ships can pose to shipping traffic and offshore installations if left undetected.
Click to read the full article.
A Good Year
The Cruise Lines International Association recently announced that its member lines were looking forward to a year of growth in 2014. Ross Davies explores the factors fuelling this optimism.
Click to read the full article.
Drones on the Horizon
Rolls-Royce's marine division has unveiled a draft design for an unmanned cargo vessel. The technology has the potential to revolutionise the industry, but there are huge regulatory hurdles to overcome. Adam Leach reports
Click to read the full article.
The Future of Sea Rescue
As UK Royal National Lifeboat Institution's first Shannon class lifeboat enters service, Charlotte Richardson Andrews finds out more about the design and development of the new rescue fleet.
Click here to read the full article.
A Second Life
DNV GL's proposal to convert phased-out tankers into floating water treatment plants may become a reality in 2014. Chris Lo finds out how it could breathe new life into the industry's ageing behemoths
Click to read the full article.
21st Century Cruising
From virtual balconies to real-time ocean viewing portholes and 360° sky-high viewing platforms, we review nine of the most innovative and entertaining technologies found onboard today's cruise ships
Click to read the full article.
Next issue preview
Entertainment for cruise passengers is about to get a whole lot more personal with the latest trends including in-room gadgets, bespoke dining and tailored entertainment. Meanwhile large-scale entertainment is getting bigger as operators take full productions of Broadway musicals out to sea. We look into the power of entertainment as a means of capturing customers.
We also investigate new threats posed by hackers and ask how shippers can protect their assets against cyber piracy and take a look at the US Navy's research into converting seawater into fuel. Moreover we ask AkzoNobel's how the use of its biocide-free hull coating could help vessel operators generate carbon credits through a pioneering emissions measuring initiative developed in partnership with The Gold Standard foundation.
Digital magazine FAQ
Ship Technology Global is available on the iPad and as a free desktop version*. You can download our app or read the latest issue here.
Sign up for your subscription here.
*Browser compatibility: The desktop version can be viewed in the latest two version of Chrome, Firefox and Safari, as well as in Internet Explorer 9 and 10. Some features may not be compatible with older browser versions.