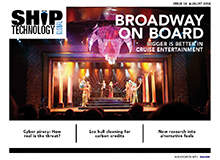 While destination might be the main draw for potential customers, the range of onboard entertainment has become a key differentiator for the major cruise operators, with options ranging from celebrity visits on board to full productions of West End musicals. We hear about cruise entertainment trends from Carnival UK. We also find out how cruise brands are adding a sense of luxury to the in-cabin experience with a range of high-tech gadgets and installations.
As concerns grow over the vulnerability of commercial shipping to cyber crime, we ask how the industry can protect itself from a new generation of digital pirates. We also review the US Navy's research into seawater fuel and investigate which alternatives to traditional fuels will become available to the industry in the near future, and find out how a new initiative allows operators to earn carbon credits through the use of eco hull cleaning methods.
Moreover, we hear about the challenges of rolling out a single maritime window across all EU ports and take a look at the world's largest civilian hospital ship currently under construction.
Click here to read this issue.
In this issue
In Today's Cabins With virtual balconies, customised apps and high-tech gadgetry, the cruise industry is personalising and upgrading the in-cabin experience in innovative ways. Frances Marcellin checks out the latest in modern cruising. Click here to read the full article.
Broadway on Board Onboard entertainment for cruise passengers is becoming a key differentiator for the industry's big players. Carnival UK's Paul Wright gives Chris Lo his take on the evolution of cruise entertainment. Click here to read the full article.
Dawn of the Digital Pirates While the high seas seem relatively free of cyber piracy, experts believe that the scope for compromise is immense, making ships and cargoes vulnerable to future hackers. Dr Gareth Evans finds out how the industry can prepare. Click here to read the full article.
Finding Fuel US Navy scientists recently announced they had converted seawater into fuel. Grant Turnbull asks if the new 'game changing' technology could solve the current fuel dilemma in commercial shipping as well. Click here to read the full article.
Slime Fighters By committing to reduce the slime on their ships' hulls, operators will be able to reduce their environmental impact and earn carbon credits through a new initiative by Akzo Nobel and The Gold Standard Foundation. Elly Earls finds out more. Click here to read the full article.
Through a Single Window As the EU gears up to roll out a single maritime window, Inlecom Systems director Dr Takis Katsoulakos reviews current reporting requirements and outlines the challenges that must be overcome by 1 June 2015. Click here to read the full article.
Atlantic Mercy Hospital ship Atlantic Mercy is the latest addition to international charity Mercy Ships' fleet of hospital vessels. Built by China Shipbuilding Industry Corporation at the Tianjin Xingang Shipyard, the Atlantic Mercy will be the biggest civilian hospital ship. Click here to read the full article.
Next issue preview
Cruise entertainment is seeing an era of major transformation. We find out about a new range of cruise concepts, from thrill seeker experiences to heavy metal weekends away, and take a look at the industry's most expensive ships.
In the aftermath of the Sewol ferry disaster earlier this year, the IMO is working to improve the safety of passenger ships. We ask what form this action will take. Moreover, we investigate whether the EU's rejection of plans to regulate nitrogen oxide emissions will undermine the goal monitoring and reducing harmful emissions from ships overall.
We also discuss the role of social media in shipping and why companies should consider its potential as part of their marketing strategies.
Digital magazine FAQ
Ship Technology Global is available on the iPad and as a free desktop version*. You can download our app or read the latest issue here.
Sign up for your subscription here.
*Browser compatibility: The desktop version can be viewed in the latest two version of Chrome, Firefox and Safari, as well as in Internet Explorer 9 and 10. Some features may not be compatible with older browser versions.