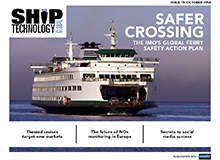 The cruise industry is going through a renaissance as operators try to capture new markets and escape dated clichés such as deck games and discos. We take a look at a new range of cruise concepts that offers something for all tastes, from Lord of the Rings themed holidays to floating heavy metal festivals and ballroom master classes. We also find out which operators are splashing out the most on luxury on our top-ten list of most expensive cruise ships.
In the wake of several recent ferry disasters the IMO has pledged to help improve ferry safety globally. We explore the challenges of creating and enforcing safety standards, especially in developing regions which heavily rely on ferry transport.
Following the EU's rejection of a proposal to include in NOx in ship emissions monitoring requirements, we ask what the industry can expect from new regulation in the coming years. We also take a look at new requirements for environmentally acceptable lubricants and best practice for operators making the switch from traditional mineral oils.
Click here to read this issue.
In this issue
What's Your Theme? The cruise industry is trying to capture new markets and escape dated clichés. Berenice Baker looks into a new range of themed cruise concepts, from Lord of the Rings to head-banging heavy metal. Click here to read the full article.
Cruise's Costliest Royal Caribbean International is by far the leader when it comes to the world's most expensive cruise ships, operating most of the top ten. We present the costliest cruise ships ever built. Click here to read the full article.
How to #getshippingtrending Shipping PR firm Jeanius Consulting picked up Marketme's #SmartSocial award this year for its innovative use of social media. Rod James asks managing director Jean Winfield how shipping firms can improve their social media strategies. Click here to read the full article.
Unhealthy Decisions In April the European Parliament rejected proposals to include nitrogen oxides in ship emissions monitoring requirements. Frances Marcellin takes a look at the industry's response. Click here to read the full article.
Taught by Tragedy When the MV Sewol ferry capsized in April 2014, around 300 passengers were killed. Frances Marcellin finds out what measures are being taken in ferry safety to prevent such a tragedy from occurring again. Click here to read the full article.
Predictive Measures Large mobile accumulations of pumice fragments can cause immeasurable damage to vessels and disrupt shipping routes. Ross Davies finds out how a new tool aims to predict their dispersal routes. Click here to read the full article.
Clean Operations Under new and upcoming regulations, commercial vessels in US waters and elsewhere must use environmentally acceptable lubricants, which rules out traditional mineral oils. Swiss lubricant manufacturer Panolin explains the options and offers advice for the switch. Click here to read the full article.
Next issue preview
As the industry ramps up security in pirate-prone regions, pirates turn their attention to new targets. We chart recent incidents on an interactive map to find out how the threat is evolving and take a look at the latest in non-lethal counter piracy technology.
We also investigate how the growing trend of European operators flagging out their fleets to cut wages is affecting shipping jobs in the region and explore India's ambitious plans to become an international shipbuilding hub. Moreover, we take a look at DNV GL's battery-powered cargo vessel concept and review the leading technologies for ballast water treatment.
Also out in December: Our 2014 special issue looking at piracy threats to oil and gas cargo, the trend of shipping alliances, the world's first cruise 'smartship', the mystery of the Franklin expedition and more
Digital magazine FAQ
Ship Technology Global is available on the iPad and as a free desktop version*. You can download our app or read the latest issue here.
Sign up for your subscription here.
*Browser compatibility: The desktop version can be viewed in the latest two version of Chrome, Firefox and Safari, as well as in Internet Explorer 9 and 10. Some features may not be compatible with older browser versions.