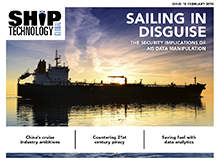 Research published in October 2014 outlined the vulnerabilities of automatic identification system (AIS) data and how it is being exploited for various purposes, including illegal activities. We investigate what has been identified as a growing trend of AIS manipulation and the consequences it can have on vessel security, coast guard operations and the tracking of global commodity flows.
We also speak to Thales about its Pastor piracy protection system, take a look at China's ambitious entry into the global cruise market and find out more about Eniram's data analytics-based fuel saving system for ships operators.
In October 2014 the largest drydock in the US arrived at Portland, providing a much-needed capacity boost to the shipyard. We take a look at the floating giant which has become a flagship for optimism in the region's shipbuilding sector. We also hear from the International Chamber about how the industry is preparing for new IMO sulphur rules coming into force and find out how ship operators and regulators are working to reduce the number of cargo containers lost at sea.
Click here to read this issue.
In this issue
China Takes on Cruise China's state-owned industries rarely do anything by halves. Dr Gareth Evans finds out what the country has in store for its cruise industry following the recent agreement between Carnival Corporation and the China State Shipbuilding Corporation. Click here to read the full article.
Going Dark Research has found that data from automatic identification systems, used to track maritime activity, is increasingly being falsified by ship operators trying to disguise their identity, location or destination. Grant Turnbull investigates the security implications of this growing trend Click here to read the full article.
Pastor Protection Piracy is one of the greatest threats to modern shipping, and it is growing. Berenice Baker looks into Thales' turnkey solution that combines mission-adapted surveillance systems with an onboard security team Click here to read the full article.
A Common Language Software company Eniram found success after discovering common ground shared by sea captains and software nerds. Ross Davies finds out how the company's fuel saving system can help operators in the wake of new emissions regulations. Click here to read the full article.
A Vigorous Revival In October last year Portland became home to the Vigorous, the biggest floating drydock in the US and a flagship for renewed optimism within the region's maritime industrial base. We take a look at the floating giant. Click here to read the full article.
Preparing for Change Ship operators must be prepared for strict implementation of new IMO sulphur rules but radical alternative fuels should also be explored. Simon Bennett, director of policy and external relations at the International Chamber of Shipping, tells us more Click here to read the full article.
Cargo Overboard A recent survey found that, on average, 1,679 containers are lost at sea each year, but how accurate are these figures and what is being done to reduce them? Elly Earls investigates Click here to read the full article.
Next issue
As the global price for Brent crude reaches record lows, what are the implications for the global oil tanker market? We speak to analysts about the industry's response and the future of tankers currently on order.
In ports, we take a look at the results of pilot trials from the European GREENCRANES project to find out how it could help clean up terminals in Europe, and investigate potential solutions to the crippling queues at some of the US's busiest ports.
Furthermore, we explore the challenges the $50bn Nicaragua Canal project is facing, take a look at the RoboShip system for automatic inspection of ballast water tanks, and find out more about a new hybrid propulsion system, Terje Lade's Vindskip concept for a vessel fuelled by LNG and wind.
Digital magazine FAQ
Ship Technology Global is available on the iPad and as a free desktop version*.
You can download our app or read the latest issue here.
Sign up for your subscription here.
*Browser compatibility: The desktop version can be viewed in the latest two version of Chrome, Firefox and Safari, as well as in Internet Explorer 9 and 10. Some features may not be compatible with older browser versions.