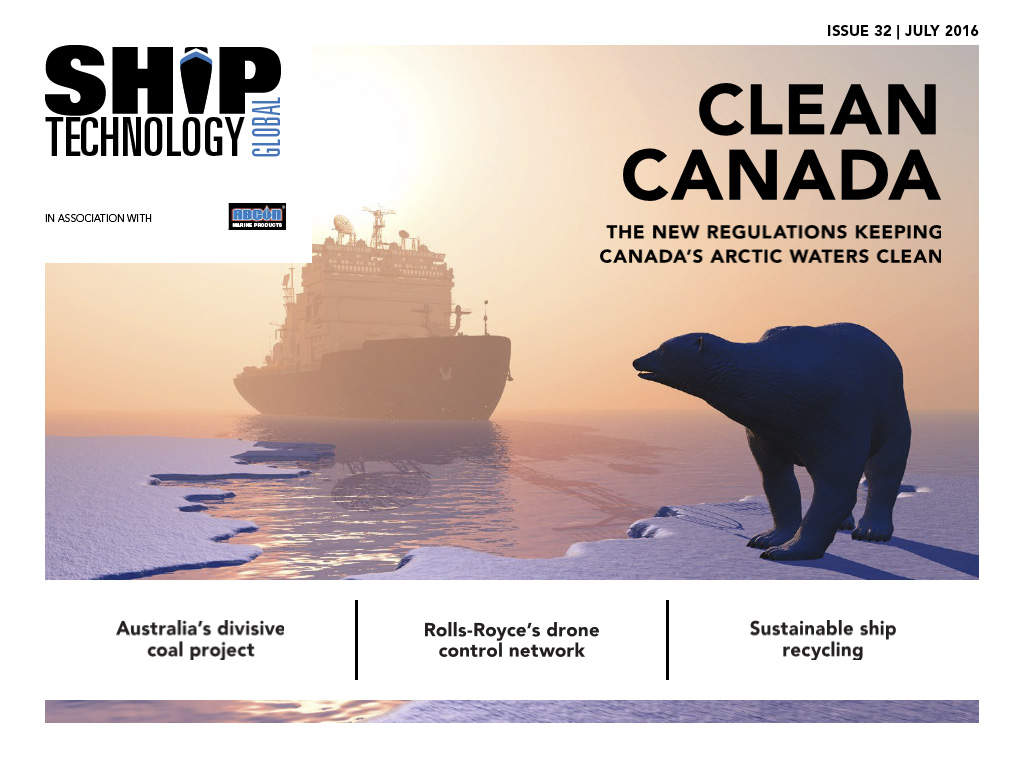 Ship Technology Global is now free for the iPad. Download our app to read the latest issue and browse our back issues for free.
Draft rules designed to boost the efficiency and cut the cost of services at EU ports were voted in by the European Parliament earlier this year, drawing strong criticism from shipping companies over concerns that they have been watered down, omitting important port services. We ask what the draft guidance covers and whether shippers are right to be sceptical.
We also find out how the Canadian Government can strengthen shipping regulations for Arctic waters, take a look at Rolls-Royce's vision for remotely controlled fleets of ships operated through land-based control networks, and get the latest on the controversial expansion project of Abbot Point coal port in Australia. Plus, we investigate how the introduction of new fuels has changed operation and maintenance and look into the ongoing discussion about sustainable ship recycling.
Read the issue for free on your iPad through our app, or if you're on a desktop computer you can also read it in our web viewer.
In this issue
The Thorny Road to Liberalisation In March 2016 the European Parliament voted on a revised EU Ports Services Regulation that hopes to make European ports more competitive. Eva Grey finds out more about this controversial proposal. Read the article.
Keeping Canada's Shipping Clean Prompted by melting Arctic sea ice, ship traffic through Canada's Northwest Passage has risen by 166% since 2004. Chris Lo finds out more about plans to strengthen shipping regulations for Arctic waters by establishing a system of tiered shipping routes. Read the article.
Inside Rolls-Royce's Control Network Rolls-Royce has unveiled its vision for shore-based control centres that will, they believe, one day be used to remotely monitor and control flotillas of unmanned ships. Gary Peters speaks to Iiro Lindborg to find out more about the company's plans. Read the article.
New Fuels Much has been made of the maritime industry's drive to lower emissions through the use of new, cleaner fuels. However, a new report reveals there are unintended consequences associated with this. Gary Peters finds out more. Read the article.
Ship Recycling: Creating a Sustainable Future The issue of ship recycling and what happens to vessels at the end of their lives has long been a thorn in the side of the industry. But now, moves are afoot that could radically change the situation, as Gary Peters finds out. Read the article.
Australia's Divisive Coal Project Australia's ambition to build one of the world's largest coal ports at Abbot Point has caused international uproar over the project's perceived environmental threat. Eva Grey finds out more about the divisive project near the Great Barrier Reef. Read the article.
Next issue preview
The EU has rejected a ban on the use of heavy fuel oil (HFO), which many campaigners have referred to as 'toxic', especially in environments such as the Arctic. We ask how bad is HFO and what can be done to make sure its effects are at least well managed.
We also find out more about the new shipping container lines collaboration, The Alliance, which will cover East-West trade lines, ask why some European ports fare better than others in terms of transport emissions, and profile the complex plan to develop a trilateral free trade zone between India, Iran and Afghanistan, using the Port of Chabahar. Plus, we speak to the PartnerShip project partners to find out how the initiative hopes to inspire a new generation and examine the rights of Brazilian seafarers in light of their industrial action against Transpetro.
Digital magazine FAQ
You can read Ship Technology Global for free on the iPad. Download our app to read the latest issue and browse the back issues in our archive. Sign up for a free subscription in the app and never miss a new issue.
You can also continue to read the desktop version for free on our web viewer. (Browser compatibility: The web viewer works in the latest two version of Chrome, Firefox and Safari, as well as in Internet Explorer 9 and 10. Some features may not be compatible with older browser versions.)