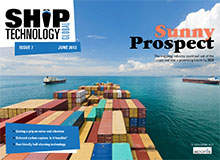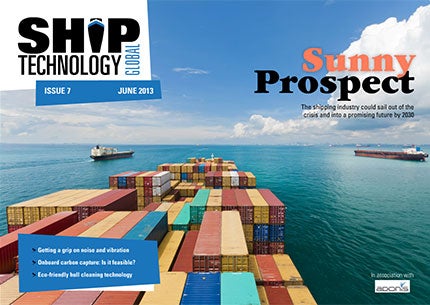 From the environmental impact of cruise liners to a vessel's engine efficiency, understanding noise and vibration can make a huge difference. In the next issue wake a look at the role of noise and vibration assessment in new builds, refits and troubleshooting.
We also look ahead to 2030 and examine the future of shipping and seaborne trade, explore the Aquarius MRE solar and wind powered ship design and find out if DNV's revolutionary concept for on-board carbon capture and storage is viable.
As melting ice is expected to open Arctic shipping routes by 2050, we investigate the implications for line jurisdiction, port construction and trade. Moreover, we profile new hull cleaning technologies, and take a look at the expansion of the UK's ports.
Click here to read the latest issue.
In this issue
Piracy Update: May 2013 While the shipping industry celebrates a year without a successful hijacking off the coast of Somalia, events off Western Africa and a potential link with terrorism trigger concern. Click to read the full article.
Quiet Sailing From making cruise passengers comfortable to keeping engines running efficiency, noise and vibration control is crucial for vessels. Ship Technology Global takes a look at prevention and cures for marine noise. Click to read the full article.
A World Afloat The maritime industry may be going through its biggest crisis for decades, but looking ahead to 2030 the future of shipping and seaborne trade could be more promising. Click to read the full article.
Powering the Eco-Trend With its Aquarius MRE system, Eco Marine Power is planning to help large vessels tap into solar and wind power to reduce their emissions. We investigate the inner workings of Aquarius. Click to read the full article.
A Radical Concept A project by DNV has proven the feasibility of ship-based carbon capture and storage. Ship Technology Global asks, is the industry ready for such a radical and costly technology? Click to read the full article.
Keeping Clean Researchers at Duke University have developed an innovative material that can dislodge bacteria from the hull by wrinkling. We ask inventor Xuanhe Zhao why the technology makes both business and environmental sense. Click to read the full article.
Cold, Hard Facts The changes in Arctic sea ice will open new shipping routes through the North Polar region. Ship Technology Global asks which challenges need to be overcome before new opportunities can be explored. Click to read the full article.
Gateway to the Future While the lack of hub airports in the UK causes political wrangling, the ports are stepping to the plate. We find out why DP World's new London Gateway may offer a taste of what's to come. Click to read the full article.
Next issue preview
New research suggests that the automatic identification systems on many vessels are completely unprotected, potentially making location and other sensitive information susceptible to hackers or even pirates. We investigate the risks presented by this unseen threat. We also find out how GPS disruptors carried by European trucks are affecting navigational safety on the English Channel.
We profile two new cruise ships – Norwegian Breakaway, the largest ship ever to homeport in New York, and Royal Caribbean's Quantum of the Seas – and take a look at the ambitious plans for the Stad Skipstunnel in Norway, the world's first tunnel to accommodate ships up to 16,000 tonnes.
Moreover, we explore the controversial laws governing the dismantling of ships and ask how all parties involved can work together to find a more sustainable solution.
The next issue will be out in August. Sign up for your free subscription to get each future issue delivered directly to your inbox.
Digital magazine FAQ
The digital magazine is viewable on any computer with Flash Player installed. It is also viewable on mobile devices, iPhones and iPads, although some features and videos may be disabled.