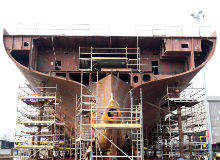 In a global shipbuilding market characterised by uncertainty and overcapacity, shrinking margins and increasingly stringent safety and environmental regulations, the cost of new-build projects tumbled in 2013 as established shipyards struggled with overcapacity and competed for new orders.
Having peaked in 2008, cruise ship new-build prices subsequently dipped by 30%, reports Seatrade Insider. As a result, analysts are predicting very little new capacity for the period 2014-16 as all but the very largest cruise operators opt to refurbish and upgrade vessels.
Net growth is expected to continue at 5% a year in 2015-2017, which equates to only around six to eight new deliveries a year, the majority of those commissioned by global behemoths such as Carnival and Royal Caribbean International.
"The growth rate in the demand for new ships is slowing down," Bao Zhangjiang, director of the China Shipbuilding Industry Research Centre, stated toward the end of last year. "This year is really bad and I can feel the impact. Chinese shipyards have to reduce overcapacity."
"Analysts are predicting very little new capacity for the period 2014-16 as all but the very largest cruise operators opt to refurbish and upgrade vessels."
Add to this picture concerns around financing, volatile currency markets and the inflated price of raw materials and labour, and many established shipbuilding companies – especially those in long-standing markets such as Europe – have been forced to slash new-build prices in an effort to replenish their depleted order books.
The world's largest shipbuilder, South Korea's Hyundai Heavy Industries, is a case in point. At the tail end of 2012, Bloomberg reported that the company's order backlog was at a five-year low, global orders had dropped to their slowest since 1999 and that Hyundai Heavy only had 18 months of work at its shipyards. The company, which employs around 28,500 people, paid the price for not diversifying into the offshore energy sector at the same pace as rivals such as Daewoo Shipbuilding & Marine Engineering and Samsung Heavy Industries.
Safety first: security measures drive refurbishment boom
The most immediate effect of the slump was increased demand for refurbishment and upgrade projects, particularly in the global cruise sector. Despite being costly – large-scale refurbishment programmes can take up to a month and cost in the region of $50m – they are nothing compared to the price to design and build a new cruise ship, which can take up to three years and cost hundreds of millions.
However, refits and renovations are no longer simply restricted to cosmetic considerations such as hull cleaning, interior upgrades and new venues. The modern tech-savvy cruise passenger demands a raft of new amenities and services. One example is Royal Caribbean's ongoing ship revitalisation programme, which aims to replicate amenities from its Oasis-class vessels fleet-wide. 2013's most high-profile recipient, Legend of the Seas, re-entered service in early February complete with updated staterooms and bow-to-stern Wi-Fi following a $50m refurbishment in Singapore.
Similarly, safety has been propelled to the head of the industry agenda following the Costa Concordia tragedy in 2012 and a spate of high-profile engine room fires last year, the most high-profile being aboard the Carnival Triumph in February, when a blaze in the engine room disabled the 272m-long ship's power and propulsion systems, leaving 3,100 passengers stranded in the Gulf of Mexico for five days with dwindling food reserves, no air conditioning and inadequate sanitation.
"Large-scale refurbishment programmes can take up to a month and cost in the region of $50 million."
In response, Carnival Cruise Lines rolled out an unprecedented $300m upgrade programme aimed at boosting emergency power capabilities, implementing new fire safety technology and improving the level of operating redundancies -back-up technology designed to replicate key engineering systems – across its 24-strong fleet. The company is also investing in leading-edge fire prevention, detection and suppression systems.
Greening the machine: environmental legislation and innovation
In addition to costly fleet-wide programmes such as these, environmental restrictions on emissions from cruise ships have been tightened. The most recent amendments to the International Maritime Organization's (IMO) MARPOL Annex VI regulations will compel cruise lines to change to a fuel with a sulphur content of no more than 0.1% for operations in designated emission control areas.
By 2020, all cruise ships must burn fuel with a sulphur limit of 0.5%, regardless of where in the world they are operating and considerable investment is required to bring sulphur levels down from the current standard of 1%. Finnish engine manufacturer Wärtsilä has played a key role in the development of LNG-powered cruise ships. Together with the Aker Philadelphia Shipyard, the company has designed a conceptual vessel propelled by the same dual-fuel engines that are found on LNG-powered tankers.
"Energy efficiency covers the organisation of the hull and appendices, engines, propellers and motors," Francesco Balbi, environmental coordinator at MSC Cruises , told World Cruise Industry Review. "Our research is not limited to fuels. We are looking at ship design, propulsion and the operation of machinery as well. MSC tries to work on all these categories."
In addition to this, Viking Line's 2,800-capacity Viking Grace produces 20-30% less CO2 than one powered by bunker fuel. However, the cost of converting an entire fleet to LNG and installing technology such as exhaust gas scrubbers and hydrodynamic advancements could be prohibitively expensive for all but the largest operators, meaning that upgrades and retrofit projects look set to become increasingly complex and costly.
Positive signs: seeds of recovery in South Korea
In conclusion, the precipitous drop in the cost of new-builds across the globe has fuelled demand for upgrade and refurbishment projects, and provides opportunities for new players to enter the market and potentially compete with more established shipbuilders in terms of technological innovation.
"The cost of converting an entire fleet to LNG and installing technology such as exhaust gas scrubbers could be prohibitively expensive."
However, from an operator perspective, the refit and renovation market too looks set to remain expensive since many aging fleets are due for upgrades in order to meet a raft of new safety and environmental regulations. In July of last year, Hyundai Heavy Industries announced plans to raise prices in the second half of the year, citing increased demand for fuel-efficient vessels in addition to the struggling Chinese market.
"The big focus now is on fuel efficiency," said Ka Sam Hyun, executive vice-president in charge of ship sales at Hyundai Heavy. "At a time when prices have fallen so much, shipping lines seem to be willing to pay a bit more to get better performing ships on time. This is why the top tier shipyards will benefit."
Beyond South Korea, the mood remains downbeat. Bloomberg reports that a third of China's shipyards may shut down in five years unless orders pick up, while Bao Zhangjiang predicts global demand for shipbuilding will be 32 million compensated gross tonnage (CGT) in the next two years, compared with current world capacity of 61.2 million. Against this backdrop, the increasingly expensive ship refurbishment and upgrade market looks set to remain buoyant.
---
Related content
---
By September 2013, the largest hybrid vessel ever built, The Prinsesse Benedikte, will transport passengers and vehicles with a new lithium polymer battery system, that will improve Scandlines ' bottom line and its environmental impact.
The maritime industry may be currently going through its biggest crisis for decades, but looking ahead to 2030 the future for shipping and seaborne trade looks much more promising.
---