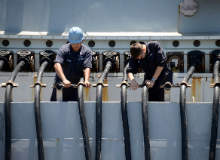 Concern over the heavy environmental impact of maritime shipping has been growing in recent years, with more stringent regulations coming into effect and the opening of brand new lucrative markets for green technologies and emission-control systems for all types of vessels.
One such solution is shore-side power, officially defined by the European Parliament as the "provision of shore-side electrical power through a standardised interface to seagoing ships or inland waterway vessels at berth".
Extensive resources have since been spent on research and development projects, trials and fully-fledged implementation of shore-side power in multiple ports, while a cohort of reports, studies and international policies have helped draw a more official, if still incomplete, regulatory framework for its future widespread rollout.
The case for shore-side power is clear. In a study published in November 2015, the European Parliament warned that if left unregulated, the shipping sector would contribute 17% of global CO2 emissions in 2050. At present, carbon emissions from maritime shipping account for up to 3% of the global total, while shipping greenhouse gas emissions have seen a 70% surge since 1990, according to the International Maritime Organisation (IMO).
Moreover, almost 70% of ship emissions, heavy in nitrogen oxides, sulphur oxides and particulates, are released within 400km of land, posing a serious health risk to populations along the coastlines.
Shore-side energy (SSE), also known as "cold-ironing", has the potential to eliminate ship engine emissions in port waters, reducing each pollutant by about 90% and greenhouse gas emissions by 50%, as well as reducing noise, vibration and engine wear-and-tear. Not burning extra fuel while stationary also comes with cost savings, although these vary by engine, vessel and fuel type.
But despite successful adoption in key port areas around the world, many within the industry remain sceptical to its benefits, largely discouraged by an expensive retrofitting process, contrasting operational standards between regions and outdated port and ship facilities.
The case for SSE: operational requirements
The concept behind supplying commercial vessels with electricity while moored has been around since the 1980s, when low-voltage shore-to-ship connections were used to power ferries.
The model of SSE currently gaining ground involves ships turning off their main and auxiliary engines while in port, relying instead on land-based power from either an electric utility company or an external remote generator. The generators can be powered by diesel or renewable energy sources such as wind or solar.
"The generators can be powered by diesel or renewable energy sources such as wind or solar."
Over time, as ships have grown in size and power, these systems have given way to high-voltage supplies feeding a wide range of commercial vessels, from 10-20MVA generators for cruise ships, to 3-11MVA for tankers and 300KVA-3MVA for bulk, cargo, container and Ro-Ro ships at the lower end of the scale.
At present, shore connection systems are mixed, usually differentiated by whether they require frequency conversion or not; while ports in North America and certain European or Asian lines use the 60Hz frequency without conversion, other systems require expensive converters to adapt to ships operating on 50Hz.
According to multinational corporation Schneider Electric , which has been dedicated to researching and promoting shore-based power for years, 70% of ships are designed for 60Hz, while only 30% of ports supply 50Hz power.
The technology to be fitted both onboard and onshore is expensive. Environmental consultant Ecofys highlights that expenses can run in the millions for sea ports, and who bears this cost is often a bone of contention between ship and port operators. A leader in the technology, the Port of Los Angeles for instance has already invested $150m in SSE infrastructure.
Prompting action with regulation
To further incentivise SSE installation, the European Union offers subsidies of between 20% and 50% to private operators looking to implement a shore connection. The funding, offered as part of EU's Marco Polo programme, comes ahead of a tight deadline for European ports to have shore-side electricity facilities fully operational by 2025.
Despite this pressure from the EU, ECOFYS warns that there are no international policies enforcing the installation of SSE.
Ship exhaust emissions are currently regulated under IMO's 1973 legislation, complete with an updated 2011 chapter that covers mandatory "energy efficiency measures aimed at reducing greenhouse gas emissions from ships." However, states and countries are free to set their own standards for berthing vessels.
Some good examples of forward-thinking initiatives emerge however.
In California, vessels fitted with shore connection capabilities have been required to use them while at berth since 2010, while ships without the technology have not been allowed to berth in the state's ports unless they turn off their engines or use "another anti-pollution technology", according to a Schneider Electric report. By 2020, at least 80% of Californian berths have to be equipped with shore connection technology.
Similar initiatives include those in China, which in its five year plan to 2015 identified SSE as an important measure in curbing pollution, but also wider-reaching programs and port alliances such as the World Ports Climate Initiative (WPCI) and MARPOL 73/78, which actively promote the adoption of SSE or set strict thresholds against ship pollutants.
However Schneider Electric warns that "unless regulation is in place, it's the same old chicken and egg story – ports are waiting for shipping demands and ships are waiting for port infrastructure to be in place before adopting and using new technology."
Knocking down barriers for future implementation
Although there have been concerted efforts to popularise SSE, deep-rooted barriers to a more global adoption of the technology remain. Within an already highly conservative industry, many vessels and ports operating today are not suited to incorporate SSE technologies. Frequency conversion between the US 60Hz grid and Europe's 50Hz system also causes a deep divide.
In a detailed report analysing shore-based energy applications, Schneider Electric identifies some of the main practical challenges standing in the way of international implementation, which include a complex electrical power system prone to internal faults, safety hazards during shore connection and disconnection and harsh environmental conditions during installation.
"The investment in shore connection systems is mostly borne by port authorities, whereas pollution-related health costs are indirectly shouldered by governments."
Another challenge is that "the investment in shore connection systems is mostly borne by port authorities, whereas pollution-related health costs are indirectly shouldered by governments," Schneider Electric pointed out in a March 2014 blog post. "Mandatory regulation and an appropriate funding program are therefore absolutely required to internalise these costs and push ports to invest, because normal market forces will not play their role."
SSE development is also thwarted by an incentive-based vicious circle, where not enough ports are equipped with the technology to push ships to get retrofitted, while ports will not invest high sums of money if not enough ships on the market require them to do so.
"While very high investments need to be done from both the shore and ship sides, the challenge still remains that that the investors do not necessary benefit economically from SSE and the social and environmental benefits are difficult to quantify," ECOFYS' report reads.
Key recommendation: focus on niche markets
The consultancy has drafted a set of policy recommendations for both inland and maritime shipping that would open up new avenues for profit, coordination and widespread deployment of SSE.
For example, its analysis argued that focusing on commercialising SSE within a niche market of the shipping industry is "likely to have positive influence on the public perception by other stakeholders". Furthermore, the next systems should be deployed at "harbours or areas in the port were impacts are most beneficial, like passenger waiting areas, ports close to residential areas, cruise ships and quays."
From a policy point of view, ECOFYS recommends tax exemptions on the electricity used by SSE, which is expected to create a "level playing field and a better business case" for the technology.
Although many technologies currently promoted across the industry have the potential to make important cuts in emissions and help ships slowly move on from the status of major pollutants, the capabilities of SSE systems make it a favourite among environmentalists.
If SSE was in operation at all European ports, ECOFYS identified a potential to mitigate up to 800,000t of CO2 emissions by 2020. But as SE points out, the future development of shore-side power "is now a matter of appropriate funding and, mainly, political willingness."