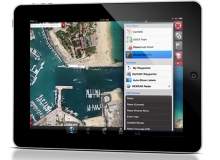 The addition of GPS chips in many smartphones and tablets over the last decade has opened up the world of marine navigation to an invasion by a veritable armada of chartplotting apps to use as back-ups or complements to vessels' inbuilt systems. The growth in this market has prompted fears that an overdependence on apps, which vary in accuracy and reliability, devalues the importance of traditional skills and even simple checks by eye, or the 'Mk1 eyeball', as sailors and other tech-heavy operators ironically describe it.
Nevertheless, if used responsibly, navigation apps make for convenient and user-friendly accompaniments to the marine navigator's conventional toolbox. The panoply of apps on offer vary dramatically in price and features, diverging on significant aspects like raster (scans of paper charts) and vector (digital) charts, navigation functions and available data sets. Here we present some of the best navigation apps in an ever-expanding market.
iNavX
Cost: $49.99
Platform: iOS
Developer: GPSNavX
Developer Richard Ray launched iNavX in 2010 as an iOS follow-up to the GPSNavX software for Apple Mac computers, and the app has since earned a reputation as one of the most full-featured smartphone/tablet apps available on the market. iNavX displays raster charts of American waters from the US National Oceanographic and Atmospheric Administration (NOAA) for real-time chart plotting and printing, with other raster and vector charts available to purchase.
Boasting "the power of a color chartplotter for a fraction of the cost", iNavX has lead the charge of apps that can interface with a vessel's inbuilt navigation systems to display National Marine Electronics Association (NMEA) standard data, allowing the app to play a more central role in a ship's core navigational setup, essentially extending instrumentation like GPS and Automatic Identification System (AIS) to the palm of the sailor's hand. Other key features of this comprehensive app include the display of GRIB weather forecast data, tide and current information, and graphic instrumentation display.
Garmin BlueChart Mobile
Cost: Free
Platform: iOS
Developer: Garmin
The emergence of GPS-enabled smartphones and tablet devices has caused problems for GPS technology specialists like Garmin. Much like dedicated MP3 music players, many consumers now see little point investing in dedicated navigation systems when multi-tasking devices can provide a decent service. In early 2012, Garmin moved to counter the smartphone threat with the release of a navigation app of its own to complement its existing dedicated chartplotters.
The Garmin BlueChart Mobile app is intended to condense BlueChart's reams of navigational data into a handheld device. As well as allowing real-time GPS tracking and integrated communications between the app and inbuilt software, including the ability to plan a course in advance and then transfer the data to a Garmin chartplotter, the app's ActiveCaptain feature lets mariner communities share information and points of interest with one another. The app's business model is the opposite of the pricey but chart-rich iNavX, as the app itself is free to download but chart sets must be purchased separately.
SEAiq Open
Cost: $39.99 (one-week free trial)
Platform: iOS
Developer: Sakhalin
Sailing enthusiast and computer science PhD Mark Hayden built the SEAiq suite of iOS apps as a response to his own needs. Fortunately for him, his needs seem to have corresponded with those of many others, and SEAiq has been warmly received for its straightforward approach since its launch in 2012. SEAiq doesn't come with charts built in; instead its open system allows users to upload their own charts, whether ENC vector charts downloaded free from the NOAA or charts taken from other sources.
Other practical features of the app include a range of instrumentation like latitude and longitude, which take their bearings from the device's GPS chip, as well as tapping into Assisted GPS when within cellular range or connected to the internet. Waypoints for route-planning can be created and are fully customisable.
EarthNC Marine Charts
Cost: $9.99
Platform: iOS, Android
Developer: EarthNC
Having been on the market since way back in 2007, EarthNC Marine Charts is, relatively speaking, a veteran in the marine apps game. The focus of this application is squeezing as much useful content as possible on to a low-cost piece of software. The app includes all US charts, sourced from the NOAA and updated every seven days from NOAA's servers.
The Marine Charts software also incorporates waypoint creation and guidance along custom-set courses, integrated weather and tidal data, and offline support so that charts and points of interest can be viewed when not connected to the internet.
NavPlay
Cost: $4.99 (15-day free trial, $44.99 for one-year subscription)
Platform: iOS
Developer: NavCove
Launched in January 2014, NavPlay is one of the most recent additions to the marine app market, and its developer NavCove has designed it as a tool that, in its words, "does it all". The app has a five-pronged structure, with dedicated areas for charting table, navigation, instruments, alarms and a log book feature called Experience Maker. NavPlay's core navigation capabilities are extensive and often innovative, including neat features like overlaying weather data on top of charts and the ability to trace a route with your finger, for which the app will then create waypoints. Experience Maker, on the other hand, is a sentimental touch, giving recreational boaters the ability to upload notes, navigational data, photos and videos to a diary that can then be shared with friends and family.
NavPlay eschews both the upfront payment and pay-as-you-go business models of the other apps on the list, instead plumping for a subscription service. Users pay a $4.99 download fee to get access to a limited suite of features, along with a 15-day free trial period to the full subscription, which unlocks all of the app's features. A year's subscription with the app costs $44.99, although NavCove recently inked a deal with marine safety manufacturer Vesper Marine to give a three-month subscription at no cost to users who buy one of the company's AIS transponders.
Transas iSailor
Cost: Free
Platform: iOS
Developer: Transas Marine
Maritime IT specialist Transas Marine is another veteran supplier of professional marine tech that has adopted an 'if you can't beat them, join them' approach by developing its own iOS app for marine navigation, chart plotting and AIS viewing. Transas has also placed its priority on value for money, with the app itself available to download for free, after which users can pay for the individual region charts they need.
Since the app's launch in 2010, Transas has provided regular updates for the software, including chart folio updates in March 2014 and a total user interface overhaul adding a host of new features based on user feedback. Version 1.6.2 of the app incorporates support for new languages, new NMEA data capabilities and social features like Facebook sharing and the ability to add photos to points of interest.