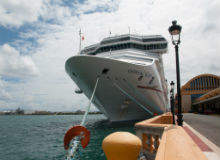 Even for an industry accustomed to dealing with criticism and controversy, the month of March proved especially arduous for the cruise sector in general – and Carnival Corporation in particular.
First Cameron Smook, a 21-year-old student at Virginia Tech, was captured by on-board cameras falling from the Carnival Glory on 8 March during a holiday in the Bahamas. The US Coast Guard spent three days combing the ocean near Great Abaco Island, but later suspended the search.
Then, just nine days later, a 54-year-old man on the final leg of a five-day cruise to Mexico fell to his death from sister ship the Carnival Triumph. His body was later recovered from the Gulf of Mexico.
The tragedies have catapulted the issue of cruise passenger safety back to the top of the global news agenda and strengthened calls for cruise operators to comply in full with the 2010 Cruise Vessel Safety and Security Act (CVSSA) by installing man overboard (MOB) detection technology fleet-wide.
"Today, as our thoughts and prayers are with the family and friends of Cameron Smook, the stark tragic fact is that readily available life-saving technology could have spared him," stated Senator Robert Blumenthal (D-CT) last month in the wake of the student's disappearance.
"Reprehensibly, five years after the CVSSA of 2010 was enacted, cruise lines still refuse to upgrade outdated video surveillance technology for the latest in automatic man overboard detection.
"The cruise industry should be ashamed and embarrassed by this failure to embrace this lifesaving technology. Such technology could have immediately detected Cameron's fall and made sure valuable time was not wasted reviewing camera footage."
Safety in numbers: examining man overboard incidents on cruise liners
The controversy comes at a time when the cruise industry is aggressively defending its safety record in the wake of the Costa Concordia tragedy in 2012 and a high-profile engine fire aboard the Carnival Triumph in 2013, an annus horribilis that culminated in the resignation of CEO Mickey Arison.
---
---
A new programme geared towards preventing mental health issues among seafarers has recently set sail.
---
"It is important to note that man overboard incidents on cruise ships are very rare – and nearly always known to be the unfortunate result of intentional or reckless acts," says Bud Darr, senior vice-president for technical and regulatory affairs at CLIA, in a statement prepared for Ship Technology Global. "Uniform minimum railing and balcony heights, structural barriers, along with many other safety measures prevent passengers who are acting responsibly from 'falling' off a cruise ship.
"Although any one incident is unfortunate, out of more than 22 million cruise passengers in 2014, there were 18 overboard incidents, or about one for every 1.25 million passengers."
A recent article in World Cruise Industry Review magazine points out that man-overboard figures have fallen, but that incidents still occur and are enthusiastically seized upon by the media. Earlier this year, a 22-year-old man fell overboard Royal Caribbean's Oasis of the Seas, only to be picked up by rival the Disney Magic hours later.
Even though the Oasis of the Seas was fitted with the minimum safety railing of 42in, attorney Jim Walker of maritime law farm Walker & O'Neill and the man behind the popular Cruise Law News website, used the incident to step up his campaign for better on-board monitoring systems.
"CLIA claims that it does not even keep statistics of man overboard cases," he states. "The most accurate list by far is Professor Ross Klein's statistics on his website showing that an average of 20 people a year go overboard from cruise ships. It's cavalier for CLIA to brush the deaths off as 'rare' when they are occurring an average of over one and a half times a month.
"CLIA takes credit for the heights of vessel railings but the higher rails came about only through the legislative efforts of a victim organization which the cruise lines have been fighting against for a decade.
"Video surveillance cameras, not connected to automatic man overboard systems, are useless to deal with people falling overboard. The cruise industry as a whole refuses to implement true life-saving devices including infrared, motion-detection, radar, and tracking technologies which are ready, reliable and long overdue."
Track and trace: Mobtronic takes man overboard detection technology to next level
The CVSSA stipulates that all cruise ships which carry more than 250 passengers, have overnight accommodations and embark or disembark passengers in the US have to install "technology that can be used for capturing images of passengers or detecting passengers who have fallen overboard".
"Although any one incident is unfortunate, out of more than 22 million cruise passengers in 2014, there were 18 overboard incidents, or about one for every 1.25 million passengers."
However, a proposed US Coast Guard ruling means cruise lines can either employ MOB detection systems or capture video images for use in search-and-rescue operations, or a combination of both.
At present, 90% of cruise lines do not employ an MOB alarm system designed to sound on the bridge or at other centralised security station when it detects a person overboard. The system uses thermal cameras mounted on the hull and other parts of a ship to detect body heat. The images are then fed through on-board computers that use algorithms to rapidly assess what the camera is seeing.
One such technology is the Mobtronic system developed by MARSS, a subsidiary of US company FLIR Systems. Using a combination of radar and infrared sensors, Mobtronic can detect MOB incidents with an average detection probability of 95% and is able pinpoint where the person entered the water.
The intuitive system allows real-time tracking using wind and currents to calculate drift and can even identify the range of cabins from which a passenger fell, supporting missing person identification.
Mobtronic can be operated as a stand-alone solution or integrated into a vessel's existing electronic bridge system. Crucially, MARSS claims it is both reliable and well-tested in maritime environments.
Fit for purpose? CLIA questions reliability of surveillance solutions
CLIA begs to differ. In a recent white paper cited by Travel Weekly, the industry body listed nearly a dozen obstacles to the reliability of MOB detection systems including salt corrosion or encrustation on camera lenses, surface glare from the water, the pitch and yaw of a ship, extreme weather, vessel vibration and a continually changing horizon.
---
---
Tragedies aboard cruise ships live on in infamy.
---
"Despite the rare occurrence of anyone going overboard, the industry continues to evaluate the effectiveness of overboard detection systems," says Darr. "So far, no one system has been shown to perform reliably enough for wide- scale deployment.
"MOB detection systems are emerging technologies that face unique challenges in a marine environment, let alone on a highly complex, multistory cruise ship, so testing of these systems is ongoing. Any new emergency response technology must fit well with a ship's overall safety culture.
"Testing of various MOB technologies has shown an unacceptably high rate of false-positives, which can negatively affect a ship's safety culture by unnecessarily diverting the attention of crew and creating expectations of an alarm being false."
Unsurprisingly, Jim Walker disagrees and believes MOB detection systems are a key tool in the fight to prevent accidents and fatalities as cruise passenger volumes increase around the world.
"Most cruise line are resisting compliance with the CVSSA requirement for an automatic MOB, claiming that man overboard technology is not reliable," he states on the Cruise Law News website. "That's patently a false and misleading argument. The technology clearly exists but the cruise industry simply does not wish to spend the money necessary to save lives."