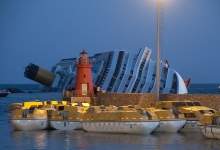 The captain of the 6,825-ton vessel, which was travelling en route from Incheon to Jeju in South Korea, is now on trial for murder, along with four crew members – he and two-thirds of his crew escaped while two-thirds of the passengers lost their lives.
One of the issues is confusion people had about emergency procedures. CNN, from the murder trial, reported one student's testimony who said she "considered trying to escape once the ferry began listing, but did not because she heard the announcement asking passengers to stay put".
Another major problem is the size of the cargo load. According to CNN, investigators discovered it was "more than double the ferry's limit" and that it wasn't tied down properly – a further fault of the crew. At the start of the trial, the prosecution accused Chonghaejin Marine Company, the ferry's owner, of "putting profit above all else".
At his first public opportunity two weeks later, Koji Sekimizu, the Secretary-General of the International Maritime Organisation (IMO), expressed his deep concern at the tragedy and the IMO's commitment and responsibility for improving the safety for people travelling on passenger ships.
"I have the opinion that the time has now come for IMO to step forward to take action to improve the safety of passenger ships carrying hundreds of the general public, regardless of the nature of their voyage, whether domestic or international," said Sekimizu. "Only IMO can take such action."
"Appalling" number of lives lost in ferry disasters
During his address at the opening of the 64th session of the Technical Co-operation Committee, Sekimizu referred to the "appalling figure" of 1,000 lives lost in accidents at sea each year, stressing that the IMO's top priority going forward is to cut the figure by half. "The indisputable fact remains that the loss of lives' statistics are grim." He continued, "There have been 2,932 lives lost in domestic ferry accidents around the world in just the last two and a half years alone, according to my own count."
Dag Pike, a former merchant captain and author of "Disasters at Sea" believes that the "number of ferry disasters around the world has reached worrying proportions" and says that the majority have shifted to the more remote parts of the world.
---
---
The explosive growth of smartphones and tablets has brought with it a blossoming trade in mobile navigation apps.
---
The number of high profile and lesser-known ferry accidents are significant. Of course there was the world-famous Costa Concordia grounding in 2012 where 32 died, but there was also the lesser-known MV Spice Islander I that sank in 2011 in Tanzania, which resulted in more than 2,200 people dead or missing.
There are also many other fatal ferry incidents that have occurred over the last twelve months, including an over-capacity tourist ferry in the Andaman Islands that sank in January 2014 that resulted in 21 people dying because there were not enough life jackets; an overloaded Bangladesh ferry that sank in August 2014 where over half of the 200 passengers were either missing or dead; an overloaded ferry in South Sudan where more than 200 women and children died in January 2014; and the Philippines ferry disaster, in August 2013, where 80 people were killed when the St Thomas Aquinas ferry collided with a cargo ship.
IMO – what's being done?
When the IMO says it is going to take action, what does it mean? What more can be done?
As Sekimizu acknowledged earlier this year, "The safety requirements of the 1974 SOLAS Convention do not automatically apply to domestic passenger ships." These safety standards are left up to the governments in each country concerned and this is where global co-operation between the IMO and Interferry, along with stakeholders from various countries around the world – particularly developing countries – has been, and is now more than ever, so vital.
Back in 2006, Interferry and the IMO signed a memorandum of understanding aimed at cutting fatalities by 90% and Bangladesh was picked as a pilot project.
"Bangladesh was an obvious choice because the country is highly dependent on its ferry network and it had (and still has) a horrendous safety record," says Len Roueche, CEO of Interferry, who explains that, after a few years and some modest progress, a new approach was decided on.
"This involved organising regional safety forums which have been held in Indonesia, Fiji and China. With the Sewol disaster in South Korea, the Secretary General has indicated it is time to take a more proactive stance on the issue."
"Although ferry incidents exist in North America and Europe, transportation by ferry is one of the safest forms of travel in these parts of the world."
This third stage is still being developed, and Roueche says that there will be more to report after the next stakeholder meeting at the IMO on 28 August.
The Nanjing Plan 2013: a successful step forward
Although an adjusted approach to combating ferry safety, in reaction to the Sewol disaster, will emerge shortly, the "Nanjing Plan", a result of discussions between stakeholders from the Second Meeting on the Operational Safety of Domestic Ferries, held in Nanjing, China, in October 2013, was another successful step forward towards safer worldwide ferry operations through global co-operation.
The meeting was attended by 46 participants, from both the government and private sector, from Australia, Bangladesh, Cambodia, China, Democratic People's Republic of Korea, India, Indonesia, Lao PDR, Malaysia, Myanmar, the Philippines, Republic of Korea, Singapore, Thailand, East Timor and Vietnam.
Agreed actions included inviting governments to develop appropriate regulations that cover domestic ferries that are easy to understand and enforceable; review and update laws as well as keeping up with technological advancements and new IMO instruments; promote a safety culture among stakeholders; develop procedures for inspection and certification and programs for the training of inspectors; ensure ship owner and operators develop and implement a safety management system; facilitate the provision of aids to navigation including Vessel Traffic Services ; and encourage ship designers and builders to seek better technical solutions for ferry construction, such as sink-resistance, and equipment to facilitate search and rescue.
All stakeholders (government, industry and general public) are invited to ensure ferries are manned by qualified, trained and competent officers and crew; ensure that the ship's crew are familiar with their duties; ensure timely communication of weather information; and encourage the public to provide feedback on non-compliance.
Ferries are "agents of catastrophe" in developing countries
Although ferry incidents exist in North America and Europe, transportation by ferry is one of the safest forms of travel in these parts of the world. But, as Lawson and Weisbrod explained in their article "Ferry Transport: The Realm of Responsibility for Ferry Disasters in Developing Nations" in the Journal of Public Transportation (2005), they can be the "agents of catastrophe in some developing nations".
---
---
In January 2012, the cruise liner Costa Concordia ran aground in dangerous seas, costing lives and raising industry alarms.
---
In these countries, they explain, "ferry travel is not discretionary", it is "virtually the only way to pursue work and maintain social connections". While a lack of transport hinders the economy, "the loss of life and the human tragedy disproportionally impacts those in their prime".
Pike writes that most reports of ferry disasters "suggest that the ferries were overloaded" – and he further explains that this is "confirmed by the uncertain numbers of people who drowned because there were no definite passenger numbers".
The danger and consequent eradication of overcrowding, the improvement and adherence to safety procedures, the importance of training and the implementation of new technologies – all these areas and more need, as stated in the Nanjing Action Plan, to be recognised, addressed, implemented and maintained if ferry safety is to be improved.
Not just to protect the human lives that rely on this transport to live their lives, but also, as Lawson and Weisbrod explain, because "creating a safe and reliable ferry system is crucial to these nations' sustainable future".