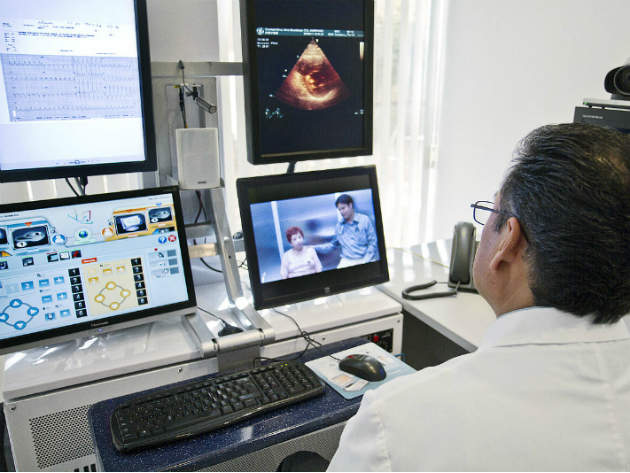 Stranded on board, potentially hundreds of miles away from the nearest aid point, rapid assistance in case of a medical emergency can be a matter of life and death.
In those tense moments, the line between a passing ailment and a potentially life-threatening affliction can easily be blurred, and without expert advice, captains are often left with little choice but to divert the ship.
At present, there are between 55,000 and 65,000 deep sea merchant marine vessels operating worldwide, carrying between 1.2 and 1.5 million seafarers, according to Fairplay and Lloyd's Register estimates. It is not hard to imagine, therefore, that medical emergencies are to be expected and the severity of these situations weighs heavily on the crew's shoulders.
A study published in 2013 in the International Maritime Health journal, which sampled 23,299 commercial ships with 420,000 crewmembers, found that one in five ships is forced to divert course for medical reasons each year, at a total cost of $168m to the industry.
Although the patient's emergency transportation, medical care and hospitalisation are often reimbursed by an insurance company, there are certain hidden costs associated with every diversion, such as the price of extra fuel used to redirect the ship to the nearest port, a few days' extra wages for on-board staff and potential penalties for late cargo. These unavoidable expenses are borne by the shipping company.
Quick access to on-board telemedical equipment can not only put the crew's mind at ease, but it can also help identify up to 20% of preventable cases that do not warrant a diversion, the study found.
The fact of the matter
A term first coined in the 1970s, telemedicine literally means "healing at a distance".
The World Health Organization (WHO) recognises there is no one set definition of the word, but at its most basic, "telemedicine allows health care professionals to evaluate, diagnose and treat patients in remote locations using telecommunications technology," according to telemedicine service supplier AMD Global.
Since January 2012, the International Labour Organization Maritime Labour Convention (ILO/MLO) has required all flag states to "provide seafarers with medical care as nearly as possible equivalent to the care they would receive ashore," and to "ensure […] that medical advice by radio or satellite communication to ships at sea is available at any hour of the day or night".
As such, every ILO signatory nation is bound to have a prearranged system for wireless medical advice available to ships of all nationalities, round the clock and free of charge, also known as Telemedical Assistance Services (TMAS). This network ensures communication through marine radio, email, telephone or fax, and in more recent times, via real-time video calls.
"At the moment, North America and Europe dominate the global telemedicine market"
But while the regulations are in place, remote medical assistance between vessel and shore is still fairly rudimentary.
"How it's done today, [a designated person on the ship] would call a hospital and they would vocally give some measurement readings from the equipment on board," says Adrian Schindler, business development manager for new product programs – satellite communication services at Marlink. "The doctor might also ask to be sent some images or file transfers over email. That is quite cumbersome in a stressful situation when you have a medical emergency.
"You also have to consider the [language barriers] and various English accents. Sometimes you can encounter very basic problems, with people confusing 'fifteen' and 'fifty', or using different scale measurements," Schindler says.
"What we noted from discussions with customers is that, in hindsight, some evacuation tests turned out to be unnecessary. Today, very often doctors have very little information to go on, they speak to the officer on board who might be very stressed and might not give the right information, might not convey the right readings," he adds.
On-board telemedicine is, however, advancing quickly, and a handful of state-of-the-art systems currently on the market are pushing the boundaries for better, safer diagnostics at sea.
The modern face of remote medical assistance
In September this year, Marlink launched XChange Telemed, a system which combines portable on-board medical equipment with real-time video and data links to doctors on shore.
The service is made up of three components. First, there is an on-board case containing CE certified medical equipment, such as an electrocardiograph, an otoscope, a dermascope, a stethoscope, a glucometer, a thermometer and an ultra-sound.
"The values measured by each device are digital, so it gets synchronised to the station, and from the station to shore," Schindler says. "The important point here is that the person making the examination doesn't have to connect any USB cables, or make any transfers. It's really about saving time and it's automatic."
"The system also makes it possible to integrate historic data on each patient"
The second component is the satellite and system management; the third is a web portal through which doctors access this medical data.
"The advantage of using a web portal rather than software is that if there is an emergency and the doctor is being called in, he can use his personal PC or even his mobile phone to access the medical data," Schindler explains. "So it's quite mobile as a solution, and that offers a key advantage."
The system also makes it possible to integrate historic data on each patient, such as vaccinations, past afflictions and existent allergies for a more accurate diagnosis.
An increasingly popular trend
Apart from the obvious advantage of providing better, faster care to seafarers, there are also a number of benefits for the shipping company choosing to upgrade to more modern telemedical services.
"Firstly, there is employee welfare, especially when you have very high-value employees on board, such as experts or highly experienced seafarers," Schindler says. "They will of course choose a shipping company with good working conditions and telemedicine can be part of the package."
The high cost of modern telemedicine systems, starting at $20,000 and upwards, is still a big hurdle to the technology taking off on a wider scale. However, the study argues that, by avoiding unnecessary diversions and their associated costs, shipping companies can see their return on investment in under a year.
"[Marlink] has worked with a French hospital in Toulouse, with a Norwegian one in Bergen and in theory we are flexible to add any hospital because all we need to do is make a training course for the doctors, give them access and user accounts and they are ready to go," Schindler says.
At the moment, North America and Europe dominate the global telemedicine market, but a 2016 report from Persistence Market Research predicts a high adoption of these technologies across Brazil, Russia, China and India in the near future. This is partly due to an increasing number of chronic diseases and the rising cost of healthcare services worldwide.
For the shipping industry, times of economic uncertainty and a general, industry-wide interest in efficient operations and cost reduction will certainly act as an incentive to embrace modern medical solutions across the global fleet.
"Ship efficiency has become very important over the past couple of years in terms of ship owners' focus, and you can see that reflected more and more in the innovation coming to the market these days," Schindler says. "Telemedicine would be one of them."