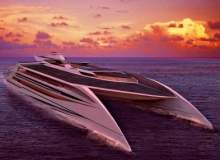 "A new Norwegian research vessel (RV), the G.O. Sars, is one of the world's most advanced research vessels and will be used for fishery and environmental studies."
Mærsk Line's Triple-E is not only the world's largest container vessel, but also boasts world record energy efficiency. Triple-E incorporates a 'twin skeg' or two-engine, two-propeller propulsion system with two 'ultra-long stroke' engines contributing to efficiency by operating at slower revolutions, thereby consuming about four percent less energy than the single engine / single propeller system used on the company's Emma Mærsk class vessels.
Coupled with other engineering advances, such as the ship's specially optimised hull and bow structures (which accommodate the lower operational sweet spot of the twin skeg propulsion system), as well as an advanced waste heat recovery system which captures and reuses energy from engine exhaust gas, the Triple-E achieves industry-leading environmental efficiency.
The waste heat recovery system effectively prevents the loss of 25% of the energy contained in the vessel's fuel by harnessing the hot exhaust gas before it escapes into the atmosphere.
This captured exhaust gas is used to turn turbines, creating mechanical energy to operate an electrical generator and reducing the engine's fuel consumption and CO2 emissions by roughly nine percent.
The design for Ocean Supremacy, from Sauter Carbon Offset Design (SCOD), was unveiled in March 2012, revealing not only exquisite luxury, but also eco-friendly innovation.
With a top speed of 55 knots (kt), the Ocean Supremacy is likely to be one of the ten fastest super-yachts on the planet, but will still consume less than half the fuel used by current similar yachts, while at a cruising speed of 14kt it will have a carbon footprint of zero.
Powered by a nine megawatt solar hybrid propulsion system, the yacht will use an innovative combination of sustainable power sources to achieve its world-best eco-friendly and economic propulsion levels, including solar and wind energy, biomass diesel and wave strengths:
A 70kW solar cell installation from SunPower Solbian will charge the uninterruptable power supply (UPS), which will also serve as a power booster.
SkySail is providing a 200kW auxiliary inflatable traction kite – a wind-powered system which can charge batteries and increase cruising speed – for zero carbon cruising.
Maurer Sohne will provide a 50kW motion damping regeneration (MDR) system, which uses wave energy to either charge batteries or increase cruising speed.
Two V16 series 2000 Tier 4i MTU Genset engines, capable of running on biodiesel, will each generate one megawatt, with one power unit able to run alongside the solar, wave and wind power to reach a hybrid cruising speed of 18kt.
Ocean Supremacy will also rely on four biodiesel-compatible 1.5-MW ZF Hybrid Motors, allowing cruising speed of around 45kt, while the two megawatt Corvus Lithium Polymer UPS, from Siemens , powers two 1.5-MW electric motors.
Other technological advances contributing to the vessel's speed include two retractable Anerson surface drives and two Kamewa / Rolls Royce water-jet propulsion drives in each of the yacht's two wave-piercing hulls.
The Ocean Supremacy will also be home to an array of eco-friendly concepts, including OceanLED lighting, waste heat recovery systems and a photovoltaic protective canopy over the upper cockpit.
Ocean Supremacy's hybrid green power will purportedly cut CO2 emissions by 4,000t, while the yacht will be able to generate and supply about 200MWh of electricity when plugged into the onshore power grid.
Offshore supply vessels: Viking Lady
A series of joint industry R&D projects known as FellowSHIP – aimed at supplying sustainable energy generation for marine and offshore use – has led to the liquid natural gas (LNG)-powered Viking Lady's trailblazing technological offerings.
Owned by Eidesvik Offshore , the Viking Lady was the first merchant vessel to use a fuel cell as part of its propulsion system and has already operated using a 330kW maritime fuel cell power pack for more than 18,500 hours since 2009 – already making it one of the world's most environmentally-friendly ships.
Last year, in 2011, the project was broadened to incorporate integrated batteries and the result is the first large-scale fuel cell to ever be installed in a merchant vessel – a 500kWh demonstration battery pack capable of producing five megawatts over short periods of time. This also represents the first in-depth test on the inclusion of batteries to optimise the energy system of an offshore supply vessel.
The main innovations resulting from the FellowSHIP project include fuel cell technology compatible with marine requirements, the integration of sensitive fuel cell technology in a rough ship machinery environment and a battery power pack integrated into the electric propulsion system.
According to Bjørn-Johan Vartdal, DNV project manager, the ship will achieve significant reductions in emissions just by operating solely on fuel cell and battery power while in harbour: "For environmentally sensitive areas, this will be an essential benefit," he said. "Additional benefits are related to reductions in machinery maintenance costs and in noise and vibrations."
Scheduled for completion in 2013, the two new fifth-generation Ramform series seismic vessels from Petroleum-Geo Services (PGS ), built at Mitsubishi Heavy Industries in Japan, will be the most technically advanced vessels of their kind, featuring 3D seismic data acquisition and analysis capability. The new Ramform W-Class vessels will also be built to DNV classification standards.
These offshore seismic vessels use diesel-electric for the main propulsion system (allowing quiet operation) and improve the current fleet's capabilities in several key respects. As explained by Johan Tutturen, DNV Country Manager, Japan, the new generation series is being developed to a larger size than ever before: "One of the main reasons to develop the new Ramform design in wider hull form was to increase the stability," with the results of PGS's model tests on these new hull shapes proving the efficacy of the new designs compared to previous Ramform series.
Advanced seismic technology is aimed at the rapidly expanding high density segments driven by deep water exploration and production.
Heavy lift vessels: Dockwise Vanguard
Planned for delivery in the fourth quarter of 2012, Dockwise's new heavy lift vessel, the Dockwise Vanguard , has been designed for both the dry-transport and offshore dry-docking markets, and is the first of its kind to be built in accordance with DNV's new class rules for semi-submersible heavy lift vessels.
"The largest and most innovative semi-submersible vessel ever, Vanguard will be capable of transporting 110,000t at rates of 14kt."
The largest and most innovative semi-submersible vessel ever built, Vanguard will be capable of transporting 110,000t at a rate of 14kt, eclipsing the 75,000t maximum capacity of any existing vessel. The vessel has no forecastle, allowing it to transport cargo of 'unlimited' length, while the positioning of the deckhouse mainly outside the hull allows transportation of 70-m wide loads.
DNV regional manager for central Europe Torgeir Sterri pointed out: "Not only were DNV's existing rules essential for scaling-up this unique semisubmersible heavy lift vessel concept, but DNV's risk assessment capabilities were also key to meeting all the SOLAS requirements for this unconventional design […] By thinking 'outside the box', we have been able to form a new concept and bring the whole industry a huge step forward."
This was made evident at the Dutch maritime sector's annual gala, where the Royal Dutch Association of Shipowners (KNRV) selected the Dockwise Vanguard as the most innovative and daring project launched by the sector in the past year.
The largest, most sophisticated roll-on roll-off vessel ever built, with excellent capabilities for handling breakbulk cargo, the 265-metre M/V Tønsberg has three decks which can be hoisted by electric winches for maximum flexibility and utilisation.
Scheduled for a 2012 delivery, this massive Ro-Ro boasts a cargo volume of 138,000 cubic metres over six fixed and three hoistable decks, as well as a main deck with an unparalleled clear height of 7.1m, allowing it to transport high and heavy cargo such as excavators, bulldozers and harvesters.
M/V Tønsberg is part of the Wilh. Wilhelmsen Group's Mark V Class of vessels, which will use 15% to 20% less fuel per transported unit than previous classes. These savings are achieved via an optimised hull form and various energy saving features, including a streamlined rudder, duck tail designs and exhaust gas heat recovery.
Environmental advances include protection for all fuel tanks to minimise the risk of leakage in case of grounding or collision, while a Unitor water ballast system avoids harmful transfer of microorganisms to the open ocean.
Research vessels: G.O. Sars
"The design for Ocean Supremacy, from SCOD, was unveiled in March 2012, revealing not only exquisite luxury, but also eco-friendly innovation."
A new Norwegian research vessel (RV), the G.O. Sars, is one of the world's most advanced research vessels and will be used for fishery and environmental studies, seismic research and seafloor explorations.
Per Wilhelm Nieuwejaar, director of the Research Vessel Department at the Institute for Marine research (IMR), pointed to many good reasons for building such an advanced ship in Norway at this time: "Fisheries and petroleum resources account for a major portion of the (Norwegian) national budget. In addition, Norway takes her environmental responsibilities seriously. In order to manage marine resources in a sustainable manner requires basic understanding of these resources. Combining the research expertise of both the University of Bergen (UiB) and IMR will result in synergy effects that will benefit the nation as a whole."
The new G.O. Sars will have a number of special features, including a drop keel to increase the accuracy of data collection by lowering hull-mounted transducers below surface turbulence, a multibeam sonar for measuring volume and density of fish schools, as well as a combination diesel-electric propulsion system designed to reduce noise, preventing several errors in data collection caused by diving fish.